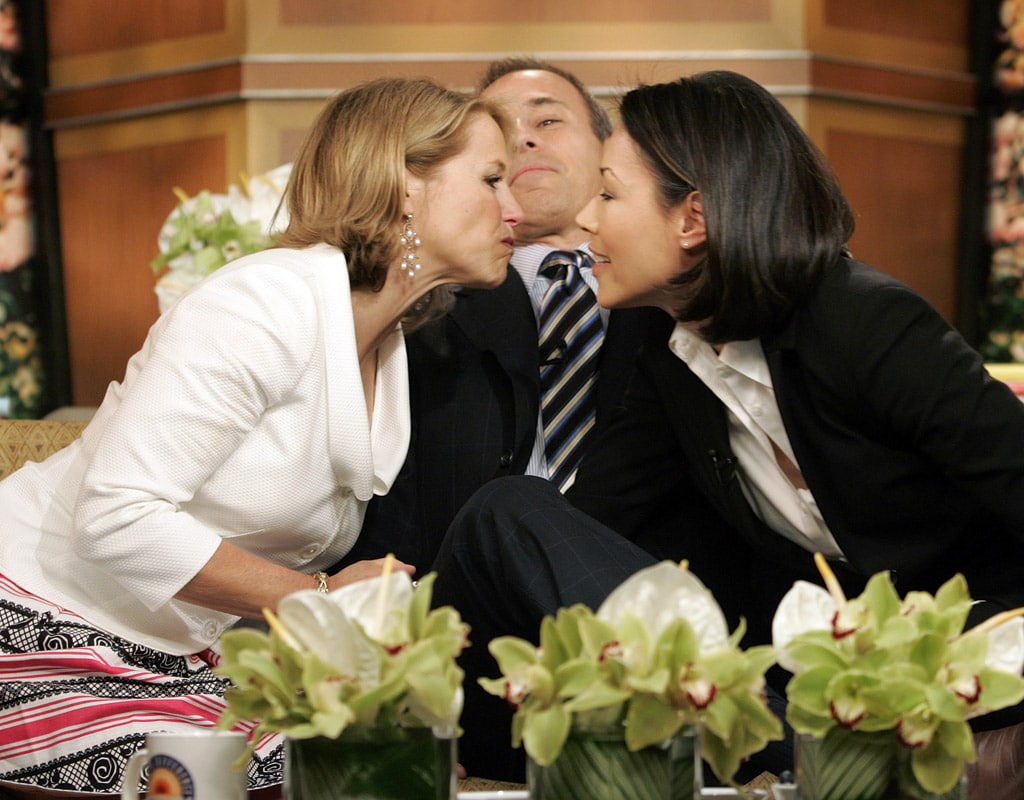 Matt Lauer absence on Today show leads to huge sigh of relief from staff.
The Today show is groveling to have Ann Curry back.
Ann Curry firing now leads to Today show defending Matt Lauer.
Ann Curry gets her revenge as Matt Lauer now said to be forced to take huge pay cut…
Matt Lauer would like to tell you how his popularity has plummeted since Ann Curry was fired. Will he survive?
Ann Curry fired. Matt Lauer is looking very bad as Today ratings plummet further.
Matt Lauer urged to take a pay cut off his $25 million deal as Today show falters.
Katie Couric has publicly come lambasting NBC over their firing of former NBC 'The Today' show anchor Ann Curry.
Said the former co anchor herself (1991-2006):
'I felt really bad for Ann. I still don't understand why they didn't give her sort of a proper send-off.
Ann did some extraordinary work during her time there. It was just not the best chapter in the Today show. It made me sad for the institution.'
What perhaps makes Ms Couric's comments interesting is the fact that Ms Curry was effectively ungracefully hung out to pasture back in June and then again earlier this year when Matt Lauer effectively singed the death bell for his co anchor when he stated he would not be signing on for another contract should Ann Curry not be soon given her marching orders. The fact that Ms Couric has chosen to now voice her concerns has certainly raised some eyebrows.
That said, it's understood Ms Couric will herself be launching her own new talk show 'Katie' (Disney-ABC syndicated) straight after Labor day on Sept 5 (could this be a subtle overture to get Ann Curry to come along?).
Offered Ms Couric at the time of Ann Curry's final appearance as co anchor in June:
'It really broke my heart this morning to see Ann, because I know she's suffering and is feeling a lot of pain with this transition.'
'I know that it's really hard for everyone on the show. I still have a lot of great friends that I made over those 15 years on the Today show, and this kind of tumult is really hard for everyone.'
What's noteworthy is the fact that Ms Couric's latest comments come after a series of back to back comments disparaging her former employer NBC as well as CBS where she hosted the evening news for five years until 2011.
dailymail.co.uk: She said that anchoring the show left her feeling 'constrained' and that only by biting her her tongue and just getting on with it could she deal with the poisonous atmosphere.
With Ms Couric slated to make a whopping $40 million a year with her new show (not bad for a journalist, but then again define journalist?) Ms Couric's comments could certainly strike observers as a cynical ploy to draw attention to herself and as a way to perhaps differentiate herself from the networks from where she got her first breaks. Then again it could also be a subtle feeler to perhaps get producers to take a chance on Ann Curry as a kind of co host with Kate?
Either way, since Ms Curry's departure, the fortunes of 'The Today's show have continued sinking. Not that Ms Couric is paying attention…
via The Philadelphia Inquirer — Katie Couric felt 'terrible' for Ann Curry
Ann Curry Fired. Looks like Matt Lauer is hated even more as mini revolt at Today heats.
Ann Curry firing. Al Roker now calls Matt Lauer out…
Ann Curry fired: Reunites with Matt at London. Refuses to engage him.
Ann Curry: Now reckons she was fired cause of her flat shoes, gray hair and too multi colored style.
Ann Curry Today show: At last NBC Today show gets a rating boost with Olympics.
Ann Curry fired. Reckons that The Today show are not living up to promises made to her.
Matt Lauer calls Meredith Vieira an 'Indian giver.'
Ann Curry fired: Feels vindicated as NBC ratings falter at the London Olympics
Ann Curry to return to The Today show after James Holmes shooting.
Ann Curry replacement Savannah Guthrie said to be having debilitating migraines.
Ann Curry fired. Media pundits anxiously await new Nielsen ratings.
Ann Curry live interview with Ladies Home Journal released.
Ann Curry is not missed as NBC insists that they are thrilled with the new anchor team.
Ann Curry Fired: Can NBC still save itself?
Ann Curry Fired: Savannah Guthrie's 'Today' Debut tanks!
Ann Curry's replacement Savannah Guthrie waxes girlish charm with giggly Matt Lauer
Ann Curry fired: Surfaces with new tweets, inspires more controversy.
What's wrong with media today?
Ann Curry Fired: Matt Lauer was 100 % behind her ouster from Today show.
Ann Curry fired: NBC executive comes out bashing former Today anchor.
Ann Curry fired and the capitulation of the Today show.
Matt Lauer's wife to follow him to London cause she's afraid he might cheat with Today's Natalie Morales.
Ann Curry Fired: Matt Lauer and his crocodile tears.
Ann Curry Fired. 'I'm sorry I couldn't carry the ball over the finish line…
Matt Lauer's wife threatened to divorce him if Natalie Morales became Today co anchor.
Ann Curry fired: Officially leaving Today, to make farewell speech imminently.
Ann Curry fired. Lap dances, grumpy fits and behind the scenes back stabbing…
Ann Curry Fired: More upheaval as passed over Natalie Morales set to leave Today show.
Ann Curry Fired: Ann haggling for $20 million exit money and NBC confirms Savannah Guthrie.
Ann Curry Fired. Backstabbed by NBC.
Ann Curry Fired. Refuses to take the hint now fed up NBC will go public.
Ann Curry doesn't care that she's fired. "I'm here to stay!'
Ann Curry Fired: 'Am I not good enough?'
Ann Curry turns up to Today show, acting as if she hasn't been fired.
Ann Curry fired cause NBC hates her.
Matt Lauer re-signs with the Today show whilst Ann Curry is a goner.
Ann Curry rumored to be fired because her co host Matt Lauer hates her guts.