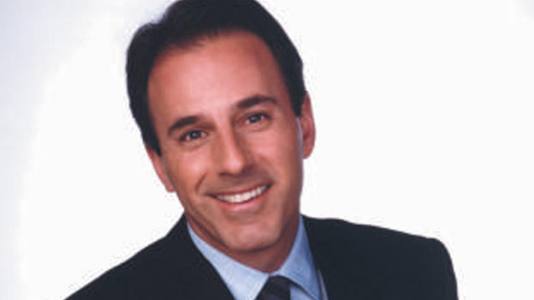 Matt Lauer to be scaled back from Today show cause no one likes him anymore.
Matt Lauer refuses to take a pay cut as 500 at NBC fear for their jobs.
Matt Lauer might now be replaced at Today show.
Matt Lauer is furious that Today's Jim Bell is forced out as Ann Curry supporter Alexandra Wallace is now brought on.
Oh really? Ann Curry firing leads to Today Producer Jim Bell being fired after ratings slump.
Oh really? Ann Curry firing leads to Today Producer Jim Bell being fired after ratings slump.
Ann Curry firing not Matt Lauer's fault insist Today crew. A turn of attitude?
Ann Curry's firing and Today shows tabloid fare is the reason why the show is tanking with former viewers.
Matt Lauer absence on Today show leads to huge sigh of relief from staff.
The Today show is groveling to have Ann Curry back.
Ann Curry firing now leads to Today show defending Matt Lauer.
Matt Lauer would like to tell you how his popularity has plummeted since Ann Curry was fired. Will he survive?
Ann Curry fired. Matt Lauer is looking very bad as Today ratings plummet further.
Matt Lauer urged to take a pay cut off his $25 million deal as Today show falters.
It is being reported this morning that NBC are seriously considering slashing 'Today show' co anchor's $25 million salary in lieu of the fact that ratings have been in a free fall ever since the departure of Ann Curry this past June who was unceremoniously dumped by the network many think at the best of Matt Lauer.
So incensed is the network with the negative feedback from viewers they have now been forced to re evaluate whether Mr Lauer is worth what he's been paid, hardly the good news Mr Lauer could be hoping for. Then again on some level he perhaps ought to be pleased for the time being he still has his job given his own dramatic plunge in popularity as measured by an industry quotient known as the Q score which has seen a 25% drop in the last year of Matt Lauer's likability factor. Something that internal studies courtesy of NBC have also mirrored.
Revealed a source to Radar Online: 'Matt Lauer will be asked to take a significant cut in his $25million salary if TODAY doesn't win the key November sweeps.'
'The May and November sweeps dictate how much the networks can charge for advertising and they are extremely important to the bottom line. The TODAY show had always been a cash cow for NBC, generating hundreds of millions of dollars of revenue.'
The operative word here is had been a cash cow and now NBC's owners aware of the negative fallout amongst viewers are now wondering how to assuage the show's beleaguered perception amongst them and the fear that their cash cow is on the way out.
The report also goes on to say that the network is also looking to rein in costs and a significant cost which has concerned them of late is Mr Lauer's steep salary which is now doubtful will yield the returns that his employer had initially envisioned.
The UK's dailymail also reports the following: Meanwhile, it has been reported that Morning Joe newsman Willie Geist will join the Today show to to serve as co-host during the 9am hour.
The New York Times' Media Decoder blog reported that Geist will back up Lauer and will share hosting duties with Natalie Morales, Al Roker and Savannah Guthrie starting at 9am.
Which is to say the network is very much aware of the negative fall out as a result of the fracas with Ann Curry over the summer on the morning show's viewership and are now trying to stem the outflow of readers with whatever means necessary.
One can only wait and see how this situation now plays out and whether Matt Lauer will be given a reprieve from viewers which seems unlikely considering insiders where he works have now even begun resenting what they describe his 'dictatorial attitude.'
Said an insider to page 6 last week: 'Matt's telling the staff they don't work hard enough, which is hard to take from a guy working four days a week, making millions.'
Responding to Page Six's request for comment, Matt Lauer at the time said: 'Please print this story – it's the most interesting and dangerous I've ever sounded!'
One can only imagine the sweet revenge that Ann Curry at present is feeling but even this may not be enough for her being humiliated and forcibly removed from what she had unabashedly declared at one stage to be her 'dream job.'
Then there was these comments which caught my eye which might provide a clue as to how Matt Lauer is currently being perceived by the viewership:
"No! Please don't cut my salary down to a paltry $20 million! I'll be out on the street and won't be able to pay for my private jet and mega-yacht!" really? Is Lauer really such a superstar that he needs this kind of presidential salary? How many good anchor men and women would $20 million get them? He's worth more than all of them combined!?
Matt is a has-been. He's always been an arrogant pr*@k. Matt is the reason for the Today Show's failure along with their skewed political agenda.
Ann Curry fired: Katie Couric slams NBC. But why?
Ann Curry Fired. Looks like Matt Lauer is hated even more as mini revolt at Today heats.
Ann Curry firing. Al Roker now calls Matt Lauer out…
Ann Curry fired: Reunites with Matt at London. Refuses to engage him.
Ann Curry: Now reckons she was fired cause of her flat shoes, gray hair and too multi colored style.
Ann Curry Today show: At last NBC Today show gets a rating boost with Olympics.
Ann Curry fired. Reckons that The Today show are not living up to promises made to her.
Matt Lauer calls Meredith Vieira an 'Indian giver.'
Ann Curry fired: Feels vindicated as NBC ratings falter at the London Olympics
Ann Curry to return to The Today show after James Holmes shooting.
Ann Curry replacement Savannah Guthrie said to be having debilitating migraines.
Ann Curry fired. Media pundits anxiously await new Nielsen ratings.
Ann Curry live interview with Ladies Home Journal released.
Ann Curry is not missed as NBC insists that they are thrilled with the new anchor team.
Ann Curry Fired: Can NBC still save itself?
Ann Curry Fired: Savannah Guthrie's 'Today' Debut tanks!
Ann Curry's replacement Savannah Guthrie waxes girlish charm with giggly Matt Lauer
Ann Curry fired: Surfaces with new tweets, inspires more controversy.
What's wrong with media today?
Ann Curry Fired: Matt Lauer was 100 % behind her ouster from Today show.
Ann Curry fired: NBC executive comes out bashing former Today anchor.
Ann Curry fired and the capitulation of the Today show.
Matt Lauer's wife to follow him to London cause she's afraid he might cheat with Today's Natalie Morales.
Ann Curry Fired: Matt Lauer and his crocodile tears.
Ann Curry Fired. 'I'm sorry I couldn't carry the ball over the finish line…
Matt Lauer's wife threatened to divorce him if Natalie Morales became Today co anchor.
Ann Curry fired: Officially leaving Today, to make farewell speech imminently.
Ann Curry fired. Lap dances, grumpy fits and behind the scenes back stabbing…
Ann Curry Fired: More upheaval as passed over Natalie Morales set to leave Today show.
Ann Curry Fired: Ann haggling for $20 million exit money and NBC confirms Savannah Guthrie.
Ann Curry Fired. Backstabbed by NBC.
Ann Curry Fired. Refuses to take the hint now fed up NBC will go public.
Ann Curry doesn't care that she's fired. "I'm here to stay!'
Ann Curry Fired: 'Am I not good enough?'
Ann Curry turns up to Today show, acting as if she hasn't been fired.
Ann Curry fired cause NBC hates her.
Matt Lauer re-signs with the Today show whilst Ann Curry is a goner.
Ann Curry rumored to be fired because her co host Matt Lauer hates her guts.