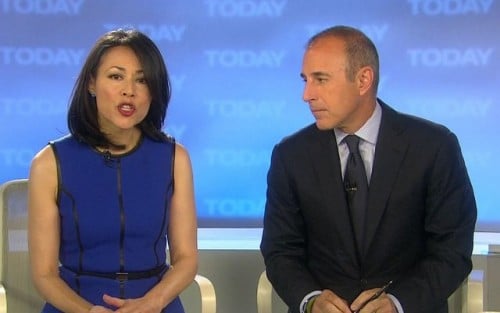 At last! Matt Lauer is getting fired!
Matt Lauer to be scaled back from Today show cause no one likes him anymore.
Matt Lauer refuses to take a pay cut as 500 at NBC fear for their jobs.
Matt Lauer might now be replaced at Today show.
Matt Lauer is furious that Today's Jim Bell is forced out as Ann Curry supporter Alexandra Wallace is now brought on.
Oh really? Ann Curry firing leads to Today Producer Jim Bell being fired after ratings slump.
Ann Curry's firing and Today shows tabloid fare is the reason why the show is tanking with former viewers.
Interesting it now seems that cast and crew at NBC's beleaguered 'Today' show are doing an about face after weeks of complaining about the show's less than popular co anchor Matt Lauer saying that they don't believe he had anything to do with Ann Curry being fired.
Reports radaronline this morning: "The cast and crew have rallied around Matt and feel that he has been unfairly blamed for Ann's firing," a source close to the situation tells Radar."
So who pulled the trigger then? Well according to insiders the decision to let Ann Curry go was made by the show's producer Jim Bell who has already come out publicly in a show of faith with Matt Lauer by insisting that it wasn't Matt who caused Ann to go but him. Then again Mr Bell only came out and stated this after insiders opined that Matt Lauer was getting fed up with being a moving target and the fallback guy for the show's recent losses in viewership.
Continues radar's source (does someone get the feeling that there is pr campaign going on to resurrect Mr Lauer's image all of a sudden? Especially after last week's less than stellar insider revelation?):
"Matt is extremely supportive of the show and just wants to be back on top, he isn't happy with being in second place and is working with the staff to get back to where they used to be. Matt has been unfairly blamed for things that are just simply beyond his control as far as the show is concerned. If Matt was such a tyrant to be around, why has he had the same assistant for over 15 years? Bryant went through a slew of assistants during his time at NBC and Matt has only had one during his tenure. A majority of the producers have also been on the staff for a number of years — if Matt was so horrible to be around, why isn't there a revolving door of exits?"
Why isn't there a revolving door of exits? Well perhaps that has something to do with all the pay them kind critters are getting paid at NBC and not to mention there aren't exactly a whole slew of morning programs to suddenly jump to. But then again if the Today cast suddenly feel cheery about working with Matt Lauer and wish to conspicuously express that who's the wiser?
And what about Ann Curry? What's the pr machine saying about her?
"Ann has been reporting for other NBC news programs as well. She certainly didn't like getting sacked from being the co-host, but Ann is making the best of the situation and is a true professional. Fans of the TODAY show let the network know they missed seeing Ann and the plan going forward is to use her more. Hopefully that might bolster the show's falling ratings."
Interesting. Fire Ann but now grovel to get her back so it looks less like she wasn't fired but just temporarily displaced. But then again why are you or me so worried about Ann (sorry Ann, I still adore you) when she's making a sizable $10 million annual salary?
And least of all there's Savannnah Guthrie who hasn't necessarily been the success story off the bat producers had been hoping for:
"Savannah is truly settling into her role. She walked into a sh*t storm, which she had nothing to do with and has handled it with true class," the insider says. "Savannah is truly part of the TODAY show family. She is wicked smart but she isn't arrogant about it. The cast is truly working together."
Yes the cast is truly working together as is the pr department. Watch out for future developments kids should the 'Today' show continue hemorrhaging viewership, suddenly it will be 'well we hated Matt more than you can imagine,' or will it?
Matt Lauer absence on Today show leads to huge sigh of relief from staff.
The Today show is groveling to have Ann Curry back.
Ann Curry firing now leads to Today show defending Matt Lauer.
Ann Curry gets her revenge as Matt Lauer now said to be forced to take huge pay cut…
Matt Lauer would like to tell you how his popularity has plummeted since Ann Curry was fired. Will he survive?
Ann Curry fired. Matt Lauer is looking very bad as Today ratings plummet further.
Matt Lauer urged to take a pay cut off his $25 million deal as Today show falters.
Ann Curry fired: Katie Couric slams NBC. But why?
Ann Curry Fired. Looks like Matt Lauer is hated even more as mini revolt at Today heats.
Ann Curry firing. Al Roker now calls Matt Lauer out…
Ann Curry fired: Reunites with Matt at London. Refuses to engage him.
Ann Curry: Now reckons she was fired cause of her flat shoes, gray hair and too multi colored style.
Ann Curry Today show: At last NBC Today show gets a rating boost with Olympics.
Ann Curry fired. Reckons that The Today show are not living up to promises made to her.
Matt Lauer calls Meredith Vieira an 'Indian giver.'
Ann Curry fired: Feels vindicated as NBC ratings falter at the London Olympics
Ann Curry to return to The Today show after James Holmes shooting.
Ann Curry replacement Savannah Guthrie said to be having debilitating migraines.
Ann Curry fired. Media pundits anxiously await new Nielsen ratings.
Ann Curry live interview with Ladies Home Journal released.
Ann Curry is not missed as NBC insists that they are thrilled with the new anchor team.
Ann Curry Fired: Can NBC still save itself?
Ann Curry Fired: Savannah Guthrie's 'Today' Debut tanks!
Ann Curry's replacement Savannah Guthrie waxes girlish charm with giggly Matt Lauer
Ann Curry fired: Surfaces with new tweets, inspires more controversy.
What's wrong with media today?
Ann Curry Fired: Matt Lauer was 100 % behind her ouster from Today show.
Ann Curry fired: NBC executive comes out bashing former Today anchor.
Ann Curry fired and the capitulation of the Today show.
Matt Lauer's wife to follow him to London cause she's afraid he might cheat with Today's Natalie Morales.
Ann Curry Fired: Matt Lauer and his crocodile tears.
Ann Curry Fired. 'I'm sorry I couldn't carry the ball over the finish line…
Matt Lauer's wife threatened to divorce him if Natalie Morales became Today co anchor.
Ann Curry fired: Officially leaving Today, to make farewell speech imminently.
Ann Curry fired. Lap dances, grumpy fits and behind the scenes back stabbing…
Ann Curry Fired: More upheaval as passed over Natalie Morales set to leave Today show.
Ann Curry Fired: Ann haggling for $20 million exit money and NBC confirms Savannah Guthrie.
Ann Curry Fired. Backstabbed by NBC.
Ann Curry Fired. Refuses to take the hint now fed up NBC will go public.
Ann Curry doesn't care that she's fired. "I'm here to stay!'
Ann Curry Fired: 'Am I not good enough?'
Ann Curry turns up to Today show, acting as if she hasn't been fired.
Ann Curry fired cause NBC hates her.
Matt Lauer re-signs with the Today show whilst Ann Curry is a goner.
Ann Curry rumored to be fired because her co host Matt Lauer hates her guts.