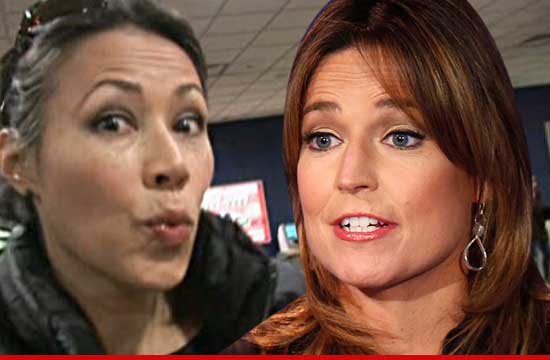 Ann Curry fired. Pundits anxiously await new Nielsen ratings.
Ann Curry video interview with Ladies Home Journal released.
Ann Curry fired: Today show loses with Savannah Guthrie week one
Ann Curry is not missed as NBC insists that they are thrilled with the new anchor team.
Ann Curry Fired, NBC Dismal ratings and viewer contempt.
Ann Curry Fired: Savannah Guthrie's 'Today' Debut tanks.
Ann Curry's replacement Savannah Guthrie waxes girlish charm with giggly Matt Lauer.
Ann Curry fired: Savannah Guthrie makes her official Today debut, viewers flock in droves.
Ann Curry fired: Today show fighting for its life against Good Morning America.
Ann Curry fired: Surfaces with new tweets, inspires more controversy.
Ann Curry Fired: Matt Lauer was 100 % behind her ouster from Today show.
Ann Curry fired: NBC executive comes out to say she wasn't right for the job.
Matt Lauer's wife to follow him to London cause she's afraid he might cheat with Today's Natalie Morales.
Ann Curry fired and the imminent collapse of the Today show.
Ann Curry Fired: Matt Lauer and his crocodile tears.
Ann Curry Fired. (Video)Gut wrenching '…sorry I couldn't be the groundbreaker…'
Matt Lauer's wife threatened to divorce him if Natalie Morales became Today co anchor.
Ann Curry fired: Officially leaving Today, to make farewell speech imminently.
Ann Curry fired. Lap dances, grumpy fits and behind the scenes back stabbing…
Ann Curry Fired: More upheaval as passed over Natalie Morales set to leave Today show.
Ann Curry Fired. Backstabbed by NBC.
Ann Curry Fired. Refuses to take the hint now fed up NBC will go public.
Ann Curry Fired: 'Am I not good enough?'
Ann Curry doesn't care that she's fired. "I'm here to stay!'
Ann Curry turns up to Today show, acting as if she hasn't been fired.
Ann Curry fired cause NBC hates her.
It seems the mad charade that has been playing out at NBC may finally be coming to a close as insiders are disclosing that NBC and Ann Curry are now deep in discussions about her exit from the show whilst Savannah Guthrie has already been confirmed to become the Today show's new co anchor alongside Matt Lauer.
What though may hold up things is the amount of money that NBC will have to be Ms Curry to send her on her marching papers. That unfortunately for NBC may be the new thorn in their side as Ms Curry who despite the wide public sympathy she has been receiving has actually being playing a very shrewd behind the scenes game with NBC, which ironically might be why they want to see her go. Ms Curry rather than been too empathetic as one NBC insider disclosed in a NYT's article over the weekend may infact may be too belligerent and too demanding for NBC's tastes. The sticking point now it seems is whether Ms Curry can get NBC to give her $20 million to get her out of the way as opposed to the $10 million they have proposed.
tmz: As we first reported, Ann gets $10 million a year.  She is one year into a 3-year contract, and from what we're hearing NBC does not want to pay her $20 million for the balance of the contract.
Sources tell us Ann wants the full $20 mil and her exit papers.  NBC wants to pay her $10 mil and give her a foreign correspondent job.  And therein lies the hang-up. 
What a hang up it could prove to be as well. With the London Summer Olympics just around the corner and NBC having already stated its intention of running its operations from London in lieu of the games certainly wont be in any mood to see negotations drag and are probably furiously trying to figure a way to get the monkey off their back. Except of course Ms Curry knows all this and is probably trying in her own very clever way to see what possible best deal she may be able to cut out for herself.
If she does manage to get herself a $20 million buyout deal, she'll probably be locked from working for the next two years. Meanwhile, NBC insiders have confirmed that Savannah Guthrie has been offered the job of co anchor and is anxious to start.
Matt Lauer re-signs with the Today show whilst Ann Curry is a goner.
Ann Curry rumored to be fired because her co host Matt Lauer hates her guts.