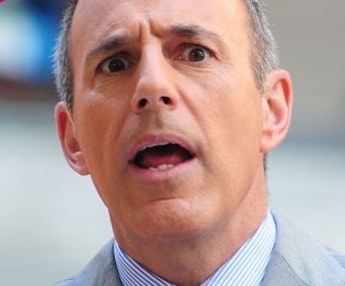 Interesting. Matt Lauer begs NBC to let Ann Curry out of her contract.
Matt Lauer will be replaced by Willie Geist. Just a matter of time.
Matt Lauer celebrates his 55th birthday in misery. Studying GMA's success….
Interesting. Matt Lauer's bosses can't get Ann Curry to have 'friendly' lunch with him.
Oh my! Matt Lauer is getting called nasty things on the street by people angry at him for Ann Curry's firing.
Matt Lauer will be fired by February if 'Today' ratings don't pick up. Replacement sought…
Has Matt Lauer become an unfair target? How he fell from grace…
At last! Matt Lauer is getting fired!
Matt Lauer to be scaled back from Today show cause no one likes him anymore.
Matt Lauer refuses to take a pay cut as 500 at NBC fear for their jobs.
Matt Lauer might now be replaced at Today show.
Matt Lauer is furious that Today's Jim Bell is forced out as Ann Curry supporter Alexandra Wallace is now brought on.
Oh really? Ann Curry firing leads to Today Producer Jim Bell being fired after ratings slump.
Ann Curry's firing and Today shows tabloid fare is the reason why the show is tanking with former viewers.
Ann Curry firing not Matt Lauer's fault insist Today crew. A turn of attitude?
Ann Curry's firing and Today shows tabloid fare is the reason why the show is tanking with former viewers.
Matt Lauer doesn't really care what you think, thank you very much…
Oh to be the morning God that Matt Lauer believes himself to be as calls for his axing grow louder this now amongst twitter followers banging on the pot drum yesterday urging Matt to give it all up and finally call it a day.
With rumors and prompts that Matt Lauer is now a sitting duck and will soon be on his way out (don't let the door slam on the way out please Matt!), 'Today show' viewers it seems can't hardly wait for the day that Matt is finally no longer on their screens as resentment and disgust with with the former adored King of morning TV.
Most pronounced with disgust for Matt came via twitter where commentators really went to work with debunking Matt.
From his failure to correctly pronounce certain key words in his articulation of yesterday's Macy's Thanksgiving day parade live, to even some commenting how old the 54 year old anchor looks , with some even taking a stab at his thinning hair.
Said one twitter follower: 'Matt Lauer doesn't age that well. Look at his hair though. I have a picture of him from awhile ago and he looks so much better', 'Dear Matt Lauer, RETIRE. YOU LOOK LIKE A CROTCHETY OLD MAN' and 'I remember when back when Matt Lauer had hair.' 
With respect to his presenting style, viewers tweeted:
'Matt Lauer's coverage of branded thanksgiving floats is indistinguishable from his coverage of the Olympic opening ceremony'; 'Matt Lauer should get a lifetime achievement award for saying ridiculous things with deadpan, absolute sincerity. Way to go Matt' and 'Is there a device to delete Matt Lauer's voice while watching the Macy's parade?'
The increasing unabashed dissent towards Matt Lauer comes pursuant to a reportvia the National Enquirer which says that higher ups at NBC have decided to pull the plug on Matt Lauer as he is increasingly seen as aggravating not only viewers but that of cast crew and executives on the account of clashes he has had with them and the perception he is not a team player with the release of the news that Matt has declined to take a cut on his annual $21 million salary to help save some jobs. At present it is understood up to 500 staff are slated to now lose their job at NBC as the outlet continues to hemorrhage losses.
Losses that many are beginning to believe that Matt Laeur himself is largely responsible for given that his cavalier, arrogant and scheming demeanor (he is thought to really be the catalyst for Ann Curry's ouster which only had the effect of worsening NBC's rankings not improving them as some thought) have alienated many viewers, advertisers and of course fellow crew.
As reiterates the UK's dailymail: A high profile former NBC News executive recently said the show needed a new frontman to turn it's ratings around.
'This problem is not going to go away until Matt Lauer does,' the source said. 'He's great, but fairly or unfairly, his brand is damaged.'
Mr Roker, a loyal friend of Ann Curry, has been secretly working towards Mr Lauer's demise for sometime, according to The Enquirer.
Oh dear. Remember Matt, be careful not to slam the door too loudly on the way out. In the interim let's hope Matt manages to continue calmly drinking his perfect chamomile lest something untoward should happen to him….
Matt Lauer absence on Today show leads to huge sigh of relief from staff.
The Today show is groveling to have Ann Curry back.
Ann Curry firing now leads to Today show defending Matt Lauer.
Ann Curry gets her revenge as Matt Lauer now said to be forced to take huge pay cut…
Matt Lauer would like to tell you how his popularity has plummeted since Ann Curry was fired. Will he survive?
Ann Curry fired. Matt Lauer is looking very bad as Today ratings plummet further.
Matt Lauer urged to take a pay cut off his $25 million deal as Today show falters.
Ann Curry fired: Katie Couric slams NBC. But why?
Ann Curry Fired. Looks like Matt Lauer is hated even more as mini revolt at Today heats.
Ann Curry firing. Al Roker now calls Matt Lauer out…
Ann Curry fired: Reunites with Matt at London. Refuses to engage him.
Ann Curry: Now reckons she was fired cause of her flat shoes, gray hair and too multi colored style.
Ann Curry Today show: At last NBC Today show gets a rating boost with Olympics.
Ann Curry fired. Reckons that The Today show are not living up to promises made to her.
Matt Lauer calls Meredith Vieira an 'Indian giver.'
Ann Curry fired: Feels vindicated as NBC ratings falter at the London Olympics
Ann Curry to return to The Today show after James Holmes shooting.
Ann Curry replacement Savannah Guthrie said to be having debilitating migraines.
Ann Curry fired. Media pundits anxiously await new Nielsen ratings.
Ann Curry live interview with Ladies Home Journal released.
Ann Curry is not missed as NBC insists that they are thrilled with the new anchor team.
Ann Curry Fired: Can NBC still save itself?
Ann Curry Fired: Savannah Guthrie's 'Today' Debut tanks!
Ann Curry's replacement Savannah Guthrie waxes girlish charm with giggly Matt Lauer
Ann Curry fired: Surfaces with new tweets, inspires more controversy.
What's wrong with media today?
Ann Curry Fired: Matt Lauer was 100 % behind her ouster from Today show.
Ann Curry fired: NBC executive comes out bashing former Today anchor.
Ann Curry fired and the capitulation of the Today show.
Matt Lauer's wife to follow him to London cause she's afraid he might cheat with Today's Natalie Morales.
Ann Curry Fired: Matt Lauer and his crocodile tears.
Ann Curry Fired. 'I'm sorry I couldn't carry the ball over the finish line…
Matt Lauer's wife threatened to divorce him if Natalie Morales became Today co anchor.
Ann Curry fired: Officially leaving Today, to make farewell speech imminently.
Ann Curry fired. Lap dances, grumpy fits and behind the scenes back stabbing…
Ann Curry Fired: More upheaval as passed over Natalie Morales set to leave Today show.
Ann Curry Fired: Ann haggling for $20 million exit money and NBC confirms Savannah Guthrie.
Ann Curry Fired. Backstabbed by NBC.
Ann Curry Fired. Refuses to take the hint now fed up NBC will go public.
Ann Curry doesn't care that she's fired. "I'm here to stay!'
Ann Curry Fired: 'Am I not good enough?'
Ann Curry turns up to Today show, acting as if she hasn't been fired.
Ann Curry fired cause NBC hates her.
Matt Lauer re-signs with the Today show whilst Ann Curry is a goner.
Ann Curry rumored to be fired because her co host Matt Lauer hates her guts.