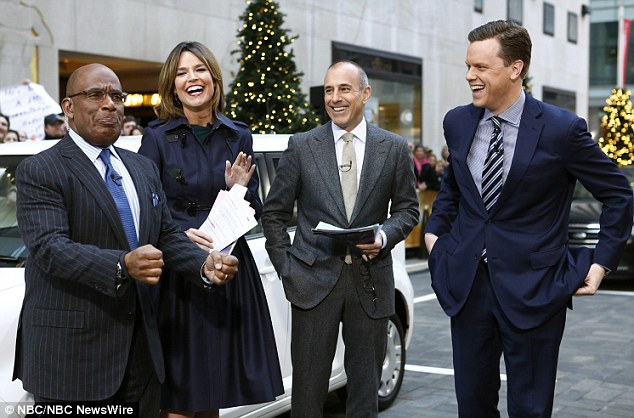 Ann Curry is not good enough for CNN says boss Jeff Zucker.
Ann Curry is being denied live interviews on NBC. Tensions escalate.
Interesting. Matt Lauer begs NBC to let Ann Curry out of her contract.
Making gossip rounds this morning is the assertion that Matt Lauer might indeed be on his last legs as NBC's 'The Today' show continues to flounder to its rival ABC's 'GMA' which until last year had consistently trounced.
Standing in to replace him is Willie Geist, the show's co host of the third hour of Today who is being groomed to possibly replace Matt Lauer if ratings do not edge back up. This according to an insider as revealed to radaronline.
"Willie is absolutely being groomed to become Matt Lauer's replacement if the ratings don't improve. Willie has been filling in for Matt while he has been on vacation during the holidays and has been doing an phenomenal job." 
And how is Willie faring now that Matt is on 'temporary' leave?
"Willie is so at ease and just an easygoing person, and therefore he makes everyone around him feel comfortable. Savannah and Willie get along very well, they always have. The crew of TODAY has lamented that Willie reminds them of Matt Lauer in his beginning days on the show. Matt has changed a lot and isn't comfortable in his own skin, and the viewers can see that. Willie absolutely isn't gunning for Matt's job. He is just showing up for work and doing what is asked of him."
Who's also lamented with Matt Lauer's once impeccable chamomile tea manners is Ann Curry who was ousted at the hands of her former colleague, despite consistent lamentations from Lauer that he had nothing to do with her ouster last summer.
SInce Ann Curry's departure, viewers have vented their rage at Lauer who increasingly is fighting an uphill battle to maintain the effortless repore that he once held with viewers before tiny chinks started appearing in his too perfect tea cup…