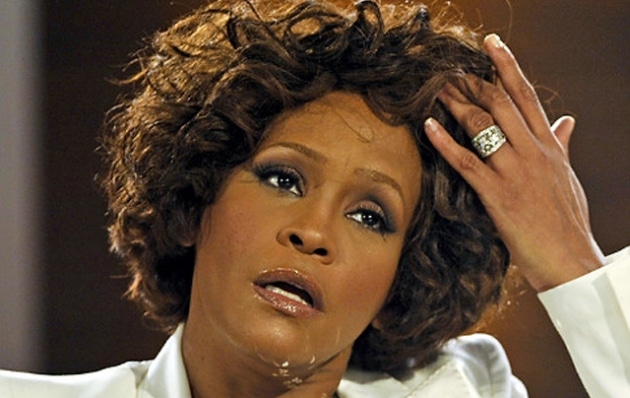 Making headlines once again is Whitney Houston who made sensational headlines back in February when she was found deceased in her bathtub at the Beverly Hilton Hotel in Los Angeles. At the time all sorts of theory had emerged as to the actual cause of her death but in the end it was ruled that the infamous singer had died from drowning after suffering heart failure, the result of a dangerous cocktail of cocaine, marijuana and several other legal drugs.
Yet that founding may now be put to the test according to one private investigator, Paul Huebl who reckons the diva was murdered by drug dealers cause of large outstanding debts (some say $1.5 million) owed to drug dealers. Even more stark is Huebel's claims that Houston's murder was all caught on tape.
radaronline: "I have evidence that points to Whitney being a victim of a high powered drug dealers who sent thugs to collect a huge debt she owed for drugs," Huebl says in the new issue of the National Enquirer, which broke the story.
Backing Huebl's claim is the assertion that video at the hotel revealed the consistent presence of two unknown men who would repeatedly show up at the singer's hotel room and who at times appeared inconspicuous because they blended in with the singer's hanger ons.
The day before her death Whitney received a cocaine delivery but was later heard to say, "I'm tired of this sh*t." The PI says she was referring to being tired of harassed to pay her drug debt, which had reached $1.5 million.
On the day she died, Whitney was left alone in her hotel room for 45 minutes and that's when one or both of the killers slipped into her room and were captured on surveillance video.
Interesting stuff, but who's to necessarily say that the coming and going of these two men necessarily point to the singer being murdered and not simply individuals who were consistently supplying the singer with narcotics?
And what about the coroner's assertion at the time of Houston's death there was no evidence of foul play?
Reckons Huebl who got a chance to look at the report:
"Whitney's body shows classic defense wounds that would have occurred while she was battling for her life,"
Huebl details those injuries and the evidence he says points to a struggle occurring during the last minutes of the singing superstar's life in her hotel room and bathroom.
Once again interesting stuff but one really has to wonder if those supposed injuries weren't just injuries sustained a few nights before when the singer had a spat with a fan at a local club and with respect to video capturing the presence of men coming and going that doesn't necessarily mean she was murdered. And if she was murdered how was she murdered, at the time of Houston's death no discernible signs of trauma or weapons were found at the scene.  Then again perhaps this is just one private investigator's attempt at a grab of fame and even more sadly perhaps the milking of a story to deny the fact that in the end Whitney Houston was a seasoned drug addict who died as a consequence of her unstoppable addiction.
And then there was this observation on the web as well:
1) Dead people don't pay back debts.
2) How big of a drug dealer do you have to be to be willing to give out over 1 million dollars of drugs to someone and then be willing to loose all that cash by eliminating them?
3) Why didn't they just sell her a bunch of uncut cocaine and say it was cut? It would look like an overdose, it would be easy to do and easy to get away with. If that wouldn't work, why not just mix some ricin in the cocaine? No one would know what killed for for weeks and most would assume it was put in her drink or food.
4) Using SilkRoad as a reference for the price of uncut cocaine, uncut cocaine, or specifically something called "fish scale" cocaine (I'm not drug addict so I don't know what the technically is) costs about 8.5 bitcoins per gram. Since a bitcoin is worth aprox $14 USD, 1.5 million dollars would equal anout 107,142 Bitcoins which would buy roughtly 12.6 Kilograms of uncut cocaine. Since I'm no coke addict, I have no idea how much a hard core addict goes through but that's a lot of cocaine. You have to have a pretty good credit rating on the black market to have been in debt for the amount of cocaine that would compare to almost the weight of a bag of Ol' Roy dog food. 
Forthcoming details are said to be released in the new issue of the Enquirer, which hit newsstands today.
above image found here
New evidence suggests Whitney Houston died smoking crack before drowning.