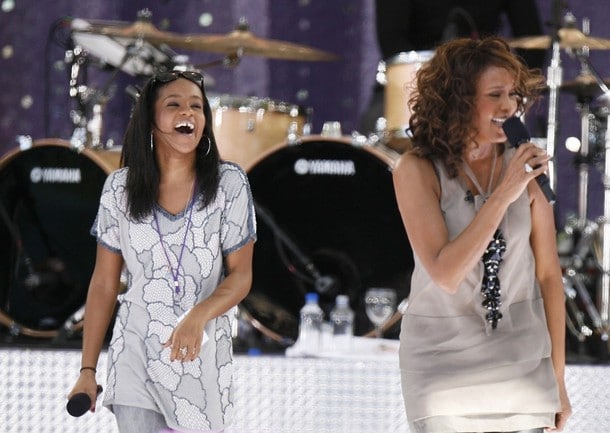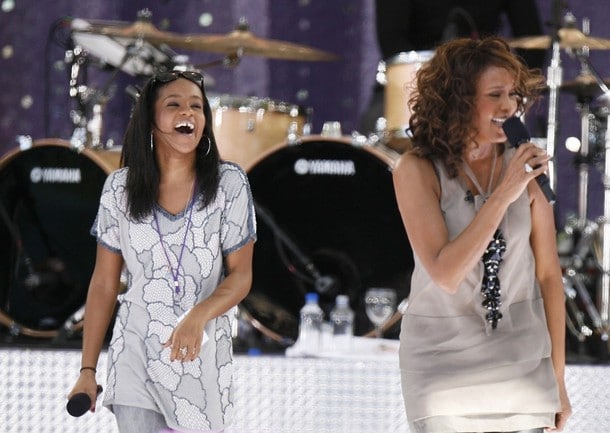 Busted! Whitney Houston's daughter Bobbi found getting high on cocaine after funeral.
Drug dealer reveals he sold Whitney thousands of dollars worth of cocaine prior to her death.
Bobby Brown rushes to a casino after Whitney's funeral.
Bobbi Kristina Brown, known coke fiend now being urged to enter rehab.
Bobby Brown yesterday returned to be with his daughter, Bobbi Kristina Brown after she was rushed to hospital earlier in the day for shock after the revelation that her mother and her father's ex wife of 17 years may have drowned after falling asleep in a bath tub, possibly after taking Xanas, a drug used to treat anxiety and depression.
At the time of her mother's death, Bobbi Kristina had been in the hotel lobby where she began to excitedly scream after paramedics rushed to the room where mother was staying. Screaming over and over:
'What's wrong with her? What's wrong with her?" 
At the time of the singer's death, Whitney Houston was in town to be one of the featured guests of her mentor and Grammy award mogul Clive Davis who despite the singer's death Saturday afternoon decided to go ahead with a pre Grammy party that would take place four flights below where his protegé had died at the Beverly Hilton Hotel.
Prior to her death, Whitney Houston had spent time with her family and doing what she loves best- singing, having performed at Hollywood's Tru nightclub, where images ultimately ended up capturing her appearing rather agitated and disheveled and what would later appear to be her being intoxicated, sweating profusely, with blood running down her leg after an altercation with one of the singers, Stacy Francis performing that night.
Offered Grammy producer Ken Ehrlich:
"It's too fresh in everyone's memory to do more at this time," he said on Saturday, "but we would be remiss if we didn't recognise Whitney's remarkable contribution to music fans in general, and in particular her close ties with the Grammy telecast and her Grammy wins and nominations over the years."
Until the actual cause of what actually killed the singer is publicly released once toxicology results have been assessed six-to eight weeks from now, speculation will remain rife as to how the singer succumbed but that perhaps may be the toll her legacy will have to pay as the world once again pores and sifts for clues as to what made Whitney Houston tick and how and why she eventually succumbed to what many suspect that eventually killed her: her addictions to drugs. This despite the public's addiction to her which may have paradoxically fed the distress and unease that was to ultimately consume the singer that despite her death continues to inspire awe and wonder for the immense talents and musical talents she once possessed.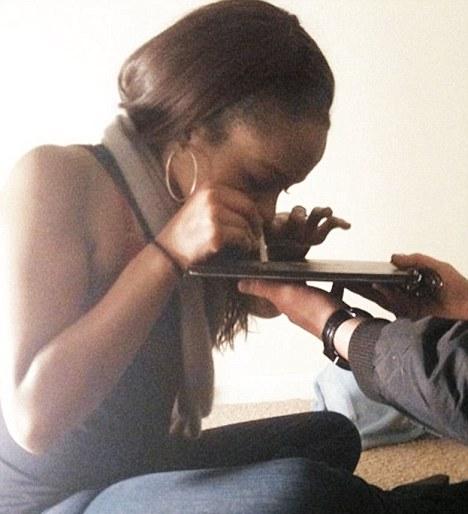 Whitney Houston: the human behind the celebrity
Kevin Costner: 'I should have saved Whitney!'
Was Whitney Houston's greatest love a woman?
Bobby Brown storms out of Whitney's funeral after scuffle ensues.
Breaking: Whitney Houston memorial tribute for Saturday's funeral leaked.
Whitney Houston's funeral likely to be a cluster fxck for Hollywood.
Was Whitney Houston a secret lesbian? Did self disgust fuel a drug binge?
Revealed: Plastic surgeon refused to take Whitney Houston on because she failed medical
Revealed: aides rushed to get rid of Whitney's coke stash before paramedics arrived.
Bobby Brown gives in and will not attend Whitney's funeral despite earlier reports of crashing.
Bobby Brown not invited to Whitney Houston's funeral insists he's going to crash it anyway
And this is a picture of the bathtub that Whitney Houston died in.
Whitney Houston: Doomed to self destruct, blew over $100 million on crack.
Chaka Khan: "Whitney and I got high together."
GRAMMYS: Adele returns, Whitney remembered
New questions arise if Whitney Houston committed suicide.
BREAKING: Whitney Houston's daughter, Bobbi Kristina, rushed to hospital
Last public photos of Whitney Houston shows her disheveled, disorientated and very agitated.
Theory emerges that Whitney Houston may have died due to prescription drugs
Kim Kardashian attends pre-Grammy party, disrespects Whitney