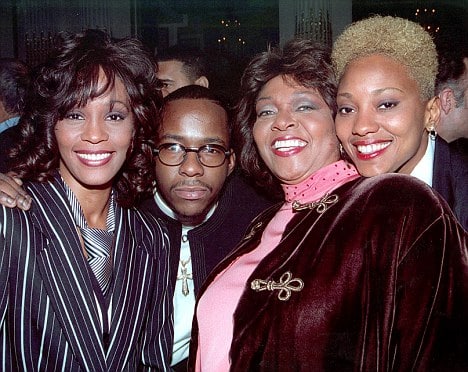 Busted! Whitney Houston's daughter Bobbi found getting high on cocaine after funeral.
Drug dealer reveals he sold Whitney thousands of dollars worth of cocaine prior to her death.
In this morning's edition of the dailymail, gay activitst Peter Tatchell has come forward to pen an article that raises the possibility that Whitney Houston may have been robbed of 'her greatest love of all,' her assistant and personal friend Robyn Crawford.
When I met them, it was obvious they were madly in love. Their intimacy and affection was so sweet and romantic.
They held hands in the back of the car like teenage sweethearts. Clearly more than just friends, they were a gorgeous couple and so happy together. To see their love was infectious and uplifting.
But apparently the love was to be short lived, according to Mr Tatchell with Whitney Houston being reined back by the pressures of her family, her career (apparently one is led to believe by Mr Tatchell that being openly gay and or bi will often lead to negative consequences, even in the entertainment business) and the demands of the church. This of course would lead to the eventual convenient pairing up with Bobby Brown where disaster after disaster would follow, one supposes in part because of Mr Brown's incorrigible nature and the grief Whitney Houston was experiencing in having been made to give up her 'greatest love of all.'
Finally there's this from Mr Tatchell:
Homophobia contributed to Whitney's fall.
I want to see a more tolerant society where people don't feel the need to marry to deflect rumours of homosexuality, and where they are not driven to self-destruction because of their inability to accept and express their love for a person of the same sex.
Achieving this goal would be a fitting tribute to Whitney Houston.
Just an opportunistic tact by a gay activist to correlate his agenda to the death of Ms Houston or an adroit representation of a behind the scenes play in Ms Houston's life which may have exacerbated her eventual downfall?
Bobby Brown rushes to a casino after Whitney's funeral.
Bobbi Kristina Brown, known coke fiend now being urged to enter rehab.
Whitney Houston: the human behind the celebrity
Kevin Costner: 'I should have saved Whitney!'
Clive Davis: 'I was going to help Whitney make a comeback.'
Bobby Brown storms out of Whitney's funeral after scuffle ensues.
Whitney Houston's funeral draws Hollywood's biggest names.
Mourners dance in the streets as Whitney's wake is held indoors.
Breaking: Whitney Houston memorial tribute for Saturday's funeral leaked.
Revealed: Plastic surgeon refused to take Whitney Houston on because she failed medical
Was Whitney Houston a secret lesbian? Did self disgust fuel a drug binge?
Bobby Brown gives in and will not attend Whitney's funeral despite earlier reports of crashing.