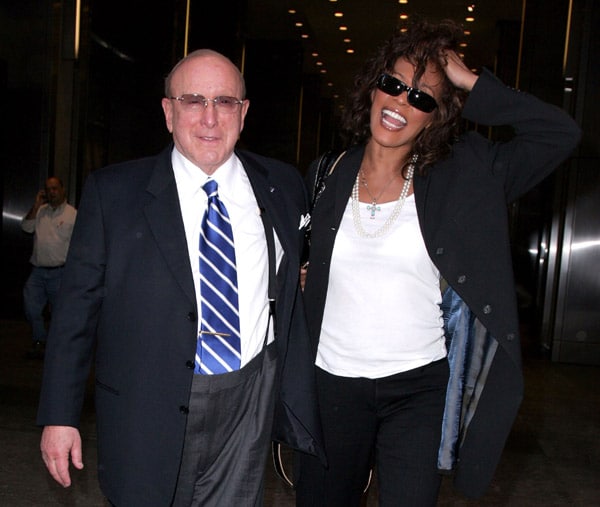 Busted! Whitney Houston's daughter Bobbi found getting high on cocaine after funeral.
Drug dealer reveals he sold Whitney thousands of dollars worth of cocaine prior to her death.
'When I needed her, she was there.' Never mind, the party must go on….
Pursuant to last week's contention decision to continue hosting a pre Grammy party, Clive Davis yesterday decided at yesterday's wake for the singer he once propelled to the stratosphere to take a conciliatory tone:
"… last week Whitney came to my hotel bungalow alone — no bodyguards, no security, just Whitney and me. And she played her new cuts from Sparkle for me and I played some new music that I liked for her. It was like old times and she looked at me and quietly said, "I want you to know I'm getting in shape. I'm swimming an hour or two a day and I'm committed to get my high notes back — no cigarettes — plenty of vocal exercising — Clive, I'll be ready by August."
To which the producer responded : "I'm going to to hold you to it,"
In fact over the years the producer had ostensibly aided and abetted the singer's debauched lifestyle choices by continuously supplying with her batches of millions of dollars the singer would go on to use recklessly. At one point Clive Davis propped her up for a world tour, which although it did clear in the black was vehemently derided as one of the worst series of performances the singer had ever given to date.
Nevertheless the pair worked closely together for 3 decades, each helping each other create a stepping stone to vast riches and coveted positions within the entertainment business with Whitney Houston ultimately unable to sustain the wondrous journey her career once promised. Perhaps it was this desire to once again see his fallen idol reclaim the stage that prompted the producer to stand by the singer, even at her worst, which might not have been necessarily so difficult to do when he once helped engineer her at once her best….
Bobby Brown rushes to a casino after Whitney's funeral.
Bobbi Kristina Brown, known coke fiend now being urged to enter rehab.
Kevin Costner: 'I should have saved Whitney!'
Whitney Houston: the human behind the celebrity
Was Whitney Houston's greatest love a woman?
Bobby Brown storms out of Whitney's funeral after scuffle ensues.
Whitney Houston's funeral draws Hollywood's biggest names.
Mourners dance in the streets as Whitney's wake is held indoors.
Breaking: Whitney Houston memorial tribute for Saturday's funeral leaked.
Revealed: Plastic surgeon refused to take Whitney Houston on because she failed medical
Was Whitney Houston a secret lesbian? Did self disgust fuel a drug binge?
Bobby Brown gives in and will not attend Whitney's funeral despite earlier reports of crashing.