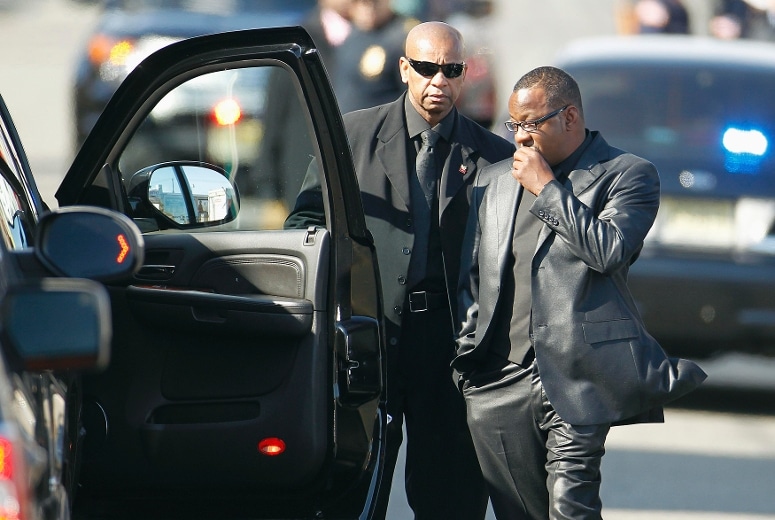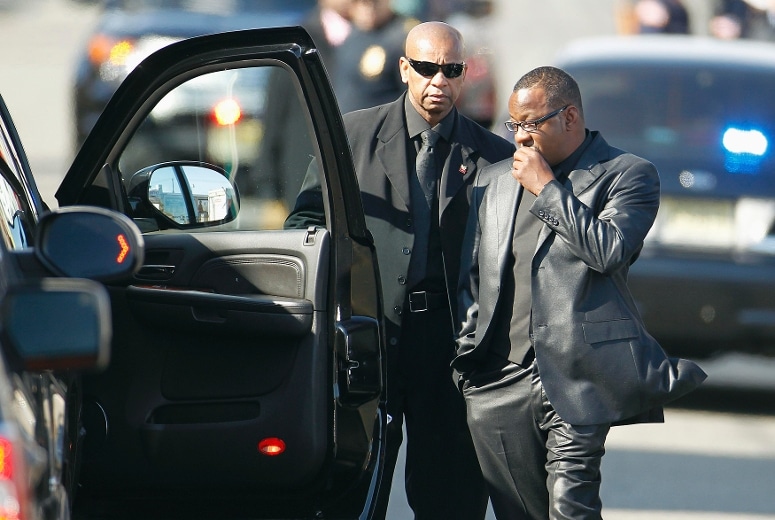 Busted! Whitney Houston's daughter Bobbi found getting high on cocaine after funeral.
Drug dealer reveals he sold Whitney thousands of dollars worth of cocaine prior to her death.
Bobby Brown rushes to a casino after Whitney's funeral.
Bobbi Kristina Brown, known coke fiend now being urged to enter rehab.
Even on this last day Bobby just couldn't help himself. Leaves funeral after only twenty minutes.
It seems there may be good reason as to why various members of the Houston clan were reticent about having Bobby Brown present at his ex wife's funeral day today.
Having finally arrived late to the noon service he then attempted to enter the church with an unidentified woman and an entourage of up to nine people. This led to a confrontation in which although he was allowed to stay his guests were not (he had been only been permitted to bring only a plus two), leading to Bobby storming off with his entourage before leaving the grounds in a speeding car.
At some point Bobby had insisted he sit with his daughter but the Houston clan would have nothing to do with it. Prior to the altercation the singer had gone up to his ex wife's casket, touched it before quickly exiting the church.
Reflects Bobby after leaving the church
abc: "I fail to understand why security treated my family this way and continue to ask us and no one else to move.  Security then prevented me from attempting to see my daughter Bobbi-Kristina. In light of the events, I gave a kiss to the casket of my ex-wife and departed as I refused to create a scene. My children are completely distraught over the events. This was a day to honor Whitney. I doubt Whitney would have wanted this to occur." I will continue to pay my respects to my ex-wife the best way I know how." 
How ironic on the one day that Bobby Brown could found solace and outpouring with the loss of his ex wife is the day instead that he will always be remembered for his recalcitrant behavior. One can only imagine Whitney turning in her grave (indeed almost literally) at the thought of Bobby once again bringing his drama to her grand finale.
Whitney Houston: the human behind the celebrity
Kevin Costner: 'I should have saved Whitney!'
Was Whitney Houston's greatest love a woman?
Mourners dance in the streets as Whitney's wake is held indoors.
Whitney Houston's funeral draws Hollywood's biggest names.
Breaking: Whitney Houston memorial tribute for Saturday's funeral leaked.
Revealed: Plastic surgeon refused to take Whitney Houston on because she failed medical

Was Whitney Houston a secret lesbian? Did self disgust fuel a drug binge?
Bobby Brown gives in and will not attend Whitney's funeral despite earlier reports of crashing.
Revealed: aides rushed to get rid of Whitney's coke stash before paramedics arrived.
Bobby Brown not invited to Whitney Houston's funeral insists he's going to crash it anyway.
Chaka Khan: "Whitney and I got high together."
And this is a picture of the bathtub that Whitney Houston died in.
Whitney Houston: Doomed to self destruct, blew over $100 million on crack.
Whitney Houston's daughter released from hospital after experiencing total meltdown.
GRAMMYS: Adele returns, Whitney remembered
New questions arise if Whitney Houston committed suicide.
BREAKING: Whitney Houston's daughter, Bobbi Kristina, rushed to hospital
Last public photos of Whitney Houston shows her disheveled, disorientated and very agitated.
Theory emerges that Whitney Houston may have died due to prescription drugs
Kim Kardashian attends pre-Grammy party, disrespects Whitney