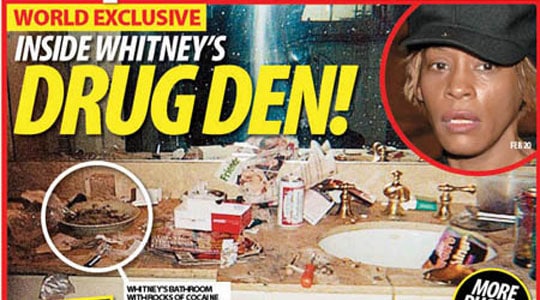 The saga called Whitney Houston and coke continues unabated.
New reports courtesy of dnaindia have come to the fore with the revelation that days prior to her death, singer Whitney Houston had spent thousands of dollars on cocaine. The source of this information? Apparently Whitney Houston's drug dealer who has come forward with his tales with his recent dealings with the fallen star.
dnaindia: Whitney Houston had allegedly bought three-and-a-half grams of cocaine two days before she died, by pretending her drug supplier was an autograph hunter.
The drug dealer, David Joseph, concealed the 190 pound stash in a pen and acted like an excited fan looking for a signature, as Houston partied at Tru Hollywood nightclub in Los Angeles days before she was found dead in her bathtub on February 11.
According to Joseph, Houston returned his piece of paper complete with signature, with the cash he was due hidden underneath.
Are we to really believe this David Joseph character? If you were a drug dealer would you want your name out there? Or are we to assume this is an alias and the individual in question can't help but get his five minutes of interjection of how one talented singer came to her untimely demise. Assuming even that Mr Joseph is legitimate should we shocked, disappointed or at the very least smitten with the brazen skill in which Ms Houston was able to clandestinely acquire her cocaine?
Busted! Whitney Houston's daughter Bobbi found getting high on cocaine after funeral.
Bobby Brown rushes to a casino after Whitney's funeral.
Bobbi Kristina Brown, known coke fiend now being urged to enter rehab.
Whitney Houston: the human behind the celebrity
Kevin Costner: 'I should have saved Whitney!'
Clive Davis: 'I was going to help Whitney make a comeback.'
Was Whitney Houston's greatest love a woman?
Bobby Brown storms out of Whitney's funeral after scuffle ensues.
Whitney Houston's funeral draws Hollywood's biggest names.
Mourners dance in the streets as Whitney's wake is held indoors.
Breaking: Whitney Houston memorial tribute for Saturday's funeral leaked.
Revealed: Plastic surgeon refused to take Whitney Houston on because she failed medical
Was Whitney Houston a secret lesbian? Did self disgust fuel a drug binge?
Bobby Brown gives in and will not attend Whitney's funeral despite earlier reports of crashing.