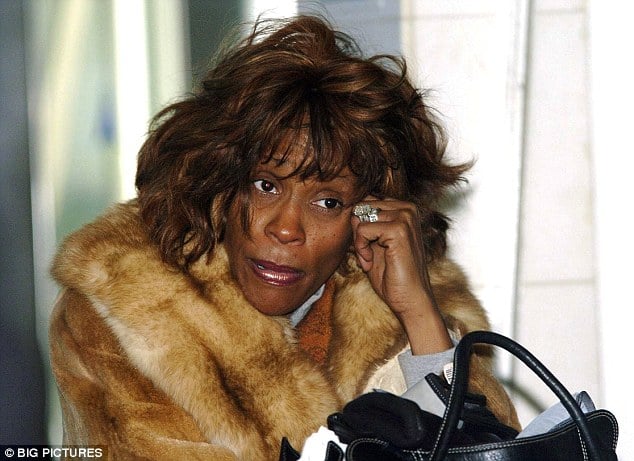 Busted! Whitney Houston's daughter Bobbi found getting high on cocaine after funeral.
Drug dealer reveals he sold Whitney thousands of dollars worth of cocaine prior to her death.
Bobby Brown rushes to a casino after Whitney's funeral.
Bobbi Kristina Brown, known coke fiend now being urged to enter rehab.
Kevin Costner: 'I should have saved Whitney!'
As the dust begins to settle over the death of Whitney Houston, questions will begin to surface as to how did a once extraordinarily talented woman end up disintegrating in front of our very eyes? No doubt the process wasn't overnight, it was a slow motion train wreck that had been gathering speed over the course of the years and despite the ultimate thud that comes with most collisions, strangely most people weren't caught off guard when the news came that Whitney Houston had unexpectedly died.
Reflects the dailymail: This was a woman who, despite at least three attempts at rehab in the past eight years, appeared fully in the grip of drug addiction: wired, wrecked and out of control. Inside the club, it is claimed, she nearly came to blows with a partygoer who she felt had 'got into her face'.
So why could nobody save Whitney Houston? In truth, having spent almost two decades destroying herself, she was past saving.
Frankly what could anyone do? This is one of the ravages of addiction. At a certain point the lethal decay sets in and the predilection for ones choice of substance becomes more vehement for the will to survive. It is always a thin line and once one crosses and comes back it's rare to cross it again and expect to survive. Then again just because one person craves one thing and we don't doesn't make the maniacal disposition of that addiction any less diabolical- that is the irony of addiction. One assumes because they don't have a desire to get high (drunk, gamble, etc) doesn't mean there are others who do and to extremes despite their desire to only just feel the onset of euphoria and then hope to walk away. Walking away is ultimately the paradox of being.
And with the ravages of constant and high level use of crack cocaine came the fallout. Physically, emotionally and  financially…
Her voice, with her signature, high-octave power note, had been pitifully diminished by years of abuse, particularly the smoking of crack cocaine. The soaring vocals had become a soft, whispery falsetto. 
'She don't want to come, my soprano friend,' she told a booing concert audience in London in 2010.
The years of material plenty were behind her, too. She was reportedly once again 'flat broke', even though she should have had a fortune well in excess of £100 million.
Indeed, despite earning up to  £20 million with a colossal 50-date global tour only two years ago, she was reportedly this month reduced to asking her great benefactor, Clive Davis, the music mogul who 'discovered' her, for hand-outs yet again.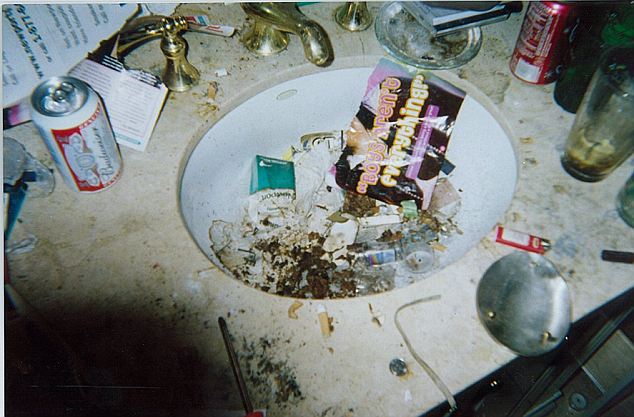 And then there was the public denials, which only led to public humiliation given the exaggerated decay in Ms Houston's features that were apparent to all but illogically not her. Then again this is sometimes how one is forced to come to terms with drug addiction and the absurd notion that they can continue consuming that very thing that gets them high but at the same time gets them closer to death. Who in their right mind can avoid such an overt collision course. Isn't that what addiction is after all- a denial that ones life has become a receptor for one's desire to get high, even at the sake of ones own life itself.
Perhaps Ms Houston's addiction and ultimate succumbing to drug addiction will serve as a reminder of the perils of drug consumption beyond a certain point (or if one wishes one can substitute drug consumption, for gambling, sex addiction, fame addiction, etc) – when in essence by yielding to an external stimulus we might be brought closer to nirvana but at the same time we are also bought one step closer to our self capitulation. After 20 years of constant use the drain of being it seems finally caught up with one very talented performer who simultaneously sought resurrection in the music she created and oblivion in stimulants that she sought refuge in.
Whitney Houston: the human behind the celebrity
Was Whitney Houston's greatest love a woman?
Bobby Brown storms out of Whitney's funeral after scuffle ensues.
Mourners dance in the streets as Whitney's wake is held indoors.
Whitney Houston's funeral draws Hollywood's biggest names.
Breaking: Whitney Houston memorial tribute for Saturday's funeral leaked.
Was Whitney Houston a secret lesbian? Did self disgust fuel a drug binge?
Revealed: Plastic surgeon refused to take Whitney Houston on because she failed medical
Revealed: aides rushed to get rid of Whitney's coke stash before paramedics arrived.
Bobby Brown gives in and will not attend Whitney's funeral despite earlier reports of crashing.
And this is a picture of the bathtub that Whitney Houston died in.
Bobby Brown gives in and will not attend Whitney's funeral despite earlier reports of crashing.
Bobby Brown not invited to Whitney Houston's funeral insists he's going to crash it anyway.
Chaka Khan: "Whitney and I got high together."
Whitney Houston's daughter released from hospital after experiencing total meltdown.
GRAMMYS: Adele returns, Whitney remembered
New questions arise if Whitney Houston committed suicide.
BREAKING: Whitney Houston's daughter, Bobbi Kristina, rushed to hospital
Last public photos of Whitney Houston shows her disheveled, disorientated and very agitated.
Theory emerges that Whitney Houston may have died due to prescription drugs
Kim Kardashian attends pre-Grammy party, disrespects Whitney