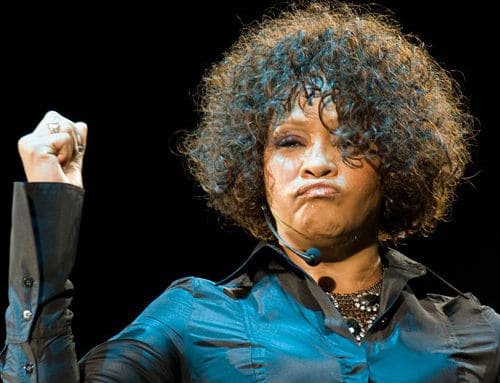 Whitney Houston's sister Patricia Houston insinuates that Whitney was murdered.
Whitney Houston's daughter tells Oprah Winfrey she wants to be a singer.
Whitney Houston's daughter, Bobbi Kristina Brown plans to drop her father's name. Will it solve her problems?
Whitney Houston casket photo: Cissy no longer blames the funeral home.
Despite her phenomenal success as a recording artist, it has been disclosed over the weekend that the recently deceased singer, Whitney Houston who over her career sold as many 170 million records only had $29 000 in her bank account at the time of her death and as much as $4 million in outstanding debts. This despite Sony Records having advanced the singer undisclosed amounts of money against a $100 million dollar deal that was brokered in 2001 against future earnings.
Nevertheless despite the singer's mismanaged fortunes she did still manage to leave her daughter, Bobbi Kristina assets said to be worth as much as $6 million in her recent will.
If one is to gauge an account of Ms Houston's finances at the time of her death, perhaps the following via the dailymail may provide some insights:
The Grammy award winning singer stated she had $40k in cash, $225k in stocks and earned in excess of $1 million for performances. But it was her real estate situation that truly underlined how she was in a financially precarious situation.
Her assets included one property in New Jersey which was worth $6.5 million, but she also she owed $3.247 million on the estate.  In addition she owned a townhouse in Atlanta, Georgia, where daughter Bobbi Kristina now lives, which was worth $1.244m.
However the property was far from paid off, as she owed $1,046,603 on the home. The singer's other assets included the life insurance policy, which was worth $312k, and $1.8 million dollars in jewelry and art.
With a total of $10,242,931 in various assets, and debts totaling $4,294,014, in theory it leaves her with an inheritance of $5,948,917.
What underscores the late singer's earnings is the fact that most of the songs that had made her a household name were songs that had been written by other recording artists (Dolly Parton wrote 'I will always love you') thus forcing the singer to give up vast royalties which when tied to her unrelenting abuse of narcotics and prescription drugs and the resultant missed opportunities that comes with excessive use of drugs on ones health, voice and healthy state of mind eventually took a toll on the singer's collective wealth.
Although that said there have been rumors that the late singer and her estate planners aware of the outstanding debts to Sony may have indeed created trust accounts were undisclosed assets exist. Once again the mystery of what really happened to the singer intensifies even if in our collective mind we are presented an image of a wayward irresponsible talent gone astray, when in fact there were enough assets to still leave behind her daughter and perhaps other as of yet undisclosed trinkets….
Whitney Houston's wills estate: Bobbi Kristina: Gets all. Bobbi Brown: Not a penny.
Whitney Houston coroner inundated with urgent messages to conduct murder investigation.
Whitney Houston and Jermaine Jackson had secret affair. Michael Jackson was furious…
Whitney Houston's daughter to air live Sunday week with Oprah Winfrey. But don't expect much…
Bobby Brown's sister: My brother had nothing to do with Whitney doing drugs!
Whitney Houston's heirs can kiss goodbye receiving her millions.
Whitney Houston's heirs can kiss goodbye receiving her millions.
Man resigns after receiving death threats for posting that Whitney Houston was a dumb stupid nigger on facebook.
Cissy Houston calls off search for leaker. Rumored to know identity of leaker….
Whitney Houston funeral home director fears for her safety as hate mail continues unabated.
Outraged Cissy Houston demands funeral home employees take lie detector tests.
Who leaked Whitney's photo? Funeral home: 'It definitely wasn't us!'
Whitney Houston Casket photo. Why we can't just put the diva away yet..?
Finally what you have been waiting for: Whitney Houston's casket photo.
Kelly Clarkson pays tribute to Whitney Houston
Whitney Houston: the human behind the celebrity
Bobby Brown rushes to a casino after Whitney's funeral.
Bobbi Kristina Brown, known coke fiend now being urged to enter rehab.
Kevin Costner: 'I should have saved Whitney!'
Was Whitney Houston's greatest love a woman?
Bobby Brown storms out of Whitney's funeral after scuffle ensues.
Whitney Houston's funeral draws Hollywood's biggest names.
Mourners dance in the streets as Whitney's wake is held indoors.
Breaking: Whitney Houston memorial tribute for Saturday's funeral leaked.
Revealed: Plastic surgeon refused to take Whitney Houston on because she failed medical
Was Whitney Houston a secret lesbian? Did self disgust fuel a drug binge?
Bobby Brown gives in and will not attend Whitney's funeral despite earlier reports of crashing.