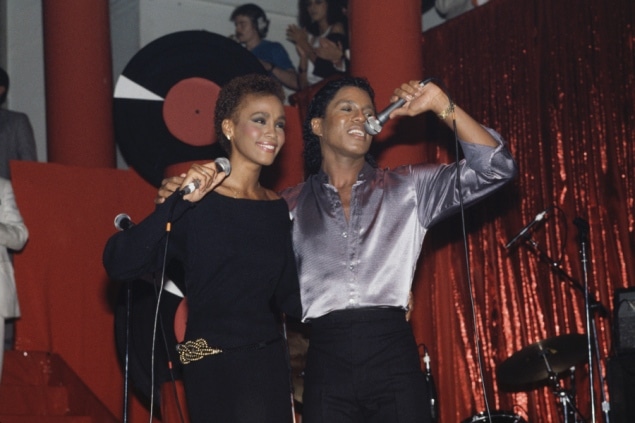 Whitney Houston's sister Patricia Houston insinuates that Whitney was murdered.
Whitney Houston's daughter tells Oprah Winfrey she wants to be a singer.
Whitney Houston's daughter, Bobbi Kristina Brown plans to drop her father's name. Will it solve her problems?
Whitney Houston had just $29 000 in her bank account. So what happened?
Whitney Houston casket photo: Cissy no longer blames the funeral home.
As more and more time since the death of fallen idol Whitney Houston goes by it seems various skeletons out of the closet are starting to make their way out. The latest revelation surrounding the intoxicating (literally) existence of that of the late Whitney Houston was the fact that she is said to have once had a year long covert relationship with Michael Jackson's singer, Jermaine. This while Jermaine Jackson was already married at the time to the daughter of Motown founder Berry Gordy, Hazel Gordy in the early 1980′s.
Reports the The Sun: The attraction had been instant between the pair after the married Jermaine was brought in to produce Houston and perform duets with her in the early 1980s, and they soon began a secret, yearlong fling, The Sun newspaper in London said.
"In those early days . . . he was smuggled into her hotel rooms, they worked extra late in the studio, and she even had a code name for him. She referred to him as 'Ji,' " one pal said.
But the relationship was not to be as Jermaine Jackson refused to leave the then 22 year old (he was 8 years her senior) Whitney Houston who after a year of seeing Jermaine on the sly to end the relationship. It is said the abrupt affair led to her 1985 smash hit: 'Saving all my love for you.'
The Sun then goes on to state that so hush hush was the relationship that few knew of it, including Paula Abdul who was going out with one of the Jackson brothers and that of Michael Jackson who was very opposed to the relationship.
During a 30 year commemorative marking Michael Jackson's 30 years in the industry in 2001 it is said that Jermaine Jackson was heartbroken when Whitney went up on stage to perform.
"He was alarmed about how awful Whitney sounded and looked. He asked me whether I thought it a good idea to reach out to her," the friend said.
At the time he considered reaching out to her, but ultimately declined given the past trauma and complications that she was now married to Bobby Brown. Even so Jermaine Jackson still carried a torch for his beleaguered ex lover and was said to be so devastated when he found out about her death that he couldn't bring himself to attend her funeral.
Tweeted Jermaine Jackson at the time of Whitney Houston's death:
"The right words fail me to sum up the sense of loss following the passing of Whitney . . . A wonderful woman, a true heart, and an immense artist,"
How poetic that a relationship that was doomed from the beginning hinted at Whitney's proclivity to find herself getting involved to leading men who were either already committed to other women or narcotics and how desperately Whitney wanted in either way….
Whitney Houston's wills estate: Bobbi Kristina: Gets all. Bobbi Brown: Not a penny.
Whitney Houston casket photo leads to Whoopi Goldberg being called a liar.
Whitney Houston coroner inundated with urgent messages to conduct murder investigation.
Heartbreaking: Oprah Winfrey and Bobbi Kristina hug.
Whitney Houston casket photo leaker rumored to be Bobby Brown's sister…Tina.
Breaking: Whitney Houston casket photo leaker identified.
Whitney Houston's daughter to air live Sunday week with Oprah Winfrey. But don't expect much…
Bobby Brown's sister: My brother had nothing to do with Whitney doing drugs!
Whitney Houston's heirs can kiss goodbye receiving her millions.
Whitney Houston's heirs can kiss goodbye receiving her millions.
Man resigns after receiving death threats for posting that Whitney Houston was a dumb stupid nigger on facebook.
Cissy Houston calls off search for leaker. Rumored to know identity of leaker….
Whitney Houston funeral home director fears for her safety as hate mail continues unabated.
Outraged Cissy Houston demands funeral home employees take lie detector tests.
Who leaked Whitney's photo? Funeral home: 'It definitely wasn't us!'
Whitney Houston Casket photo. Why we can't just put the diva away yet..?
Finally what you have been waiting for: Whitney Houston's casket photo.
Kelly Clarkson pays tribute to Whitney Houston
Whitney Houston: the human behind the celebrity
Bobby Brown rushes to a casino after Whitney's funeral.
Bobbi Kristina Brown, known coke fiend now being urged to enter rehab.
Kevin Costner: 'I should have saved Whitney!'
Was Whitney Houston's greatest love a woman?
Bobby Brown storms out of Whitney's funeral after scuffle ensues.
Whitney Houston's funeral draws Hollywood's biggest names.
Mourners dance in the streets as Whitney's wake is held indoors.
Breaking: Whitney Houston memorial tribute for Saturday's funeral leaked.
Revealed: Plastic surgeon refused to take Whitney Houston on because she failed medical
Was Whitney Houston a secret lesbian? Did self disgust fuel a drug binge?
Bobby Brown gives in and will not attend Whitney's funeral despite earlier reports of crashing.