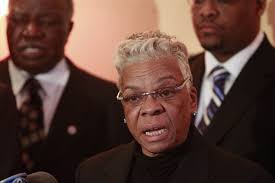 Carolyn Whigham of Whigham Funeral Home and pastors say they know who the leaker is.
Whitney Houston casket photo: Why wont the Houston clan come clean over the leak?
They were bound to be found out and now according to sources the Houston family has been told who the individual who took the photo that was passed onto the National Enquirer is.
Says nj.com: Carolyn Whigham of Whigham Funeral Home and two pastors say they do know who took the photo, which was published by the National Enquirer. They just aren't identifying the person and say that's up to the Houston family.
Carolyn Whigham insists funeral home is innocent: In the interim, Ms Whigham is denying any involvement with the photo actually being leaked and is remaining adamant that the funeral home or its employees released said offending images. In fact judging from the video below she is clearly upset with the Houston family who have not gone out of their way to state that the Whigham family are not being viewed as the source of the leak.
The photo showed Houston wearing a purple dress with her hair pulled back and sparkly earrings. It ran under the headline "Whitney: The Last Photo!" with the issue's cover captions detailing that she was buried in "in her favorite purple dress," gold slippers and "jewelry worth $500,000."
Interestingly the funeral home's investigation revealed that the picture was taken on Feb. 17, a day before services for the late singer, who died in Los Angeles on Feb. 11. Of note, Ms Whigham has declined to detail how the the funeral home came to those findings.
It will be interesting to see if there will be pressure applied on the Houston family to publicly reveal who actually took the photo but clues might come in the offing if there are any sudden resignations/firings at the Whigham funeral home. What is also noteworthy though is how the Funeral home has now been able to identify the perpetrator and the time when the photos were taken, which leads one to wonder how long has it been since the Funeral home has known this information and why furthermore the Houston clan has done an about face and not sought to publicly identify the identity of the leaker or exonerate the funeral home with any involvement?  Unless of course the leaker is a Houston family or friend insider….
Whitney Houston's sister Patricia Houston insinuates that Whitney was murdered.
Whitney Houston's daughter tells Oprah Winfrey she wants to be a singer.
Whitney Houston's daughter, Bobbi Kristina Brown plans to drop her father's name. Will it solve her problems?
Whitney Houston had just $29 000 in her bank account. So what happened?
Whitney Houston casket photo: Cissy no longer blames the funeral home.
Whitney Houston's wills estate: Bobbi Kristina: Gets all. Bobbi Brown: Not a penny.
Whitney Houston casket photo leads to Whoopi Goldberg being called a liar.
Whitney Houston casket photo leaker rumored to be Bobby Brown's sister…Tina.
Whitney Houston coroner inundated with urgent messages to conduct murder investigation.
Heartbreaking: Oprah Winfrey and Bobbi Kristina hug.
Whitney Houston's daughter to air live Sunday week with Oprah Winfrey. But don't expect much…
Whitney Houston and Jermaine Jackson had secret affair. Michael Jackson was furious…
Bobby Brown's sister: My brother had nothing to do with Whitney doing drugs!
Whitney Houston's heirs can kiss goodbye receiving her millions.
Whitney Houston's heirs can kiss goodbye receiving her millions.
Man resigns after receiving death threats for posting that Whitney Houston was a dumb stupid nigger on facebook.
Cissy Houston calls off search for leaker. Rumored to know identity of leaker….
Whitney Houston funeral home director fears for her safety as hate mail continues unabated.
Outraged Cissy Houston demands funeral home employees take lie detector tests.
Who leaked Whitney's photo? Funeral home: 'It definitely wasn't us!'
Whitney Houston Casket photo. Why we can't just put the diva away yet..?
Finally what you have been waiting for: Whitney Houston's casket photo.
Kelly Clarkson pays tribute to Whitney Houston
Whitney Houston: the human behind the celebrity
Bobby Brown rushes to a casino after Whitney's funeral.
Bobbi Kristina Brown, known coke fiend now being urged to enter rehab.
Kevin Costner: 'I should have saved Whitney!'
Was Whitney Houston's greatest love a woman?
Bobby Brown storms out of Whitney's funeral after scuffle ensues.
Whitney Houston's funeral draws Hollywood's biggest names.
Mourners dance in the streets as Whitney's wake is held indoors.
Breaking: Whitney Houston memorial tribute for Saturday's funeral leaked.
Revealed: Plastic surgeon refused to take Whitney Houston on because she failed medical
Was Whitney Houston a secret lesbian? Did self disgust fuel a drug binge?
Bobby Brown gives in and will not attend Whitney's funeral despite earlier reports of crashing.