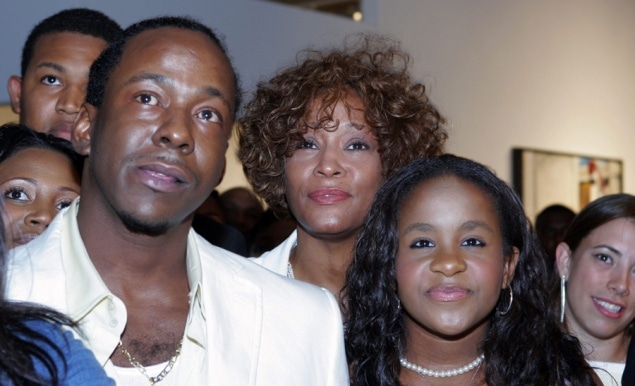 Whitney Houston's sister Patricia Houston insinuates that Whitney was murdered.
Whitney Houston's daughter tells Oprah Winfrey she wants to be a singer.
Whitney Houston casket photo: Cissy no longer blames the funeral home.
Whitney Houston had just $29 000 in her bank account. So what happened?
Reports have been flooding the web this weekend that Kristina Bobbi Brown, the daughter of recently deceased idol singer Whitney Houston and her ex husband, the notorious Bobby Brown, is planning on dropping her father's surname and using her late mother's surname.
Said to be humiliated and outraged with her father's antics and reputation (many believe that it was the result of her ex husband's prodding and negative influence that led to Whitney Houston essentially throwing away her career and dying prematurely) Bobbi Kristina is now telling friends and family she wants to change her name as to 'rid herself of any link' to her father.
Reports TMZ:  Bobbi Kristina is telling friends … she's wanted to change her name for years — ever since her parents split — but Whitney wouldn't let her.
Now that Whitney's gone, we're told the 19-year-old feels untethered — and wants to finally change her name completely … making it simply "Kristina Houston."
The report goes on to say that the 19 year old teenager is anxious to make the move and has done so with a sober mind.
Despite the changes the 19 year old plans to act on one has to wonder aloud if the exercise in name change is in some degrees a superficial attempt to deal with some of the problems she has been connected to recently. Chiefly the young woman's sense of disillusionment and addiction to narcotics. Although in a society where getting oneself a new facelift, cologne or lover is perceived as a sure fire way of availing oneself of the burden of being, it may eventually come down to dealing with the roots of one's self and the core of one's disarray despite the temptation to find 'perceived' salvation that comes with temporarily displacing oneself from the bonfire of ones discontent .
As the saying goes, 'you can take Mary Jane out of suburbia/the ghetto/ivy league/etc  but you can never take suburbia/the ghetto/ivy league/etc out of Mary to use an obvious example…
As one reader commentated: You can change your name. But you can't change your father. She must face her problems with her dad at some point in her life. Otherwise it will be a burden. What about her fathers side of the family? Will she avoid them also? She has to deal with this and not run away.
Whitney Houston's wills estate: Bobbi Kristina: Gets all. Bobbi Brown: Not a penny.
Whitney Houston coroner inundated with urgent messages to conduct murder investigation.
Whitney Houston and Jermaine Jackson had secret affair. Michael Jackson was furious…
Whitney Houston's daughter to air live Sunday week with Oprah Winfrey. But don't expect much…
Bobby Brown's sister: My brother had nothing to do with Whitney doing drugs!
Whitney Houston's heirs can kiss goodbye receiving her millions.
Whitney Houston's heirs can kiss goodbye receiving her millions.
Man resigns after receiving death threats for posting that Whitney Houston was a dumb stupid nigger on facebook.
Cissy Houston calls off search for leaker. Rumored to know identity of leaker….
Whitney Houston funeral home director fears for her safety as hate mail continues unabated.
Outraged Cissy Houston demands funeral home employees take lie detector tests.
Who leaked Whitney's photo? Funeral home: 'It definitely wasn't us!'
Whitney Houston Casket photo. Why we can't just put the diva away yet..?
Finally what you have been waiting for: Whitney Houston's casket photo.
Kelly Clarkson pays tribute to Whitney Houston
Whitney Houston: the human behind the celebrity
Bobby Brown rushes to a casino after Whitney's funeral.
Bobbi Kristina Brown, known coke fiend now being urged to enter rehab.
Kevin Costner: 'I should have saved Whitney!'
Was Whitney Houston's greatest love a woman?
Bobby Brown storms out of Whitney's funeral after scuffle ensues.
Whitney Houston's funeral draws Hollywood's biggest names.
Mourners dance in the streets as Whitney's wake is held indoors.
Breaking: Whitney Houston memorial tribute for Saturday's funeral leaked.
Revealed: Plastic surgeon refused to take Whitney Houston on because she failed medical
Was Whitney Houston a secret lesbian? Did self disgust fuel a drug binge?
Bobby Brown gives in and will not attend Whitney's funeral despite earlier reports of crashing.