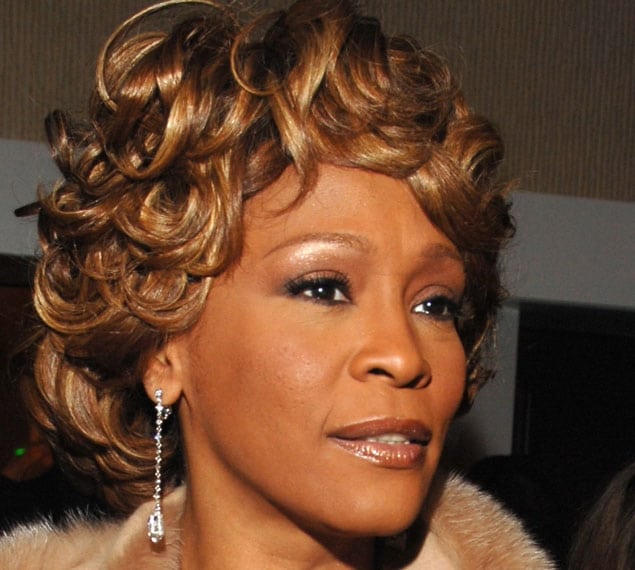 Whitney Houston's sister Patricia Houston insinuates that Whitney was murdered.
Whitney Houston's daughter tells Oprah Winfrey she wants to be a singer.
Whitney Houston's daughter, Bobbi Kristina Brown plans to drop her father's name. Will it solve her problems?
Whitney Houston had just $29 000 in her bank account. So what happened?
Whitney Houston casket photo: Cissy no longer blames the funeral home.
If Whitney Houston's heirs were counting on receiving any royalties from the deceased singer word out on the street is that 'don't think about it.' This on top of the news that Sony who backed the singer is claiming first dibs on future royalties on account of the singer being vastly indebted to them.
nydailynews: On Wednesday, music-industry blogger Wayne Rosso quoted a label executive "familiar with Sony's accounting" who said the late singer's estate probably won't see any royalty checks from her record label "in our lifetime" — and maybe longer — thanks in part to the number of advances and loans she took from the $100 million deal she cut with Sony Music in 2001.
Of course there's been a big spike in sales of Whitney's music pursuant to her death but according to music executives ' her greatest-hits album would have to occupy the No. 1 slot on the Billboard charts for the next six months to hit the goal.' A goal that is unlikely to come about given the nature of the fickle cultural temperament.
On top there is the added problem that to date no one has stepped up to manage the deceased singer's repertoire of music, with the last real purveyor of Ms Houston's legacy being her father, John Houston who passed away in 2003. Of course the constant barrage of less than stellar press all these years hardly worked to the advantage of the singer
Affirmed an undisclosed source: 'If it hadn't been for the label fronting her money she would have been next to homeless.'
Hardly the sobering thought as beleaguered fans now begin to put the troubled singer's legacy into context. How ironic in the end the singer is lauded to exultation when she could barely summon a peekaboo whilst grappling for self affirmation these last troubled years. As they say in show business, ' another one bites the dust.' Indeed….
Whitney Houston's wills estate: Bobbi Kristina: Gets all. Bobbi Brown: Not a penny.
Whitney Houston casket photo leads to Whoopi Goldberg being called a liar.
Whitney Houston coroner inundated with urgent messages to conduct murder investigation.
Heartbreaking: Oprah Winfrey and Bobbi Kristina hug.
Whitney Houston and Jermaine Jackson had secret affair. Michael Jackson was furious…
Whitney Houston casket photo leaker rumored to be Bobby Brown's sister…Tina.
Breaking: Whitney Houston casket photo leaker identified.
Whitney Houston's daughter to air live Sunday week with Oprah Winfrey. But don't expect much…
Man resigns after receiving death threats for posting that Whitney Houston was a dumb stupid nigger on facebook.
Cissy Houston calls off search for leaker. Rumored to know identity of leaker….
Whitney Houston funeral home director fears for her safety as hate mail continues unabated.
Outraged Cissy Houston demands funeral home employees take lie detector tests.
Who leaked Whitney's photo? Funeral home: 'It definitely wasn't us!'
Whitney Houston Casket photo. Why we can't just put the diva away yet..?
Finally what you have been waiting for: Whitney Houston's casket photo.
Kelly Clarkson pays tribute to Whitney Houston
Whitney Houston: the human behind the celebrity
Bobby Brown rushes to a casino after Whitney's funeral.
Bobbi Kristina Brown, known coke fiend now being urged to enter rehab.
Kevin Costner: 'I should have saved Whitney!'
Was Whitney Houston's greatest love a woman?
Bobby Brown storms out of Whitney's funeral after scuffle ensues.
Whitney Houston's funeral draws Hollywood's biggest names.
Mourners dance in the streets as Whitney's wake is held indoors.
Breaking: Whitney Houston memorial tribute for Saturday's funeral leaked.
Revealed: Plastic surgeon refused to take Whitney Houston on because she failed medical
Was Whitney Houston a secret lesbian? Did self disgust fuel a drug binge?
Bobby Brown gives in and will not attend Whitney's funeral despite earlier reports of crashing.