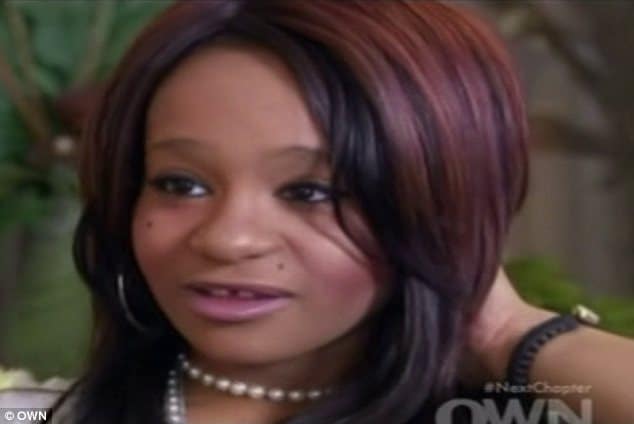 Whitney Houston's sister Patricia Houston insinuates that Whitney was murdered.
Whitney Houston's daughter, Bobbi Kristina Brown plans to drop her father's name. Will it solve her problems?
Whitney Houston had just $29 000 in her bank account. So what happened?
Whitney Houston casket photo: Cissy no longer blames the funeral home.
Whitney Houston's daughter has emotional tell all with Oprah Winfrey: She has come to me but I dare not listen to her music yet….
Despite the negative effects that a high profile career in the entertainment industry can wreak on an entertainer, as Bobbi Kristina Brown can personally attest to, the 19 year old Sunday evening in an emotional interview with Oprah Winfrey told the talk show host that she nevertheless wants to pursue a career as an actress or singer, just like her mother, Whitney Houston.
Offered Bobbi Kristina: 'I can hear her voice in spirit talking to me "I'm right here I've got you" I can always feel her with me. She passes through me all the time.'
With respect to those who have been overtly critical of her mother since her death, Bobbi Kristina offered the following:
'All that negativity it's garbage – that's not my mother that's not who she is. In reality I know who she was, her family know who she was, you know who she was.'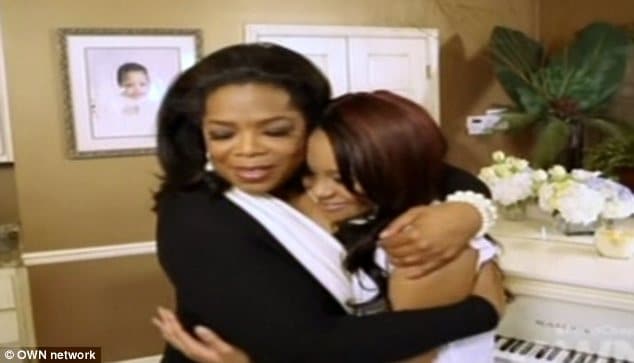 What though is bizarre is the claim that Bobbi had no sense of her mother's fame/iconic status until she had passed away, which perhaps says more about how she was exposed to her mother in a state of redress, vulnerability that so few of us ever got to see.
Could this then have been the lull that allowed Bobbi Kristina to also experiment with narcotics and delve into self abandon and disillusion,  the very thing said to have cost her mother's life…?
'I just saw her as mom. When I realised that my mom was a worldwide icon was when we did gone on tour and then the funeral and everything.'
How bittersweet life can be…
Whitney Houston's wills estate: Bobbi Kristina: Gets all. Bobbi Brown: Not a penny.
Whitney Houston coroner inundated with urgent messages to conduct murder investigation.
Whitney Houston and Jermaine Jackson had secret affair. Michael Jackson was furious…
Whitney Houston's daughter to air live Sunday week with Oprah Winfrey. But don't expect much…
Bobby Brown's sister: My brother had nothing to do with Whitney doing drugs!
Whitney Houston's heirs can kiss goodbye receiving her millions.
Whitney Houston's heirs can kiss goodbye receiving her millions.
Man resigns after receiving death threats for posting that Whitney Houston was a dumb stupid nigger on facebook.
Cissy Houston calls off search for leaker. Rumored to know identity of leaker….
Whitney Houston funeral home director fears for her safety as hate mail continues unabated.
Outraged Cissy Houston demands funeral home employees take lie detector tests.
Who leaked Whitney's photo? Funeral home: 'It definitely wasn't us!'
Whitney Houston Casket photo. Why we can't just put the diva away yet..?
Finally what you have been waiting for: Whitney Houston's casket photo.
Kelly Clarkson pays tribute to Whitney Houston
Whitney Houston: the human behind the celebrity
Bobby Brown rushes to a casino after Whitney's funeral.
Bobbi Kristina Brown, known coke fiend now being urged to enter rehab.
Kevin Costner: 'I should have saved Whitney!'
Was Whitney Houston's greatest love a woman?
Bobby Brown storms out of Whitney's funeral after scuffle ensues.
Whitney Houston's funeral draws Hollywood's biggest names.
Mourners dance in the streets as Whitney's wake is held indoors.
Breaking: Whitney Houston memorial tribute for Saturday's funeral leaked.
Revealed: Plastic surgeon refused to take Whitney Houston on because she failed medical
Was Whitney Houston a secret lesbian? Did self disgust fuel a drug binge?
Bobby Brown gives in and will not attend Whitney's funeral despite earlier reports of crashing.