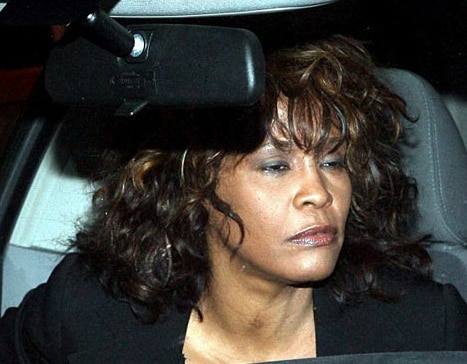 Whitney Houston's sister Patricia Houston insinuates that Whitney was murdered.
Whitney Houston's daughter tells Oprah Winfrey she wants to be a singer.
Whitney Houston's daughter, Bobbi Kristina Brown plans to drop her father's name. Will it solve her problems?
Whitney Houston had just $29 000 in her bank account. So what happened?
Whitney Houston casket photo: Cissy no longer blames the funeral home.
A suburban Chicago baseball coach who was suspended for posting on his facebook wall that he was ""so sick of reading about this dumb stupid N***** Whitney Houston" has now resigned his position pursuant to death threats that have been made.
According to the Chicago Sun-Times, John Kelly, a youth baseball coach resigned after receiving a volley of death threats via the league website's guestbook, emails, text messages and other websites.
Said John Kelly: "I can't deal with it anymore. I'm here to volunteer to help kids, and this is the [expletive] I have to go through,"
Of course one would be hard pressed to find too many sympathetic individuals with Mr Kelly's plight after having chosen to have made his racist and insensitive remarks on a public forum. After all it's one thing to challenge the dogma of something that is prevailing in society (ie- Ms Whitney Houston's death) intellectually but it's an all together affront to those who happen to either be black, a fan or friend of Ms Houston or just simply an individual minding their own business who has to now be subjected to racial abuse amongst their web connections.
At the time when it came out that Mr Kelly had done what he had he was brought under suspension for a period of a year after another player who happened to be black caught wind of Mr Kelly's racist remarks.
At the time Mr Kelly's post had gone on to read as follows: "she's the dumb ass that decided to do drugs n kill herself stay with that woman beater … she blew more $$ up her nose than most of ye will make in yer lifetime … there are kids dying real fathers n mothers fighting for their lives…grow up ye dumb assess…think she'd give a flying f*** about u???? Just saying."
For his part, Mr Kelly, brace yourselves for this, who once unsuccessfully ran (can you guess why?) for democratic local office has gone on to say that the incident has 'ruined' his life and that he hadn't realized he even put the epithet in after he sent it. He has gone on to strenuously deny that he is a racist. At this juncture it seems very few people believe him nor are they willing to tolerate his indecorous behavior. Then again why didn't Mr Kelly just resign outright as opposed to choosing to only being sidelined? Surely this must hint that he hasn't fully understood the context of his behavior.
Whitney Houston coroner inundated with urgent messages to conduct murder investigation.
Heartbreaking: Oprah Winfrey and Bobbi Kristina hug.
Breaking: Whitney Houston casket photo leaker identified.
Cissy Houston calls off search for leaker. Rumored to know identity of leaker….
Whitney Houston funeral home director fears for her safety as hate mail continues unabated.
Outraged Cissy Houston demands funeral home employees take lie detector tests.
Who leaked Whitney's photo? Funeral home: 'It definitely wasn't us!'
Whitney Houston Casket photo. Why we can't just put the diva away yet..?
Finally what you have been waiting for: Whitney Houston's casket photo.
Kelly Clarkson pays tribute to Whitney Houston
Whitney Houston: the human behind the celebrity
Bobby Brown rushes to a casino after Whitney's funeral.
Bobbi Kristina Brown, known coke fiend now being urged to enter rehab.
Kevin Costner: 'I should have saved Whitney!'
Was Whitney Houston's greatest love a woman?
Bobby Brown storms out of Whitney's funeral after scuffle ensues.
Whitney Houston's funeral draws Hollywood's biggest names.
Mourners dance in the streets as Whitney's wake is held indoors.
Breaking: Whitney Houston memorial tribute for Saturday's funeral leaked.
Revealed: Plastic surgeon refused to take Whitney Houston on because she failed medical
Was Whitney Houston a secret lesbian? Did self disgust fuel a drug binge?
Bobby Brown gives in and will not attend Whitney's funeral despite earlier reports of crashing.