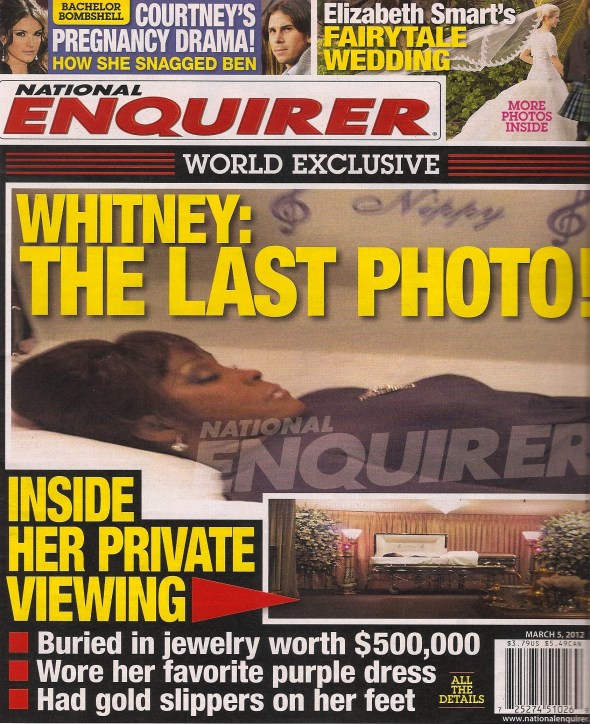 What would you do for $500 000?
According to gossiponthis it may well be no coincidence that  Whitney Houston's ex husband's husband, Bobby Brown's sister Tina Brown has a full inside layout feature dedicated to her courtesy of the National Enquirer which published leaked images of Whitney Houston's casket. The feature simply titled 'I did crack with Whitney!' (does it get any more shocking than this?) offers an inside expose of the debauched affairs of Whitney Houston in a crack den with Tina Brown by her side on various occasions.
And there were no shortages of adventures.
The interview goes on to say that "A drug dealer had called Bobby and said, 'Come get your wife. I'm sick of this bitch. She's in here peep­ing out the windows and doing all kinds of s–t in the house.'"
Tina learned Whitney had been in the drug den for days giving orders to dealers and drug buyers, telling some to leave, telling others where to sit, seeing demons, thinking she was under surveillance. It became too much for the dealer. "Bobby and security had to go get her," said Tina.
Reflects Tina: "Hey, I was using and she was paying. It was free."
Rumored to have been paid off $500 000 by the tabloid for the insider images one can presuppose that Tina Brown will now have ample cash to indulge in her 'hobby,' should she be in the mood.
And what on basis does gossiponthis tie the knots that the leaker was Tina Brown (never mind the conspicuous feature done on her pursuant to the release of leaked images)?
In 2006, she leaked a series of private photos of Whitney Houston's bathroom (allegedly) that were sent to UK tabloid The Sun, which supposedly showed that Houston had been cooking what is known as "freebase cocaine," or in more common terms, "crack cocaine," in her bathroom.
When later asked about her rumored crack use, Houston told Dianne Sawyer in a now-famous interview, "Crack is cheap. I make too much money to ever smoke crack. Let's get that straight. Okay? We don't do crack. We don't do that. Crack is whack."
Indeed crack is whack, but when in the mood what's good for the goose is good for the gander…
As reported yesterday Caroline Whigham, Whigham funeral home's director had publicly gone out to say that the photos were most likely taken on the 17th and February (the day before the funeral). How she came upon this information and the identity of the leaker (as she has asserted) has yet to be publicly revealed. Although Ms Whigham at the same time let it be known that she has let the Houston family know all the particulars but as of press is stymied that Houston family has publicly declined to exonerate the Whigham funeral home. This more than likely being to save face and humiliation that the leak had come from inside the Houston clan when Cissy, the matriarch of the Houston clan had adamantly insisted all along that it the funeral home itself that had released said images.
Time will tell if Tina Brown will accept responsibility for the leaks or whether in fact the funeral home may choose to leak the presumed identity of the leaker to the press.
Whitney Houston's sister Patricia Houston insinuates that Whitney was murdered.
Whitney Houston's daughter tells Oprah Winfrey she wants to be a singer.
Whitney Houston's daughter, Bobbi Kristina Brown plans to drop her father's name. Will it solve her problems?
Whitney Houston had just $29 000 in her bank account. So what happened?
Whitney Houston casket photo: Cissy no longer blames the funeral home.
Whitney Houston's wills estate: Bobbi Kristina: Gets all. Bobbi Brown: Not a penny.
Whitney Houston casket photo leads to Whoopi Goldberg being called a liar.
Whitney Houston coroner inundated with urgent messages to conduct murder investigation.
Heartbreaking: Oprah Winfrey and Bobbi Kristina hug.
Breaking: Whitney Houston casket photo leaker identified.
Whitney Houston and Jermaine Jackson had secret affair. Michael Jackson was furious…
Whitney Houston's daughter to air live Sunday week with Oprah Winfrey. But don't expect much…
Bobby Brown's sister: My brother had nothing to do with Whitney doing drugs!
Whitney Houston's heirs can kiss goodbye receiving her millions.
Whitney Houston's heirs can kiss goodbye receiving her millions.
Man resigns after receiving death threats for posting that Whitney Houston was a dumb stupid nigger on facebook.
Cissy Houston calls off search for leaker. Rumored to know identity of leaker….
Whitney Houston funeral home director fears for her safety as hate mail continues unabated.
Outraged Cissy Houston demands funeral home employees take lie detector tests.
Who leaked Whitney's photo? Funeral home: 'It definitely wasn't us!'
Whitney Houston Casket photo. Why we can't just put the diva away yet..?
Finally what you have been waiting for: Whitney Houston's casket photo.
Kelly Clarkson pays tribute to Whitney Houston
Whitney Houston: the human behind the celebrity
Bobby Brown rushes to a casino after Whitney's funeral.
Bobbi Kristina Brown, known coke fiend now being urged to enter rehab.
Kevin Costner: 'I should have saved Whitney!'
Was Whitney Houston's greatest love a woman?
Bobby Brown storms out of Whitney's funeral after scuffle ensues.
Whitney Houston's funeral draws Hollywood's biggest names.
Mourners dance in the streets as Whitney's wake is held indoors.
Breaking: Whitney Houston memorial tribute for Saturday's funeral leaked.
Revealed: Plastic surgeon refused to take Whitney Houston on because she failed medical
Was Whitney Houston a secret lesbian? Did self disgust fuel a drug binge?
Bobby Brown gives in and will not attend Whitney's funeral despite earlier reports of crashing.