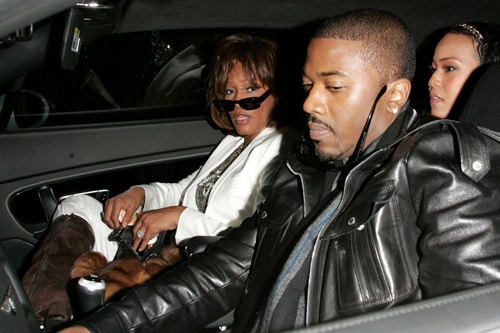 With the release of the cause of death of Whitney Houston's death questions and allegations are beginning to fly around the room. Questions being asked are was the Houston clan aware of the singer's rampant drug use (despite the matriarch Cissy's 'shock' at the Los Angeles Coroner's findings), where did the cocaine that the singer was using end up, why hasn't the Houston clan come clean as to who leaked the image of Whitney Houston in an open casket to the National Enquirer and the new question, did Whitney's on and off boyfriend Ray J linked to now trying to shop sex tapes of Whitney (something he adamantly denies conspicuously once Whitney's death report came out) supply her with cocaine moments before her death?
The latest question with respect to Ray Jr's involvement comes courtesy of Leolah Brown, Bobby Brown's sister and Whitney Houston's former sister in law who is now pointing fingers at Ray Jr.
huffpo: Brown claims that Ray J provided Houston with the cocaine before she died. On CNN's "Headline News" with Dr. Drew Thursday night, Brown claimed that she saw Ray J leaving Houston's hotel room in a hurry on the night of her death. Brown also went so far as to allege that Ray J was never Houston's boyfriend, but he was really her "runner boy," and brought her the drugs she wanted.
Ray Jr for his part has gone on the defensive insisting he did not supply Whitney with cocaine.
Asserts Ray J's representative: "Even though Leolah Brown was nowhere near the Beverly Hilton Hotel on the day Whitney Houston died, Ms. Brown falsely claimed that Ray J was at the hotel and contributed to Whitney Houston's death," his rep told the magazine. "Even the most minimal inquiry with anyone actually in contact with Whitney would reveal that Leolah Brown had been out of contact with Whitney for more than a year."
What is interesting to note is now that the cause of the singer's death has become public various tribes are busily trying to paint a picture of he said, she said and maybe he did or I never had an idea of x, y, z- which forces the question is someone trying to hide something, distance themselves from the cold reality that Whitney Houston was a junkie or perhaps more sinister most knew what was going on but either didn't care, resigned or were powerless to do anything about it and are now fighting to clear their name to the public who is numb that it all came to this….