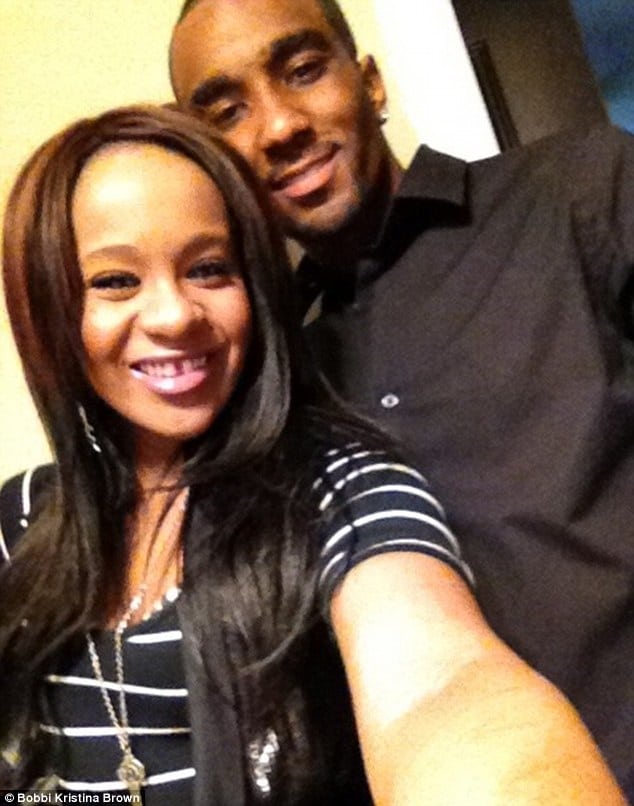 Whitney Houston's daughter, Bobbi Kristina Brown and her adopted son Nick Gordon are said not to give a damn!
Embroiled in allegation that they are engaging in an incestuous relationship, Bobbi Kristina Brown, the daughter of recently deceased Whitney Houston and her adopted son, Nick Gordon have now been said to have recently come out to friends and announce that not only are the two romantically involved they are also engaged to be married!
In fact the two have gone even one further by stepping out over the weekend with Bobbi Kristina proudly showing off her new engagement ring.
Reports the dailymail.co.uk: The two looked happily in love and held hands as they entered and left the store, in their hometown Atlanta, on Friday.
Bobbi gave a nod to her late mother by wearing a Whitney Houston: Nothing But Love tour sweater, with a striped minidress and boots. 
She smoked a cigarette and clutched her iPhone.
Of course this goes against what insiders say are Cissy Houston's (the late singer's mother and maternal grandmother to Bobbi) best wishes, who at present is firmly opposed to the relationship.
Asserts a source: 'Krissy has told her grandmother that she doesn't need her blessing to marry Nick, and the more Cissy objects to the relationship, well that only cements Krissy's decision,' Star magazine reports.
'It's just a very sad situation. Clearly, Krissy loves Nick, but she has just lost her mother, and her entire world has been turned upside down. Krissy doesn't think she needs to wait, and points to her mom's sudden death as the reason to marry Nick,'
However this hasn't calmed down Cissy who suspects that Nick might just be trying to get his hands on Bobbi's new found wealth courtesy of the estate left to her from her late month. In fact Cissy it has been said has gone so far as to get the Whitney Houston Estate to have Nick evicted off the Atlanta premises which until Whitney's death had been her main home.
As late as this weekend the pair have tweeted images of themselves to their respective twitter pages with Nick having gone so far as to tweet: 'yea we got a little closer and what!!!'
What remains to be seen is if the Houston matriarch will back down but one thing is for sure – these two are definitely in love and Bobbi has got the money and the estate to live off so as long as they stay committed we might all end up seeing the pair taking the relationship to the next level. Although one has to wonder why all the fuss when the pair aren't technically blood siblings or the fact that Nick was never officially adopted….then again maybe Cissy might get the last word in…
Breaking: Whitney Houston's ex Ray J is planning to leak sex tapes.
Whitney Houston casket photo: Why wont the Houston clan come clean over the leak?
Whitney Houston casket photo leaker. New culprit surfaces…
Whitney Houston's daughter is now officially engaged to adopted son.
Is Whitney Houston's daughter really dating her adopted son?
Whitney Houston casket photo leaker. New culprit surfaces…
Whitney Houston casket photo: Cissy no longer blames the funeral home.
Whitney Houston's daughter tells Oprah Winfrey she wants to be a singer.
Whitney Houston's sister Patricia Houston insinuates that Whitney was murdered.
Whitney Houston's daughter, Bobbi Kristina Brown plans to drop her father's name. Will it solve her problems?
Whitney Houston had just $29 000 in her bank account. So what happened?