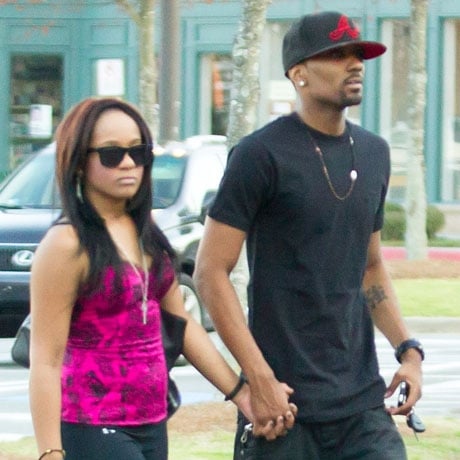 Whitney Houston may have known about what many now in the public are just finding out about: that her daughter Bobbi Kristina is mired in a torrid love affair with a young man, Nick Gordon, whom she brought to the household and later adopted as her son ten years ago.
What remains to be resolved is are the two really involved in a romantic relationship as has been asserted or is it a case of misdiagnosis given instances of ardent public hand holding and commiseration between 'grieving' brother and sister?
nationalpost: Gordon, who was like a son to Whitney Houston, told ABCNews.comt hat the pair are just consoling each other through this tough time. Despite seeming to confirm the dating rumours on Twitter by writing, "Yea we got a little closer and what!!! " he told ABC, "We're just close — just going through her mom's passing and grieving together.
Of course that 'hand holding getting through tough times' talk doesn't hold too well compared to fox's report and the following pictures…
Earlier this week, TMZ cameras caught Bobbi Kristina engaging in some PDA with her "secret" boyfriend, 22-year-old Nick Gordon, in Atlanta.
While there is no blood relation, Nick has reportedly referred to Bobbi as his "sister" in the past. They have reportedly been dating for some time, but only recently went public with their relationship.
Cameras also spotted a ring on Bobbi's finger, fueling reports that the two are engaged.
According to TMZ, Whitney's mother Cissy told family, "what they're doing is incestuous."  She is reportedly concerned that Bobbi's problems make her vulnerable and that Nick is taking advantage of her.
Nick taking advantage of Bobbi? And is Cissy still speaking to the press, I could swear she couldn't stand us press people not too long ago. The moral of the lesson? Cissy calm down, Nick didn't just turn up out of some sewer looking to pull a stiff one and strictly speaking does it really matter (c'mon they are not even blood related) whether these two are seeing each other? Not unless of course you're trying to bully your granddaughter into submission…and correct her for mistakes that her mother had done whilst alive.
Whitney Houston casket photo: Why wont the Houston clan come clean over the leak?
Whitney Houston casket photo leaker. New culprit surfaces…
Whitney Houston casket photo: Cissy no longer blames the funeral home.
Whitney Houston's daughter tells Oprah Winfrey she wants to be a singer.
Whitney Houston's sister Patricia Houston insinuates that Whitney was murdered.
Whitney Houston's daughter, Bobbi Kristina Brown plans to drop her father's name. Will it solve her problems?
Whitney Houston had just $29 000 in her bank account. So what happened?