Cops have defended the actions of a father who beat Raymond Frolander, his 11 year old son's supposed caretaker when he came to find Frolander performing a sexual act on his son upon returning to the family home.
Father beats Raymond Frolander for molesting his son before calling cops
At the time of the 'beat down,' which the unidentified father came to give Frolander before calling cops, the father told he had left the 18 year old for them to collect in a 'blood puddle.'
Whilst the exacting of violence on what could be argued to be a life threatening instance or not is debatable, cops have remained steadfast that the father was only acting like a father when he came to 'address Raymond Frolander.' Never mind the fact that Frolander doesn't happen to be the man's son.
Pursuant to the beat down, Raymond Frolander was taken to a hospital before being taken to a local police precinct, with reports that the 18 year old son's still-swollen face showing few signs of healing when he came to appear in court.
Covered in bruises, Raymond Frolander would plead not guilty to sexual battery on a child after he admitted to molesting the boy for years.
The father has not been charged with a crime, and police sound as if they believe his actions were justified.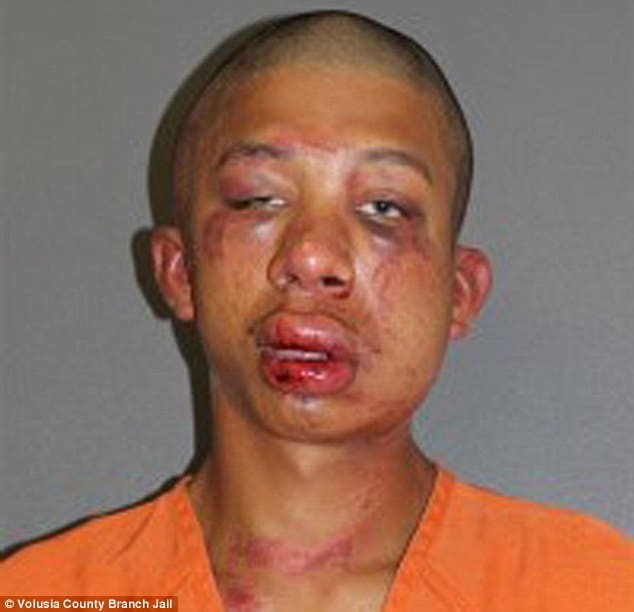 Offered Daytona Beach Police Chief Mike Chitwood via WFTS: 'Dad was acting like a dad. I don't see anything we should charge the dad with,'
'You have an 18-year-old who has clearly picked his target, groomed his target and had sex with the victim multiple times.'
When the 911 responder asked the father if any weapons were involved, he said: 'My foot and my fist'.
The dispatcher asked: 'Is he still unconscious?' to which the father responds: 'Yes… I hit hard, sir.'
He said that Frolander was a 'damn lucky boy that I love my God'.
Added the father: 'He stood up and his pants were around his ankles and nothing else needed to be said. I did whatever I got a right to do except I didn't kill him.'
Raymond Frolander has since been charged with sexual battery on a child under 12 and is being held without bail. It is not known whether he's hired a lawyer.
In latest updates the father has since sought to collect money for his son with a gofundme page entitled 'Help Restore My Son's Innocence" after an earlier request for a million-dollars was reduced to "$100k."
Reacted Police Chief Mike Chitwood: 'It's sad, you don't go out and exploit what happened to this young man (the son) for money.'
Of note is why the father was not able to discern any clues that his son had been sexually molested by the assailant during a period of 3 years…?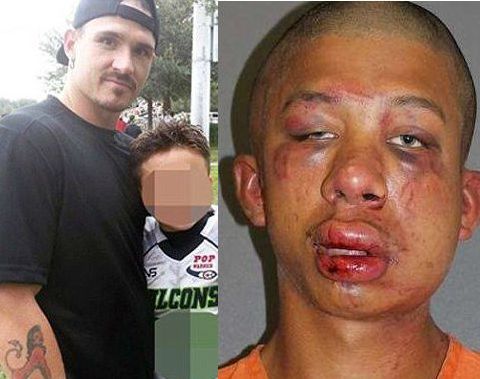 And then there were these comments on the web that made me wonder:
What is sad about what you said about the kid maybe thinking that it was okay, even for a second, is that very often, child molesters actually want the child to enjoy themselves. They will most likely give their victim oral sex, or whatever in order for them to feel good about it. What's very, very sad, is that often, the victim will enjoy it on a physical level, it's not their fault, it's just biology. Emotionally, and mentally, they'll know it's not right but, for their bodies to react in that way, can be very traumatizing. Also, with familiar people to even start this sort of thing, they have to "groom" their victim first, which will include the basic threats of not telling anyone or else they (the kid) will get in trouble, or get hurt.
The fact that the dad has the possibility of being charged is complete crap. If I was that dad and I walked in on that, lord knows that boy would of been deep, deep, DEEP in a coma! You go dad! It's horrible that the 11 yr old boy has to live life with that moment stuck in his head.
I loved how the cop said that he can't think of anything to charge the father with so, he won't be arrested for anything. I think this sort of thing is very universal. As parents, for anyone to hurt your child, and you catch them doing it, of course you are going to do something about it. Parents shouldn't have to worry about getting arrested for protecting their children, that's everyone's right.
But why would any father or mother allow a teen boy, who is not family, to baby sit? There is no way in the world I would let a teen boy baby sit my child. Baby sitting is the last thing that most teen males would want to do. And this kid did it for years. Most boys are just irresponsible and not very domestic. And teen males are in the midst of discovering their s8xuality; they are experimenting with weed, drinking, violent video games, etc. etc. No way I would let a teen male baby sit my child.
While the father's reaction seems completely understandable, Florida continues to have a habit of allowing vigilante justice. Now, if this teen were younger when found abusing his son, been accidentally killed by the father, by Florida's logic, his parents would then ALSO be justified in harming/killing the father. Round and round it goes.I just hope the man's son wasn't in the bed watching it all.
As i sit here and read these comments. I see why this World is turned up side down. In his own way the father was protecting his child, but do you really think beating an 18 year old half to death was the right thing to do. Thank God the Kid did not die. True the kid was wrong for molesting the child. Do you truly think we are right for saying he got what he deserved and the father was Justified in beating him. This society is becoming Godless