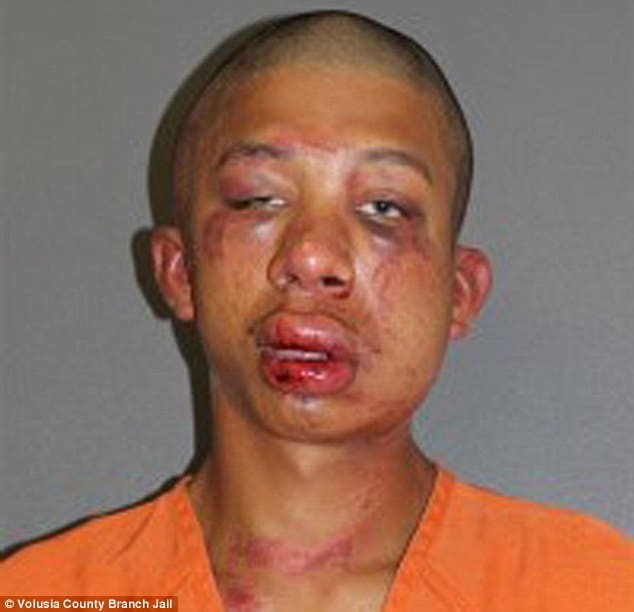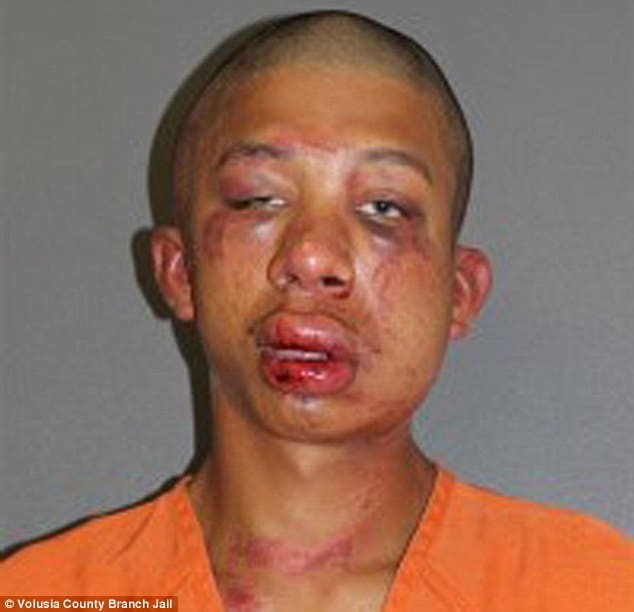 A Florida father who came to walk into Raymond Frolander, 18 sexually molesting his 11 year old son came to dole his special brand of justice prior to calling cops on the man who he told cops he had left in a 'bloody puddle.'
Raymond Frolander beat down. Dad was acting like a dad tell cops. 
The 35-year-old man, who has not been identified, told a 911 dispatcher in the early hours of Friday: 'I just walked in on a grown man molesting [name redacted]. And I got him in a bloody puddle for you right now, officer.'
Police would arrive at the Daytona Beach, Florida home to find Raymond Frolander.
A subsequent mugshot showed that Frolander had been badly beaten around the face, leaving him with swollen lips and eyes, bruising and lacerations.
When asked by 911 if there were any weapons involved, the father told: 'My foot and my fist'.
'He is nice and knocked out on the floor for you, I dragged him into the living room,'
'Send an ambulance. He is going to need one.'
With the dispatcher then asking: 'Is he still unconscious?' to which the father responds: 'Yes… I hit hard, sir.'
The father would add that Raymond Frolander was a 'damn lucky boy that I love my God'. 
Adding: 'He stood up and his pants were around his ankles and nothing else needed to be said. I did whatever I got a right to do except I didn't kill him.'
The father had left his home around 1am to pick up some food and when he returned, heard a strange noise coming from the bedroom, police said.
He pushed open the door and allegedly found Frolander with his pants down performing a sex act on the child.
The boy told investigators he had been playing video games with friends but when they left, Frolander took him to a back room and pulled down his pants.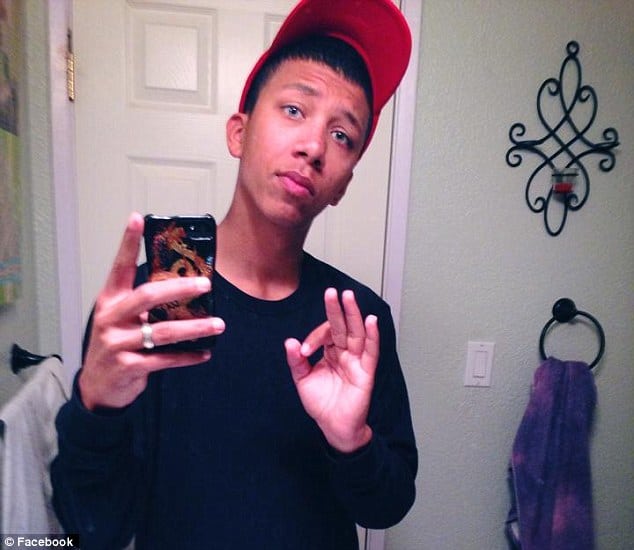 But here's the real bombshell.
The boy would also come to tell that Frolander had been abusing him for three years.
Daytona Beach police chief Michael Chitwood would tell Frolander had a close family connection to the alleged victim.
The chief said the young boy was intimidated and told by Frolander that terrible things would happen if he revealed the abuse.
Reiterated Chitwood: 'He's 11 years old, he should be running around outside and playing video games, not dealing with something like this.'
He earlier told the Daytona Beach News-Journal that the father was 'just acting like a dad'. 
Cops would further offer that the father would not charged in the suspect's beating.
Frolander was taken to Halifax Heath Medical Center where he was treated for his injuries.
The arrest affidavit said that Frolander admitted the abuse.
The teen was charged with sexual battery on a child under 12 and is being held without bail. It was not known whether he's hired a lawyer or whether he will seek damages against the Florida father.
Since the story's release some have wondered if the father went too far in beating Frolander and whether it was really an act of protecting his son from imminent danger or exacting revenge at his own hands.
Perhaps unsurprisingly personal Frolander's facebook page came to be taken down after users came to hurl abuse at the sexual predator.