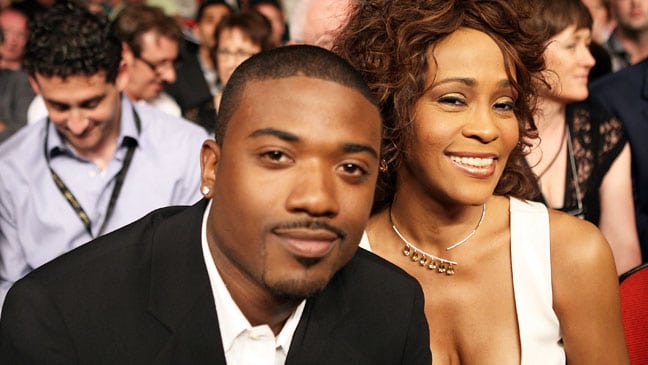 Does it get any more diabolical??
One can hardly wonder what the public uproar will be if Ray J, Whitney Houston's boyfriend before she passed away goes ahead with his plan to leak sex tapes of the two together. Apparently it is been suggested that the two who a heated on and off relationship over the years had a very sexual relationship and that there are a lot of photos and tapes to prove it. The only question now is if true, how will the public now respond given that it hardly had the appetite to savor images of the late singer in an open casket?
radaronline: The Houston family has "been in contact with Ray and told him they do not want any photos or videos painting her in a bad light to come out," the source said, adding the famous family "explained to Ray that now is the time to honor Whitney, not drag her legacy down."
Of course what Cissy Houston wants isn't necessarily what Cissy gets. At stake is a lot of money and one could imagine that an adult website might be willing to take on the morbid gamble that if people were turned off by images of their idol in an open casket they this time might be more secretly thrilled to see her in sex scenes. That of course may well all come at top dollar something that Ray Jr is all too aware of and testing the waters to see what he might be able to get via adult web sites,
Continues radar: The insider said the younger brother of singer Brandy has "been stalling" to sell, or hand them over, them to Whitney's family "because he knows he's sitting on a gold mine."
The question now must be will Cissy come up with some loot for Ray Jr or will she let the chips fall they may be, never mind the cluster fxck this is likely to cause…
Of course let's not forget that Ray J was Kim Kardashian's main co star when her sex tapes came out via Vivid (which coincidentally only helped to launch her career as a lucrative media whore). It's only going to get interesting from here on.
Bobby Brown busted drunk driving with .08 plus alcohol blood level.
Did Whitney Houston's boyfriend Ray Jr supply her with coke just before she died?
Whitney Houston casket photo: No evidence of leaker yet.
So who removed Whitney Houston's coke stash?
Whitney Houston: Coke head who drowned.
 Whitney Houston casket photo: So who exactly is this new leaker?
Breaking: Whitney Houston's ex Ray J is planning to leak sex tapes.
Whitney Houston casket photo: Why wont the Houston clan come clean over the leak?
Whitney Houston casket photo leaker. New culprit surfaces…
Whitney Houston's daughter is now officially engaged to adopted son.
Is Whitney Houston's daughter really dating her adopted son?
Whitney Houston casket photo leaker. New culprit surfaces…
Whitney Houston casket photo: Cissy no longer blames the funeral home.
Whitney Houston's daughter tells Oprah Winfrey she wants to be a singer.
Whitney Houston's sister Patricia Houston insinuates that Whitney was murdered.
Whitney Houston's daughter, Bobbi Kristina Brown plans to drop her father's name. Will it solve her problems?
Whitney Houston had just $29 000 in her bank account. So what happened?