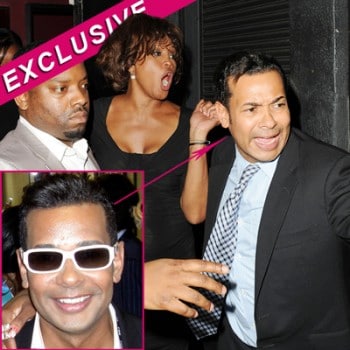 It just keeps getting more diabolical as now authorities try to piece together who mystery friend to the late Whitney Houston, Raffles van Exel  actually is…
He's been held accountable for leaking images of Whitney Houston's casket photo to the National Enquirerand by doing so caused a national furorewhilst catching himself a nice payday (although no conclusive evidence to date has been offered to prove this theory) and now he's the man in the center of things again. In the center because he's been accused of cleaning out vital evidence from Whitney Houston's room the night she died.
According to radaronline, Beverly HIll cops now want to get their hands on Raffles and find out what exactly he removed out of Whitney's room and why he chose to suddenly be a 'wonderful' friend and do some housework for Whitney, not that the hotel staff weren't going to do it themselves at some point after that is the police had a chance to properly survey the death scene for signs of foul play.
Seems like there might have been some foul play too, cause when cops arrived there was no coke left in the room even though there was copious amounts of it in Whitney's system. Which leads to the logical question, if there was no coke in the room was it because Raffles took it out before authorities found itor was it because Whitney finished it. And here's another question, if Whitney was doing blow in the bathroom, what was Raffles doing in the living room? Or then again maybe he was the one who delivered the good shit to her in the first place…?
Says radaronline: The cops want to know who provided Whitney with the cocaine, but if someone tampered with the death scene, well, that could be against the law in California. Investigators have tried to make contact with Van Exel, but have been unable to do so. Since Van Exel is from Denmark, investigators assume that he may no longer be in the United States, and they very much want to talk to him."
No longer in the United States? Hmm. Wanted for questioning for possibly leaking pictures of Whitney Houston's casket to the National Enquirer and now wanted for questioning as to why he had the sudden urge to help tidy Whitney's room before the cops showed. Guess it's always a good idea to have a tidy looking hotel room when a super star dies in it isn't it?
Kids, you have to admit, for someone who you have never heard of, Raffles is damn popular, isn't he?
Van Exel allegedly admitted to Dutch newspaper De Telegraaf that he cleaned out Whitney's hotel room after she died. According to a translation of the interview, he removed clothes and belongings of Whitney's and swept the room as well. "Someone had to do it. The room was empty," Van Exel allegedly said. 
Yes indeed Raffles. Someone had to do it. And today we are so thankful it just happened to be you.
Kids, any bets when Raffles will be amongst us here in the USA again?
Bobby Brown busted drunk driving with .08 plus alcohol blood level.
Did Whitney Houston's boyfriend Ray Jr supply her with coke just before she died?
Whitney Houston casket photo: No evidence of leaker yet.
So who removed Whitney Houston's coke stash?
Whitney Houston: Coke head who drowned.
 Whitney Houston casket photo: So who exactly is this new leaker?
Breaking: Whitney Houston's ex Ray J is planning to leak sex tapes.
Whitney Houston casket photo: Why wont the Houston clan come clean over the leak?
Whitney Houston casket photo leaker. New culprit surfaces…
Whitney Houston's daughter is now officially engaged to adopted son.
Is Whitney Houston's daughter really dating her adopted son?
Whitney Houston casket photo leaker. New culprit surfaces…
Whitney Houston casket photo: Cissy no longer blames the funeral home.
Whitney Houston's daughter tells Oprah Winfrey she wants to be a singer.
Whitney Houston's sister Patricia Houston insinuates that Whitney was murdered.
Whitney Houston's daughter, Bobbi Kristina Brown plans to drop her father's name. Will it solve her problems?
Whitney Houston had just $29 000 in her bank account. So what happened?