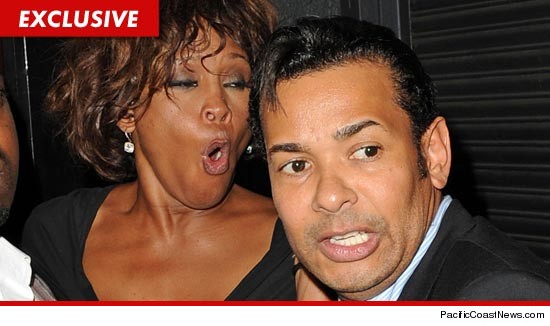 In what keeps amounting to be one of the more diabolical cases pertaining to the death of the late Whitney Houston, Beverly Hills Cops issued a report over the weekend that they no longer wish to bring in former Whitney Houston aide Raffles van Exelfor questioning. The reason being is that in fact cops no longer suspect the former aide of tampering with evidence as he it is now being reported cops managed to come across cocaine the night of the late singer's death in her room (despite earlier reports otherwise), negating theories that Raffles may have wished to hide evidence because he was somehow directly linked to the procurement of the narcotic.
Authorities initially sought to bring in the self confirmed entertainment consultant (of what has been anyone's guess…) after an interview he gave with a Dutch journal (Raffles affirms he is a Dutch citizen and had shortly returned to the Netherlands after the late singer's death) where he disclosed that at the time of the late singer's death it had become necessary to dispose of certain things. He never exactly went to state what it was that he disposed of and when the interview was presented to Beverly Hills cops they were most intrigued to find out what exactly Raffles had disposed of.
To be sure Raffles is said to be 'extremely relieved' who according to TMZ still plans to pay cops a visit with his lawyer next week to affirm that the cops don't want to speak with him.
What though is still up for grabs is whether Raffles is the individual behind the Whitney Houston caket photo leak who according to a Forbes article had been linked to the individual as leaking said images to the National Enquirer.
Nevertheless such assertions were based on hearsay and it can not be conclusively proven that he was the individual who took the photos with Raffles yet to publicly affirm or deny allegations. Who has also yet to deny or affirm assertion's of who they believe to be involved is the Houston clan who have interestingly kept quiet on the matter, wishing to no longer address, this off the back comments from Patricia Houston, the late singer's sister who told Oprah Winfrey some weeks ago that it didn't matter to her who had leaked the images, causing some to wonder if she was letting on little of what she actually knew.
One thing that can be said, Raffles being in the clear with respect to being tampering with evidence should once again put pause to the idea if whether he was actually involved in the leaking of Whitney's image to the National Enquirer and may have been a smokescreen decoy for someone within the Houston clan who may have leaked images instead, something that for the time being the Houston clan nor Raffles appear too interested in commenting on.
Whitney Houston casket photo leaker and now coke dealer?
Bobby Brown busted drunk driving with .08 plus alcohol blood level.
Did Whitney Houston's boyfriend Ray Jr supply her with coke just before she died?
Whitney Houston casket photo: No evidence of leaker yet.
So who removed Whitney Houston's coke stash?
Whitney Houston: Coke head who drowned.
 Whitney Houston casket photo: So who exactly is this new leaker?
Breaking: Whitney Houston's ex Ray J is planning to leak sex tapes.
Whitney Houston casket photo: Why wont the Houston clan come clean over the leak?
Whitney Houston casket photo leaker. New culprit surfaces…
Whitney Houston's daughter is now officially engaged to adopted son.
Is Whitney Houston's daughter really dating her adopted son?
Whitney Houston casket photo leaker. New culprit surfaces…
Whitney Houston casket photo: Cissy no longer blames the funeral home.
Whitney Houston's daughter tells Oprah Winfrey she wants to be a singer.
Whitney Houston's sister Patricia Houston insinuates that Whitney was murdered.
Whitney Houston's daughter, Bobbi Kristina Brown plans to drop her father's name. Will it solve her problems?
Whitney Houston had just $29 000 in her bank account. So what happened?