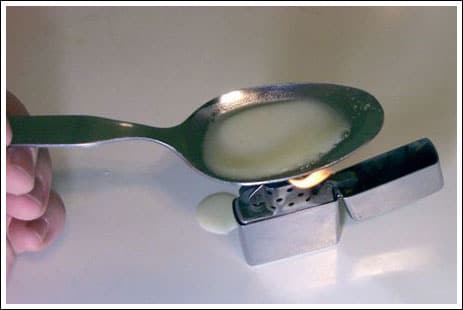 Getting a good hit will always bring fun and sometimes some nasty life threatening effects too….
It seems according to TMZ that Whitney Houston's death was predicated on heavy cocaine use almost immediately before her accidentally drowning in a foot of hot bath water. The final coroner's report now raises questions as to what degree the late singer's cocaine use was out of hand …
tmz: A "spoon with a white crystal-like substance on it" and a "white powdery substance" — which we know was later tested and determined to be cocaine — was found in the hotel room where Whitney Houston died … this according to the singer's final autopsy report.
The report, which gives a detailed description of Whitney's room when officials arrived, says "Located on the south portion of the counter was a small spoon with a white crystal-like substance in it and a rolled up piece of white paper, along with other miscellaneous items."
Kids, sorry to disturb your fantasy, but that is the sure fire markings of an avid crack cocaine user preparing their next good hit. The process otherwise known as free basing, involves taking powder cocaine and applying remnants of it usually in a beaker (or as in this case spoon where this author has seen it done before- see here) with a part portion of baking soda with some water and then placing it under some fire (where there lighters found?) where it is then delicately simmered until a white palpable white crystal substance otherwise known as crack cocaine appears…
"Located in the top drawer, in the north side of the counter were remnants of a white powdery substance, and a portable mirror on a base." Officials found more white powder on the base of the mirror.
The report also states, "[Whitney] possibly overdosed on a narcotic substance, prescription medications, over the counter medications and alcohol."
According to the report, Whitney's body was discovered FACE DOWN in the bath tub … with a "bloody purge coming from her nose." Officials say there were no signs of foul play.
The report notes Whitney had a history of substance abuse … which was evident by a "perforation of posterior nasal septum."
And then there's this courtesy of ABC: Forensic toxicologist Bruce Goldberger said the details about her blood from the toxicology report indicate that she was "acutely intoxicated from cocaine" at the time of her death and was a "repeated cocaine user."
A "plethora of prescription medication bottles" were found in the room, according to the final report. The final report lists a total of 12 different medications, including anti-anxiety medication Xanax, and muscle relaxer Flexeril, prescribed from five different doctors. 
Once again the idea of our collective hero being an innocent victim of her inner demons goes only so far, even until this very last moment, she couldn't resist the temptations to go out with what appears to be her preferred dislocation from reality of choice- crack cocaine. How ironic that an artist that displaces us and enlightens us with their work displaces themselves with the burden of their work and soul…
Assumed Whitney Houston Casket photo leaker Raffles no longer wanted for questioning by police.
Whitney Houston casket photo leaker and now coke dealer?
Bobby Brown busted drunk driving with .08 plus alcohol blood level.
Did Whitney Houston's boyfriend Ray Jr supply her with coke just before she died?
Whitney Houston casket photo: No evidence of leaker yet.
So who removed Whitney Houston's coke stash?
Whitney Houston: Coke head who drowned.
 Whitney Houston casket photo: So who exactly is this new leaker?
Breaking: Whitney Houston's ex Ray J is planning to leak sex tapes.
Whitney Houston casket photo: Why wont the Houston clan come clean over the leak?
Whitney Houston casket photo leaker. New culprit surfaces…
Whitney Houston's daughter is now officially engaged to adopted son.
Is Whitney Houston's daughter really dating her adopted son?
Whitney Houston casket photo leaker. New culprit surfaces…
Whitney Houston casket photo: Cissy no longer blames the funeral home.
Whitney Houston's daughter tells Oprah Winfrey she wants to be a singer.
Whitney Houston's sister Patricia Houston insinuates that Whitney was murdered.
Whitney Houston's daughter, Bobbi Kristina Brown plans to drop her father's name. Will it solve her problems?
Whitney Houston had just $29 000 in her bank account. So what happened?