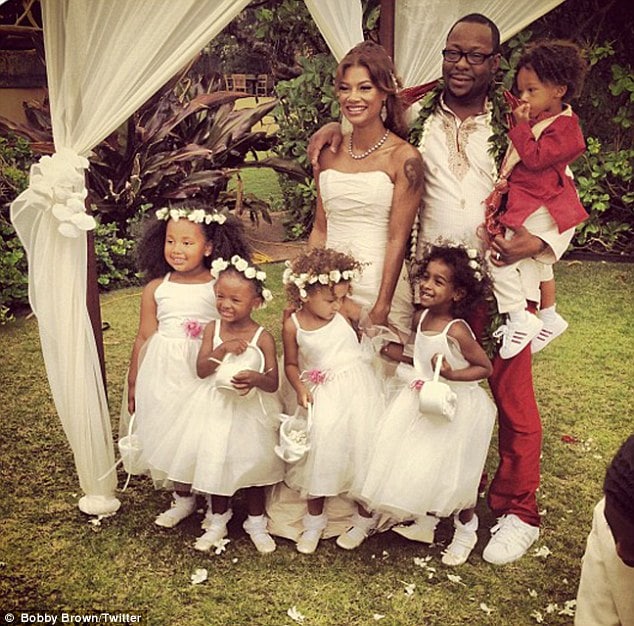 Where did the love go?
Looks like things are a little on the tense side between rap artist Bobby Brown and Bobbi Kristina, his daughter from a previous marriage to recently deceased Whitney Houston, who yesterday opted to not attend her father's marriage to Alicia Etheredge who also doubles as Bobby's manager. The couple were married in Hawaii yesterday.
So where was Bobbi instead? Filming scenes in NY for her upcoming reality show dubbed 'The Houston Family Chronicles,' for her upcoming Lifetime reality television show.
Then again I suppose no one is really surprised after the fiasco with matriarch Cissy Houston hissing at Bobby, 'You killed my crack addict daughter!' Or something to that effect. Bobbi for her troubles then got caught getting high in some hotel but fortunately for her ass, Oprah Winfrey was able to talk some sense into herbefore she promised herself and Oprah that she would never lay eyes on her good for nothing (says Cissy) father.
The shit parade continued until Bobbi then got caught making out with her adopted brother Nick Gordon, forcing the two to come clean. There was speculation as if these two would then get married but once again Cissy breathed fire and the rumors died away. Until they reignited that is in this made for tv package that will help the Houston family make all the proper money their asses should be making if we are all going to gossip about them anyway.
Of course what's even more ironic and sad is that Bobby Brown used to do the same shit to Bobbi when she was a small kid growing up fatherless when he used to go about gallivanting in his own reality tv show.
I bet the marriage is going to be a real loving and fun one too, right Bobbi?
New evidence suggests Whitney Houston died smoking crack before drowning.
Assumed Whitney Houston Casket photo leaker Raffles no longer wanted for questioning by police.
Whitney Houston casket photo leaker and now coke dealer?
Bobby Brown busted drunk driving with .08 plus alcohol blood level.
Did Whitney Houston's boyfriend Ray Jr supply her with coke just before she died?
Whitney Houston casket photo: No evidence of leaker yet.
So who removed Whitney Houston's coke stash?
Whitney Houston: Coke head who drowned.
 Whitney Houston casket photo: So who exactly is this new leaker?
Breaking: Whitney Houston's ex Ray J is planning to leak sex tapes.
Whitney Houston casket photo: Why wont the Houston clan come clean over the leak?
Whitney Houston casket photo leaker. New culprit surfaces…
Whitney Houston's daughter is now officially engaged to adopted son.
Is Whitney Houston's daughter really dating her adopted son?
Whitney Houston casket photo leaker. New culprit surfaces…
Whitney Houston casket photo: Cissy no longer blames the funeral home.
Whitney Houston's daughter tells Oprah Winfrey she wants to be a singer.
Whitney Houston's sister Patricia Houston insinuates that Whitney was murdered.
Whitney Houston's daughter, Bobbi Kristina Brown plans to drop her father's name. Will it solve her problems?
Whitney Houston had just $29 000 in her bank account. So what happened?