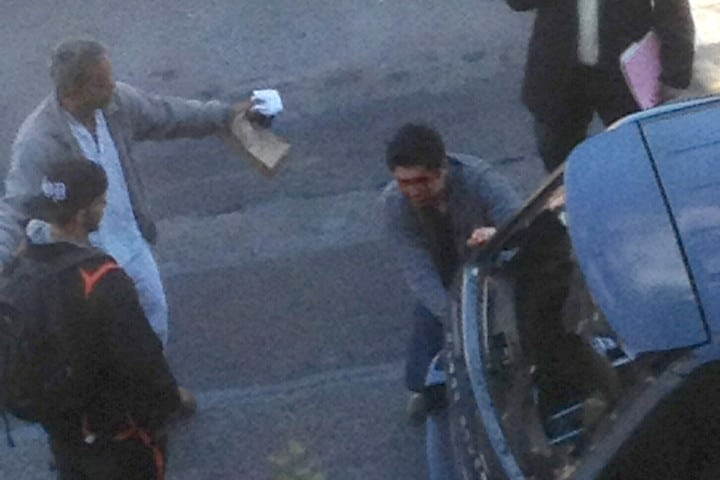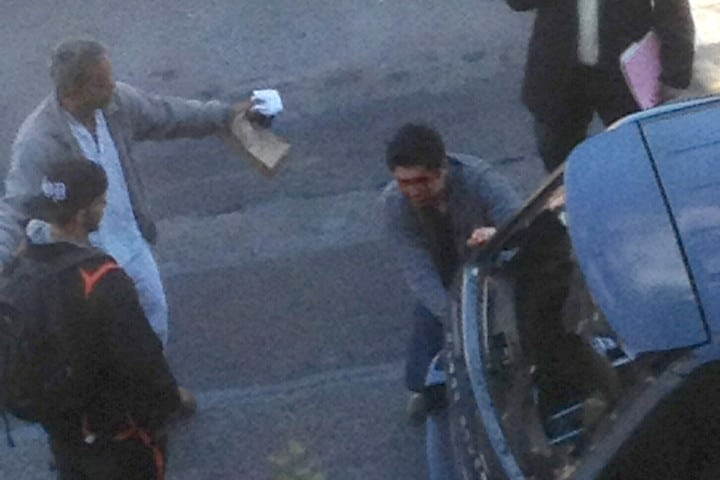 Wojciech Braszczok lawyer says he will be exonerated.
Wojciech Braszczok spied on Occupy Wall st protests.
Wojciech Braszczok is into posting images of naked girls too.
Source: Wojciech Braszczok so far gone he became a rogue cop.
Clint Caldwell is a thug too. Alexian Lien beating.
Kevin Bresloff insists he did not tamper with Alexian Lien video. 'I'm just a witness…'
Undercover cop, Wojciech Braszczok arrested for Alexian Lien beating
Craig Wright punched Alexian Lien through window. $100K bail.
Undercover cop joined Alexian Lien beating, hit vehicle. 
Reginald Chance's lawyer insists his rage was justified.
Craig Wright arrested for punching and kicking Alexian Lien too.
Should the Alexian Lien undercover cops have intervened?
New video emerges similar to Alexian Lien video terrorizing other drivers.
Christopher Cruz reckons he has been unfairly vilified by the media.
Fuck you! Reginald Chance flips bird to media.
Kevin Bresloff who shot Alexian Lien video receives death threats.
Alexian Lien case: Robert Sims and Reginald Chance are career criminals.
NSFW: Here is a new video of Alexian Lien being beaten up.
Reginald Chance now charged, Robert Sim on $100 000 bail. Stomped on Alexian Lien's head.
Sergio Consuegra describes how he saved Alexian Lien's life. Wanted his wife too.
Bikers claim Alexian Lien drove erratically and bumped biker first.
Undercover cop who witnessed Alexian Lien beating suspended.
There were 5 undercover cops present at Alexian Lien's beating. Did shit.
Gloria Allred insists Edwin Mieses is the real innocent victim.
Robert Sims who opened Alexian Lien's SUV door in custody.
Undercover cop present at Alexian Lien beating. Did not call 911.
Bikers have gone on now to tell that Alexian Lien also bears culpability to the fracas Sunday week ago and that he too should now be charged.
In a report via the losangelestimes,  bikers tell that it was Alexian Lien who instigating the melee by hitting one of their group and then running over another rider as he tried to flee.
The rider who was run over, Edwin Mieses Jr., 32, suffered severe injuries; his wife has said he may be paralyzed.
To date Alexian Lien has not been charged, fueling anger among the motorcycle group. One of the riders said Tuesday that the video showing several riders smashing Lien's car window with their helmets and dragging him out onto the street only tells part of the story.
Louis Castaldo told the local TV news show "Good Day New York" that the motorcyclists were only trying to stop Lien to tell him he had hit somebody and that the anger erupted after he sped off and ran over Mieses.
"If he'd just apologized and stopped and said, 'I'm sorry,' we would have probably forgiven him," Castaldo said.
Tells foxny: Castaldo says what we don't see in the video is what prompted the bikers to stop: he says the whole episode would have ended right there with just a simple sign of respect, such as an apology from the SUV driver.
He says the riders tried to calm the situation down and were ready to ride off when the range rover suddenly knocked Edwin Mieses off his bike, then allegedly ran over him and the motorcycle. He says they did not want the SUV to hurt more people.
Nevertheless judging by the public's wide spread contempt for the beating that Lien went on to receive at the hands of the bikers, authorities will to bring Lien to any culpability is next to zero, as the public continues to believe that it was infact the bikers who were the aggressors who instigated the fracas and that Lien was only seeking to protect his and his family's life in what he thought was imminent danger.
That said some have gone on to suggest that Lien also went on to exhibit road rage and had incited the bikers by purportedly throwing a water bottle at one of the bikers as well as shouting profanities, claimed bikers.
Some of the bikers have even gone on to tell that it was Lien who had either clipped or nearly clipped another biker (on the 57th st entrance and not captured on video when the pack was entering the West Side Highway) which purportedly led to the pack squaring up on Lien as they drove along NYC's West Side Highway and biker Christopher Cruz to force Lien to come to a halt.
Commentators on the web have also come to wonder if whether Lien may have felt belittled or a degree of contempt for the bikers and rather than offer to be conciliatory (as some have suggested) he decided to act on his contempt for the bikers.
Other commentators have even speculated if Lien's Asian race may have led to a form of reverse kind of discrimination and contempt against the bikers, being a highly accomplished investment/tech executive who had done good, who may have perceived himself a kind of the master of the universe and felt a sense of entitlement. A sense of entitlement that did not correspond to his feelings of suddenly feeling belittled and forced into a compromising situation courtesy of 'rogue' bikers who traditionally hold an outlaw image and are commonly thought to be perpetrators of crime.
One wonders had the bikers not exacted their brand of mob justice whether in fact the public's appetite to have Lien brought to justice be palpable as he too now is seen as the more serious aggrieved and real victim who was simply at the wrong place at the wrong time…
And then there were these comments on the web too in relation to Louis Castaldo's assertions:
What a load of crap. Just look at the earlier videos that show how the same group was acting long before the Lien incident. They were on a tour of terror around the entire city, riding head on into oncoming traffic, running red light after red light, and riding on sidewalks causing pedestrians to scatter to avoid being run over. Many of the bikes in the group were non-street legal quad bikes and dirt bikes.
Really, people in SUVs seem to feel invinceable and are aggressive drivers. Compact car drivers and bikers have complained for years. Do I think the SUV wanted to get around the bikers, yes I do. I would want to also. I dislike following one motorcycle. Not for fear of the person in the helmet but because that the two wheeled vehicle scare me. Is it a smart think, no. Does the driver of the SUV have fault here, I believe so. There is a young man paralyzed because the SUV driver didn't stop at the first scene and caused two additional scenes. I also feel this reporter never gave the man a chance she had her own agenda this was not even close to fair reporting. Who at ch 11 is in charge, they should have stopped this interview and put a reporter who wouldn't attack this guy. fair and balanced, not even close.
These rough riders were riding in all lanes not one lane was left open for cars traveling north on HH pkwy ,these guy were old enough to not act like kids wilding . I don't buy their story .
Cruz went on the record with his lawyer that he was looking over his shoulder trying to locate his friends and that the slowing down was not intentional. so non of this group has their story straight.
The driver of the Rover RAN OVER one of the bikers!!  He over-reacted and everyone got pissed off.  The one that should be charged is the driver of the Rover, not the bikers.
Motorcyclists all over the world, dead or alive are aggressive. I'm being sarcastic when I say that. What the bloody rass are you talking about? You sound like a damn blasted duncebat. Didn't he say the man in the van started it. So I guess as long as you are in a van you can do anything you want. In addition to having selective hearing, I suspect you have an extra chromosome.
and this is exactly the type of attitude that I'm sure the driver had when he did provoke the riders before anything happened. Drivers are always cutting us bikers off , bumping our bikes , slamming on their breaks. You are just as much of a thug as those jerk bikers where. Don't put us all in the same boat.

Here is a picture of Alexian Lien's Range Rover after the biker attacks.
Here is a picture of Alexian Lien's Range Rover after the biker attacks.
Eyewitness says bikers went after Alexian Lien's wife Rosalyn Ng.
Bike gang boss: "Alexian Lien should have stopped.'
Alexian Lien attacker Reginald Chance expected to surrender today.
Edwin Mieses biker rally a bust. Cops charge more bikers…
Alexian Lien wife, Rosalyn Ng: 'Leave my husband alone now!'
Did Alexian Lien go too far? Biker was trying to help him…
Why Alexian Lien's attacker Allen Edwards wont be charged.
Edwin Mieses is a thug. Didn't have license to drive bike.
Alexian Lien wont be charged. Internet happy he paralyzed victim Jeremiah Mieses.
Alexian Lien victim Jeremiah Mieses in coma. Will never walk again.
Alexian Lien assailant Christopher Cruz arrested. More arrests may follow.
Alexian Lien. Pictures of NY Range Rover Driver beaten up emerge.
New York Range Rover driver identified as Alexian Lien. Fought for his life.