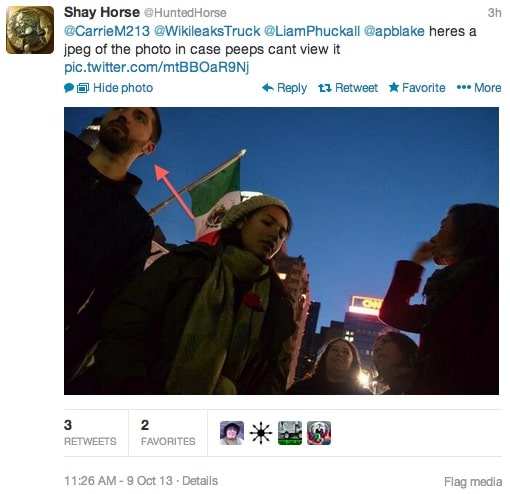 Wojciech Braszczok lawyer says he will be exonerated.
Wojciech Braszczok is into posting images of naked girls too.
Source: Wojciech Braszczok so far gone he became a rogue cop.
Should Alexian Lien be charged too? Calls for his arrest mount.
Clint Caldwell is a thug too. Alexian Lien beating.
Kevin Bresloff insists he did not tamper with Alexian Lien video. 'I'm just a witness…'
Undercover cop, Wojciech Braszczok arrested for Alexian Lien beating
Craig Wright punched Alexian Lien through window. $100K bail.
Undercover cop joined Alexian Lien beating, hit vehicle. 
Reginald Chance's lawyer insists his rage was justified.
Craig Wright arrested for punching and kicking Alexian Lien too.
Should the Alexian Lien undercover cops have intervened?
New video emerges similar to Alexian Lien video terrorizing other drivers.
Christopher Cruz reckons he has been unfairly vilified by the media.
Fuck you! Reginald Chance flips bird to media.
Kevin Bresloff who shot Alexian Lien video receives death threats.
Alexian Lien case: Robert Sims and Reginald Chance are career criminals.
NSFW: Here is a new video of Alexian Lien being beaten up.
Reginald Chance now charged, Robert Sim on $100 000 bail. Stomped on Alexian Lien's head.
As much as the Alexien Lien beating has become a scandal piece in and of itself who has also become the new center piece scandal figure is rogue undercover cop, Wojciech Braszczok who happened to have spied on Occupy Wall st protests.
tells the villagevoice: A Twitter account registered under the handle @evovillen and featuring a photo of a mohawked man who bears a striking resemblance to Wojiech Braszczok, includes tweets about Occupy that date back to the spring and fall 2012. (The account appears to have been inactive during the Zuccotti Park occupation itself.)
And the web being what it is also afforded others to do further research to come up with the indelible images above top and below:
Today, former Occupiers combed their photo libraries for traces of Braszczok–including this one, reportedly from the October 13, 2012 Day of Global Noise in Columbus Circle…
And then there's tweet too which brought out a wicked smile:
Though he worked undercover, Braszczok does not appear to have tried very hard to hide his day job. At about the same time he was putting out calls for Occupy on Twitter, Evovillen tweeted a photo of an NYPD chopper with the caption "Our own helicopter."
 And as much as tried to fit in as an avid protester fighting the movement, not everyone really went on to believe him and some even then wondered what he was about.
Tells gothamist:
People who remember Braszczok say he first showed up around October of 2011, when Zuccotti Park was still occupied. During the Zuccotti Park days and in the months immediately after, he helped maintain the occupation's storage facility and some nearby office space it was allowed to use.
Casper described "Albert" as a quiet man with a strong Polish accent. "I never trusted the individual," he says. "I always thought he was shady, the vibe he gave off. He'd come up to people and start a conversation, ask their age, their information, where they're affiliated."
Gothamist go on to tell that Braszczok presented himself as someone with nowhere to stay, sleeping first in the park, then bunking with protesters at a series of churches throughout New York after the eviction, then joining the dwindling crowds that tried to stand on their right to public demonstration, first on the steps of Federal Hall, then in the Union Square.
And this ominous display that our hero was not loved or appreciated by the media itself:
It was in this same period that he began to follow the twitter accounts of John and Molly Knefel, two journalists who frequently covered Occupy Wall Street.
"It's definitely creepy and unsettling to think of this guy monitoring conversations and actions and tweets that were all part of this nonviolent social movement," Molly Knefel says. "Once you know you're being surveilled, it changes the way you think and the way you act."
And in getting a handle of the indignation that Occupy Wall st protesters now have towards our collective hero, the gothamist goes on to tell the following:
Occupy participants are still digesting the news that "Albert" was a cop. On Twitter, some are calling out other suspected undercovers. Others are urging against the self-destructive suspicion that police moles often produce in political movements. Some activists, nursing vague recollections of seeing "Albert" at the NoNATO protests in Chicago and the Occupy National Gathering in Philadelphia, are combing through old photographs to confirm their recollections, knowing that an undercover NYPD officer traveling outside his jurisdiction to spy on activists, while not unprecedented, could create yet another legal headache for the police
But for many occupiers, the primary reaction yesterday was one of indignation—while painting Occupy Wall Street as a public menace, the NYPD was infiltrating it with a man who is now facing assault charges.
"It's interesting to think about how much stupid time and money and resources have been wasted surveilling us," Clark Stoekley, a Newark artist and activist who was active in the early days of the movement says. "We're nonviolent…Police are the enemy, not the occupiers."
And then there's disturbing account via the UK's dailymail as well:
Casper Gersh, an Occupy organiser in New York, told MailOnline that his suspicions were aroused when Braszczok started asking people's names and ages soon after he met them.
He also tried to latch onto 'it people', meaning those with intelligence about Occupy protests or links to outside groups like Anonymous.
He said: 'He was a foot soldier and he did grunt work – I got him to clean the toilets and feed people at Zuccotti. 
'I made him do a lot of horrible things.  
'I remember asking him at our office: 'Will you clean the bathrooms?' He said: 'Sure!' He was trying to get our trust by doing all these things.'
Casper however 'felt uncomfortable whenever I was around him' and was put off in part by Braszczok's thick Eastern European accent.
He said: 'I felt there was something untrustworthy about his character. He didn't feel genuine ever. 
'It seemed like there was a side of him that was always mysterious. 
'It's a betrayal. It's dishonourable. I didn't like him but when people are saying he's cool you're not going to be the animal and punch him.
'I actually challenged him once on being a cop. I asked him what are you here for? I think I might have said are you a cop? 
'He laughed it off in a nervous way which tipped me off that something is wrong with him.'
Because who needs a mole or a spy who's more of a threat and a menace then the thing they are suppose to be protecting bankers society from…?
Sergio Consuegra describes how he saved Alexian Lien's life. Wanted his wife too.
Bikers claim Alexian Lien drove erratically and bumped biker first.
Undercover cop who witnessed Alexian Lien beating suspended.
There were 5 undercover cops present at Alexian Lien's beating. Did shit.
Gloria Allred insists Edwin Mieses is the real innocent victim.
Robert Sims who opened Alexian Lien's SUV door in custody.
Undercover cop present at Alexian Lien beating. Did not call 911.
Here is a picture of Alexian Lien's Range Rover after the biker attacks.
Here is a picture of Alexian Lien's Range Rover after the biker attacks.
Eyewitness says bikers went after Alexian Lien's wife Rosalyn Ng.
Bike gang boss: "Alexian Lien should have stopped.'
Alexian Lien attacker Reginald Chance expected to surrender today.
Edwin Mieses biker rally a bust. Cops charge more bikers…
Alexian Lien wife, Rosalyn Ng: 'Leave my husband alone now!'
Did Alexian Lien go too far? Biker was trying to help him…
Why Alexian Lien's attacker Allen Edwards wont be charged.
Edwin Mieses is a thug. Didn't have license to drive bike.
Alexian Lien wont be charged. Internet happy he paralyzed victim Jeremiah Mieses.
Alexian Lien victim Jeremiah Mieses in coma. Will never walk again.
Alexian Lien assailant Christopher Cruz arrested. More arrests may follow.
Alexian Lien. Pictures of NY Range Rover Driver beaten up emerge.
New York Range Rover driver identified as Alexian Lien. Fought for his life.