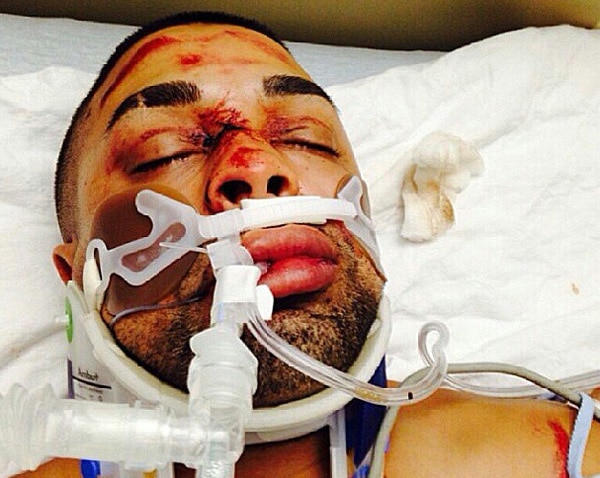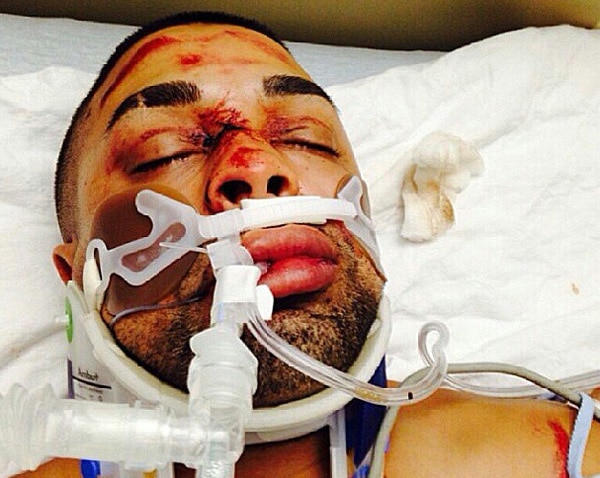 Bikers claim Alexian Lien drove erratically and bumped biker first.
Undercover cop who witnessed Alexian Lien beating suspended.
There were 5 undercover cops present at Alexian Lien's beating. Did shit.
Gloria Allred insists Edwin Mieses is the real innocent victim.
Robert Sims who opened Alexian Lien's SUV door in custody.
Undercover cop present at Alexian Lien beating. Did not call 911.
Eyewitness says bikers went after Alexian Lien's wife Rosalyn Ng.
Bike gang boss: "Alexian Lien should have stopped.'
Edwin Mieses hires Gloria Allred to sue Alexian Lien.
Alexian Lien attacker Reginald Chance expected to surrender today.
Edwin Mieses biker rally a bust. Cops charge more bikers…
Alexian Lien wife, Rosalyn Ng: 'Leave my husband alone now!'
Did Alexian Lien go too far? Biker was trying to help him…
Why Alexian Lien's attacker Allen Edwards wont be charged.
Alexian Lien wont be charged. Internet happy he paralyzed victim Jeremiah Mieses.
Alexian Lien victim Jeremiah Mieses in coma. Will never walk again.
Alexian Lien assailant Christopher Cruz arrested. More arrests may follow.
Alexian Lien. Pictures of NY Range Rover Driver beaten up emerge.
New York Range Rover driver identified as Alexian Lien. Fought for his life.
New York Range Rover driver beaten up by motorcycle pack.
In the face of the recent event which saw biker Edwin Mieses paralyzed after sustaining horrific injuries at the hands of Alexian Lien a moral conundrum has erupted.
Many on the web have gone on to express that Jeremiah Edwin Mieses (full name) simply got what he deserved and that if he chose to be part of a group that acted aggressively one should not be surprised that he got his fingers burned. In Edwin Mieses case he got more than his fingers burned and is now permanently paralyzed.
That said what may augment the argument if whether Jeremiah Mieses (as he is also known by his rapper name Jay Meezee) simply got what he deserved was this disturbing revelation which points to the idea that Mr Mieses wasn't an angel either and that he had a consistent history of mischief.
Tells the bostonglobe:
Though Mieses is a Massachusetts resident, he has never had a valid Massachusetts driver's license for a passenger vehicle and has never applied for a motorcycle license, the Registry of Motor Vehicles said.
Registry records show that Mieses applied for a learner's permit in 1999 and 2000, but that he never obtained a full license because he failed to pay fines imposed after he was ticketed for speeding in Lawrence in 1999. His last contact with the Registry was in 2001, when he obtained an identification card, registry records show.
Since 1999, he has been ticketed by police 16 times, in Lawrence, Methuen, Roxbury, Andover, and New Hampshire, according to registry records.
In June, the Registry notified the National Driver Register that Mieses was a habitual traffic offender whose right to drive in Massachusetts was revoked until 2017, records show.
Yet the question remains, did Mr Mieses deserve what has happened to him? By being part of a gang that was acting aggressively on the road was this his comeuppance for what many regard as illegitimate behavior?
Many have opined that Alexian Lien had no alternative but to plow through the bikers, others have even argued that confronted with similar animosity they would have also resorted to violence to defend themselves. Which raises the question was Mr Lien simply defending himself and are Mr Mieses' injuries just payback karma for a legacy of consistently being on the wrong side of the law or is it just a situation of being in the wrong place at the wrong time as his family have insisted?
It might be true Mr Mieses was simply just tending to one of his own who had fallen before being innocently plowed over…but what moral obligation do we as a society owe him, to guarantee that certain acts of violence are not engendered and what is Mr Lien's own personal culpability here? Expect a lawsuit in the near future…
And via mediabistro:
The Facebook page calling for justice for Mieses had more than 19,000 likes as of Wednesday afternoon, while the one set up for Lien had a fraction of that at just under 3,500 Facebook likes.
"Justice For Jay Meezee. The media is trying to paint the man driving the Range Rover as the victim. Yet, Jay Meezee is in a coma and paralyzed unable to walk again along with a list of severe injuries sustained," noted the "About" section of the fan page for Mieses.
And then there was these two comment below of the many thousands of comments on the web that particularly made me wonder:
It's unfortunate, but it's clearly the mob mentality that's to blame here. Lien had a fight or flight response and chose flight, unfortunately, this young man decided to put himself between a vehicle and the "flight". This biker gang, and yes I'm going to say gang, has a reputation for causing havoc and disrupting traffic when they do these runs. He was caught up with the wrong crowd and things like this are going to happen when you involve yourself with punks such as these. I hope he recovers and I hope the other bikers who antagonized the man realize they're just as responsible for their "friend's" condition.
The gang as a whole were a bunch of douchebags on the road. Mieses was part of that gang and felt protected by the sheer numbers with him. 
People say that when you're in a mob, you do things you normally wouldn't do. I disagree. When people are in a mob, their real personality comes through because they believe they will not get caught by authorities amongst the mob.
In a riot, people break windows thinking the crime is minor enough that police won't bother to find them. They stop short of killing others because that magnitude of crime will have authorities looking for them. But if a person knew there was no accountability for theft, murder, rape…etc, how many of us could truly say they would still act as the person they pretend to be?
America still the wild west that it has always been…