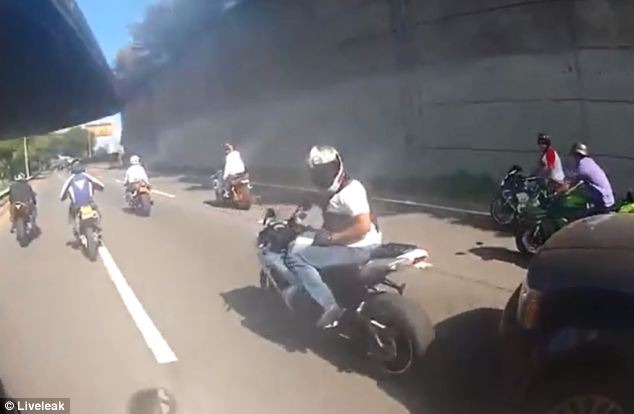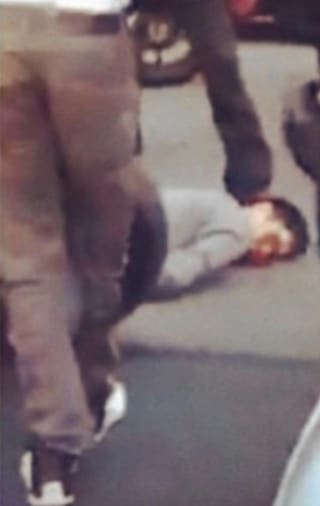 Undercover cop joined Alexian Lien beating, hit vehicle.
Reginald Chance's lawyer insists his rage was justified.
Craig Wright arrested for punching and kicking Alexian Lien too.
Should the Alexian Lien undercover cops have intervened?
New video emerges similar to Alexian Lien video terrorizing other drivers.
Christopher Cruz reckons he has been unfairly vilified by the media.
Kevin Bresloff who shot Alexian Lien video receives death threats.
Alexian Lien case: Robert Sims and Reginald Chance are career criminals.
NSFW: Here is a new video of Alexian Lien being beaten up.
Bikers claim Alexian Lien drove erratically and bumped biker first.
Undercover cop who witnessed Alexian Lien beating suspended.
There were 5 undercover cops present at Alexian Lien's beating. Did shit.
Gloria Allred insists Edwin Mieses is the real innocent victim.
Robert Sims who opened Alexian Lien's SUV door in custody.
Undercover cop present at Alexian Lien beating. Did not call 911.
Eyewitness says bikers went after Alexian Lien's wife Rosalyn Ng.
Bike gang boss: "Alexian Lien should have stopped.'
Edwin Mieses hires Gloria Allred to sue Alexian Lien.
Alexian Lien attacker Reginald Chance expected to surrender today.
Edwin Mieses biker rally a bust. Cops charge more bikers…
Alexian Lien wife, Rosalyn Ng: 'Leave my husband alone now!'
Did Alexian Lien go too far? Biker was trying to help him…
Why Alexian Lien's attacker Allen Edwards wont be charged.
Edwin Mieses is a thug. Didn't have license to drive bike.
Alexian Lien wont be charged. Internet happy he paralyzed victim Jeremiah Mieses.
Alexian Lien victim Jeremiah Mieses in coma. Will never walk again.
Alexian Lien. Pictures of NY Range Rover Driver beaten up emerge.
New York Range Rover driver identified as Alexian Lien. Fought for his life.
New York Range Rover driver beaten up by motorcycle pack.
Alexian Lien assailant Christopher Cruz has been arrested after authorities have determined the 28 year old biker's erratic bike riding and general antagonizement led to one young family being terrorized on NYC's roads.
The arrest comes after an investigation by authorities who have since determined that Cruz, from Passaic, New Jersey initiated Sunday afternoon's disturbing cat and mouse game with his erratic driving and subsequent harassment of Alexien Lien and his family.
Authorities went on to say that it was Christopher Cruz who initially set off the commotion when Alexian Lien inadvertently knocked into him on NY's West Side highway on account of his reckless driving. Stymied, Cruz is later said to have inspired his fellow bike riders to give chase to Lien after speeding off after the initial collision.
Nevertheless despite the arrest and subsequent charges which includes reckless endangerment, reckless driving and endangering the welfare of a child, commentators on the web have openly wondered out aloud why Lien didn't simply call authorities or get out of the car to tend to the collision.
In his defense, commentators have argued that the 33 year old e-commerce executive simply panicked, believing he and his family would be at the wrath of the bikers. Others have wondered if Mr Lien's panic was the result of race issues as Asians minorities have not always thought to easily assimilate in the wider culture. A point of view that many hold contentious.
Despite Cruz's arrest, authorities do not believe he was one of the swarm of bikers who went on to follow the terrified father.
Cruz like Lien would go on to be briefly hospitalized and later released with minor injuries, including lower back pain.
Who though remains in critical condition is Jeremiah Mieses, 26 from Massachusetts who was one of the other bikers who ended up being hospitalized. He was said to be hit by Alexian Lien's Range Rover and now remains in a coma and may never walk again told his family.
Authorities have since gone on to tell that Alexian Lien is not expected to be charged, that said, the investigation is continuing and authorities are now seeking information about the other two other bikers involved as seen in the very bottom photo below. One suspect has a flag sticker of "Guyana" on the rear of the motorcycle.
Authorities have urged anyone with information regarding this incident is asked to call Crime Stoppers at 1-800-577-TIPS (8477). The public can also submit tips by logging onto the Crime Stoppers website or by texting their tips to 274637 (CRIMES) then enter TIP577