Wojciech Braszczok lawyer says he will be exonerated.
Wojciech Braszczok spied on Occupy Wall st protests.
Wojciech Braszczok is into posting images of naked girls too.
Source: Wojciech Braszczok so far gone he became a rogue cop.
Should Alexian Lien be charged too? Calls for his arrest mount.
Clint Caldwell is a thug too. Alexian Lien beating.
Kevin Bresloff insists he did not tamper with Alexian Lien video. 'I'm just a witness…'
Undercover cop, Wojciech Braszczok arrested for Alexian Lien beating
Undercover cop joined Alexian Lien beating, hit vehicle.
Reginald Chance's lawyer insists his rage was justified.
Craig Wright arrested for punching and kicking Alexian Lien too.
Should the Alexian Lien undercover cops have intervened?
New video emerges similar to Alexian Lien video terrorizing other drivers.
Christopher Cruz reckons he has been unfairly vilified by the media.
Kevin Bresloff who shot Alexian Lien video receives death threats.
Alexian Lien case: Robert Sims and Reginald Chance are career criminals.
NSFW: Here is a new video of Alexian Lien being beaten up.
Bikers claim Alexian Lien drove erratically and bumped biker first.
Undercover cop who witnessed Alexian Lien beating suspended.
There were 5 undercover cops present at Alexian Lien's beating. Did shit.
Gloria Allred insists Edwin Mieses is the real innocent victim.
Robert Sims who opened Alexian Lien's SUV door in custody.
Undercover cop present at Alexian Lien beating. Did not call 911.
Eyewitness says bikers went after Alexian Lien's wife Rosalyn Ng.
Edwin Mieses hires Gloria Allred to sue Alexian Lien.
Alexian Lien attacker Reginald Chance expected to surrender today.
Edwin Mieses biker rally a bust. Cops charge more bikers…
Alexian Lien wife, Rosalyn Ng: 'Leave my husband alone now!'
Did Alexian Lien go too far? Biker was trying to help him…
Why Alexian Lien's attacker Allen Edwards wont be charged.
Edwin Mieses is a thug. Didn't have license to drive bike.
Alexian Lien wont be charged. Internet happy he paralyzed victim Jeremiah Mieses.
Alexian Lien victim Jeremiah Mieses in coma. Will never walk again.
Alexian Lien assailant Christopher Cruz arrested. More arrests may follow.
Alexian Lien. Pictures of NY Range Rover Driver beaten up emerge.
New York Range Rover driver identified as Alexian Lien. Fought for his life.
New York Range Rover driver beaten up by motorcycle pack
In the aftermath of Sunday's bike fracas, debate has ensued as to whether Alexian Lien went too far in choosing to plow through a throng of bikers, one of whom has now ended permanently paralyzed.
Addressing the issue of whether Alexian Lien went too far, Peter Douglas, president of a group of more than a dozen bikers based in East Orang, NJ, known as the Front Line Soldiers went on yesterday to fault Lien for not having remained stationary after initially hitting Christopher Cruz, said to have initiated this weekend's fracas.
Although police have told that bikers vandalized Alexander Lien's Range Rover and caused him to fear imminent danger to himself and his family's life, Douglas has maintained that he holds grave doubts that any vandalism actually took place. In fact in comment threads on the web there have been assertions that Lien also caused the biker's wrath by jeering at the throng as they enveloped him which may have also served to rile up hostilities.
Told Douglas: "They paint us all as bad, rogue people,"
"just because one ride goes wrong and someone gets hurt."
Nevertheless public opinion has been staunchly against the bikers with many having gone on to argue that Alexian Lien had no choice but to plow through the gang.
Reflected a variety of commentators on the web:
The castle doctrine means you don't have to retreat from your own home before using deadly force to stop a burglary, when if you were out in public, rather than using deadly force to stop a robbery or other serious crime, you would have to retreat w/o using deadly force if you could do so safely. How in the world is that a relevant question here? You think the driver could have retreated safely?
You are the aggressor because you were part of a pack of animals that were trying to get this man off of a public road so you and your man-children knuckle-draggers could play on a highway.
The only thing the guy in the Rover did wrong was fail to back up.
Me? I would have slowed down, or stopped if need be, and enjoyed the spectacle with my family, all those bikes buzzing around, doing tricks, being all badass. What little kid (or self-respecting grown-up) wouldn't have thought that was cool? What I wouldn't have done: been SO PISSED THAT I CAN'T DRIVE MY ROVER WHEN I WANT TO DRIVE MY ROVER that I paralyzed somebody for life.
I believe this began as some sort of road rage incident where Lien was mad that scores of asshole bikers were on the road and maybe honked at them or flipped someone off and it escalated from there. The bikers definitely bare the brunt of the blame but I don't think Lien was an angel before the video began either. 
There is something about being in a car that makes people act very differently than they would if they were just on the sidewalk.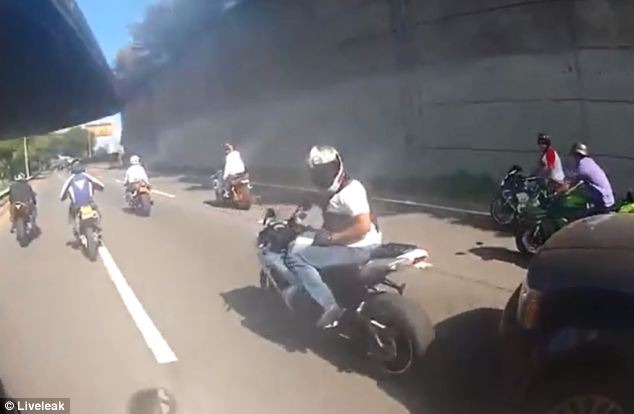 During his press conference, biker boss Peter Douglas went on to acknowledge that indeed the bikers themselves were partially at fault.
He went on to concede public outrage over the incident might have been muted if some of the bikers had not reacted so violently and perhaps not haven given chase to Lien after plowing off and instead just involved authorities.
Nevertheless Douglas went on to insist the biker's their reaction were at least partially understandable.
"If you see someone run over your brother, you tend to react in an unprofessional manner," 
"For the Range Rover to just blatantly drive over (a motorcyclist) … they're going to follow him and make sure he's brought to justice."
Of course that also raises the question how far can a citizen go in enforcing a citizen's arrest or bringing what they deem a crime to justice? Would that necessitate the use of aggravated violence in and of itself? Which in part hints the public's anger at the biker's reaction to the fracas and one could possibly imagine greater public sympathy had the bikers refrained from chasing down Lien and eventually beating him.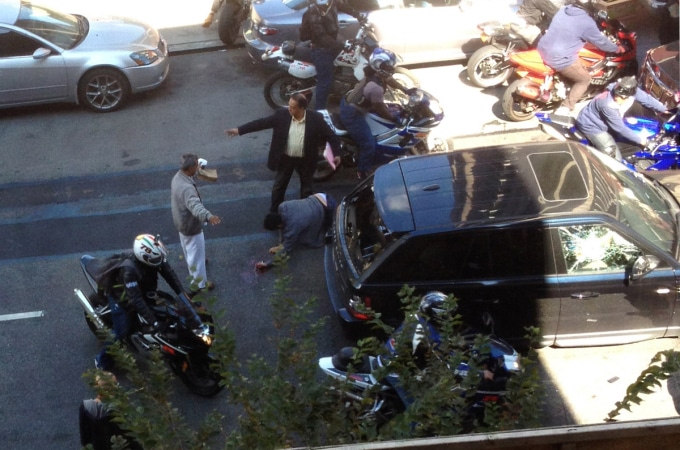 Then there was this comment on the web too that made me wonder:
Out f 100 people, and 99 of them would have driven off; the one idiot who doesn't is the one that gets out of his car to fight and ends up in a coma or worse.
Lien did nothing wrong, and the police may agree. When asked if Lien was within his legal rights to race away from the scene of his accident with Cruz, New York City Police Commissioner Ray Kelly had this to say:
"It depends on whether or not your vehicle is being attacked, whether or not you think you're being attacked, whether or not your wife and child are in the car. You have to look at the totality of the circumstances and that's what we're doing."
My question to you: put yourself in Lien's shoes. Spouse and small child in the SUV. Watch the video and tell me how you would respond.