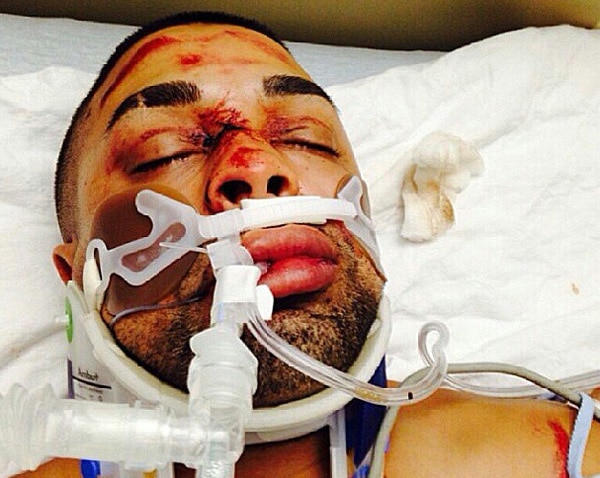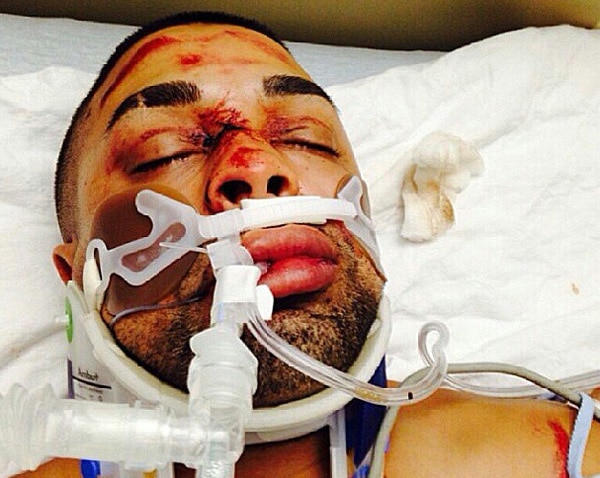 Wojciech Braszczok lawyer says he will be exonerated.
Wojciech Braszczok spied on Occupy Wall st protests.
Wojciech Braszczok is into posting images of naked girls too.
Source: Wojciech Braszczok so far gone he became a rogue cop.
Should Alexian Lien be charged too? Calls for his arrest mount.
Clint Caldwell is a thug too. Alexian Lien beating.
Kevin Bresloff insists he did not tamper with Alexian Lien video. 'I'm just a witness…'
Undercover cop, Wojciech Braszczok arrested for Alexian Lien beating
Undercover cop joined Alexian Lien beating, hit vehicle.
Reginald Chance's lawyer insists his rage was justified.
Craig Wright arrested for punching and kicking Alexian Lien too.
Should the Alexian Lien undercover cops have intervened?
New video emerges similar to Alexian Lien video terrorizing other drivers.
Christopher Cruz reckons he has been unfairly vilified by the media.
Kevin Bresloff who shot Alexian Lien video receives death threats
Alexian Lien case: Robert Sims and Reginald Chance are career criminals.
NSFW: Here is a new video of Alexian Lien being beaten up.
Bikers claim Alexian Lien drove erratically and bumped biker first.
Undercover cop who witnessed Alexian Lien beating suspended.
There were 5 undercover cops present at Alexian Lien's beating. Did shit.
Gloria Allred insists Edwin Mieses is the real innocent victim.
Robert Sims who opened Alexian Lien's SUV door in custody.
Undercover cop present at Alexian Lien beating. Did not call 911.
Eyewitness says bikers went after Alexian Lien's wife Rosalyn Ng.
Bike gang boss: "Alexian Lien should have stopped.'
Alexian Lien attacker Reginald Chance expected to surrender today.
Edwin Mieses biker rally a bust. Cops charge more bikers…
Alexian Lien wife, Rosalyn Ng: 'Leave my husband alone now!'
Did Alexian Lien go too far? Biker was trying to help him…
Why Alexian Lien's attacker Allen Edwards wont be charged.
Edwin Mieses is a thug. Didn't have license to drive bike.
Alexian Lien wont be charged. Internet happy he paralyzed victim Jeremiah Mieses.
Alexian Lien victim Jeremiah Mieses in coma. Will never walk again.
Alexian Lien assailant Christopher Cruz arrested. More arrests may follow.
Alexian Lien. Pictures of NY Range Rover Driver beaten up emerge.
New York Range Rover driver identified as Alexian Lien. Fought for his life.
New York Range Rover driver beaten up by motorcycle pack
In new developments in the biker saga which saw a one man battered, and another man paralyzed, Edwin Mieses' family has gone on to tell that they have now retained the services of high powered celebrity attorney, Gloria Allred to sue Alexian Lien for damages after plowing and paralyzing their son.
The announcement comes after Edwin Mieses went on to suffer grave injuries including a ruptured aorta, two broken legs and a broken back after Alexian Lien plowed over several bikers in a bid to flee for safety.
Told Edwin Mieses' wife, Dayana Mieses: "There's no hope for his back,"
"They crushed his spine. They broke it in two different places, so he will be forever, forever paralyzed."
Edwin Mieses' wife has since gone on to tell that her husband is the real victim of the attack and was simply attending to another biker, Christopher Cruz who had fallen after being clipped by Lien on the highway when Lien decided to plow through the bikers and get away.
Went on to tell Dayana Mieses: "Everyone wants to blame the bikers for something this man did,"

"This man needs to know he hurt someone."
Incensed that Lien had chosen to drive off and critically knock over one of their own, the bikes then went on a rampage and proceeded to chase after Lien who they suspected of foul behavior.
After finally catching up with Lien the bikers proceeded to exact what they felt was just retribution against Alexian Lien when one of the bikers, Reginald Chance, who is expected to surrender himself to authorities today grabbed Lien and began assaulting him after his SUV Range Rover came ensnared in local traffic.
It has since been thought that there would have been more public sympathy for the bikers had they simply reached out to authorities and notified them that Lien had plowed through their throng as opposed to aggressively retaliating and warranting their own brand of justice.
To date, Lien has not been charged with any crime, nevertheless, Police Commissioner Ray Kelly said they are still investigating.
Told Kelly: "Well, it depends on what the circumstances are,"
"It depends on whether or not your vehicle is being attacked, whether or not you think you're being attacked, whether or not your wife and child's in the car. You have to look at the totality of the circumstances, and that's what we're doing."
Legal scholars are debating whether Mieses' camp have a legitimate case against Lien, whether he was in fact recklessly driving or if the fact that he sought to protect himself and his family from what he felt was imminent and immediate danger justified his choice to plow through the bikers.
Reached for comment, the purported lawyer for Edwin Mieses went on to decline to affirm or negate claims that she was representing Edwin Mieses.