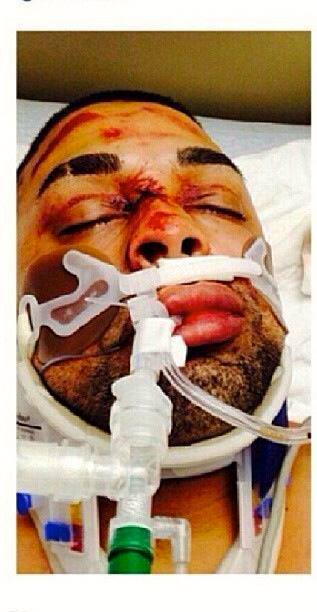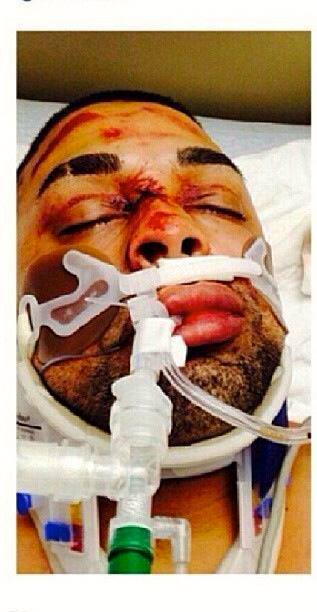 Undercover cop joined Alexian Lien beating, hit vehicle.
Reginald Chance's lawyer insists his rage was justified.
Craig Wright arrested for punching and kicking Alexian Lien too.
Should the Alexian Lien undercover cops have intervened?
New video emerges similar to Alexian Lien video terrorizing other drivers.
Christopher Cruz reckons he has been unfairly vilified by the media
Kevin Bresloff who shot Alexian Lien video receives death threats.
Alexian Lien case: Robert Sims and Reginald Chance are career criminals.
NSFW: Here is a new video of Alexian Lien being beaten up.
Bikers claim Alexian Lien drove erratically and bumped biker first.
Undercover cop who witnessed Alexian Lien beating suspended.
There were 5 undercover cops present at Alexian Lien's beating. Did shit.
Gloria Allred insists Edwin Mieses is the real innocent victim.
Robert Sims who opened Alexian Lien's SUV door in custody.
Undercover cop present at Alexian Lien beating. Did not call 911.
Eyewitness says bikers went after Alexian Lien's wife Rosalyn Ng.
Bike gang boss: "Alexian Lien should have stopped.'
Edwin Mieses hires Gloria Allred to sue Alexian Lien.
Alexian Lien attacker Reginald Chance expected to surrender today.
Edwin Mieses biker rally a bust. Cops charge more bikers…
Alexian Lien wife, Rosalyn Ng: 'Leave my husband alone now!'
Did Alexian Lien go too far? Biker was trying to help him…
Why Alexian Lien's attacker Allen Edwards wont be charged.
Edwin Mieses is a thug. Didn't have license to drive bike.
Alexian Lien victim Jeremiah Mieses in coma. Will never walk again.
Alexian Lien assailant Christopher Cruz arrested. More arrests may follow.
Alexian Lien. Pictures of NY Range Rover Driver beaten up emerge.
New York Range Rover driver identified as Alexian Lien. Fought for his life.
New York Range Rover driver beaten up by motorcycle pack.
In the face of Sunday's manic car chase which saw driver Alexian Lien along with his family fleeing for their lives, Lien has begun to receive overwhelming support, despite the grave injuries his actions inflicted on one of the bikers.
With no alternative but to clip one of the bikers who was at the time erratically driving ahead of him on NYC's West Side Highway, and then suddenly braking in front of Lien, commentators on the web have unanimously come to support Lien and argue ultimately he was only acting in defense.
After clipping one of the bikers, Christopher Cruz, who has since been charged with reckless endangerment, fellow bike riders began to pound on Lien's SUV Range Rover as if to exact retribution on Lien for having the audacity to knock over one of their own.
Startled and by now fearing for his life, Lien decided rather than risk the wrath of the pack of bikers to instead speed off.
Yet it was here where things became irrevocable for one of the other bikers, Jeremiah Mieses who at that moment had alighted from his bike to check on Cruz who had been inadvertently toppled over by Lien.
Walking across to tend to Cruz, Alexian Lien had just put his foot on the accelerator and indiscriminately plowed forward, knocking over and seriously injuring Mieses who had unwittingly walked across the stretch of highway to tend to Cruz. Then again Mieses could perhaps rightly have never imagined that Lien would wildly plow forward after having come to a halt after clipping Cruz.
What has since followed on the web is an avalanche of commentators opining on both Lien's and the biker's culpability. What has since become apparent is that the public fears and loathes the bikers and many have gone on to express delight that one of their own finally got back a taste of their own medicine.
Interestingly Lien has reportedly rejected requests from reporters for interviews and has deleted his social media accounts for fear of reprisals from the biker gang.
Retorted commentators:
I love how even in the motorcyclists version of events they are 100% responsible and yet still claim to be the "real" victims.
They seem to think it was perfectly reasonable to play extremely dangerous games so they can race on a busy highway, attack someone when one of them is slightly rear ended which was caused by their own actions, and then beat someone. However, the man being attacked desperately trying to escape with his life and accidentally hit one of them is somehow the bad guy.
 He and all his friends were putting dozens of lives in jeopardy with their bullshit antics. He should be so lucky he only got his legs ran over. I feel zero sympathy for him.
I'm motorcycle rider, over 10k miles a year. My sympathy is with the guy in the SUV. These bikers were asking for a fight. Lien was absolutely right to get the hell out of there at all cost and if he ran that guy over, well that's what happens when you play with fire. If the motorcycle riders would have acted civilized and waited for the cops to write up the accident no one gets hurt. Act like a punk, get treated like a punk.
the motorcycle in fron of suv wants to stop him so they can assult the family so fucking bad, shame shame on those cowards. i hope every single one gets fucked in ass in jail so it bleeds
He DID stop, then when they started pounding on his SUV, he took off and ran them over. It's too bad only one of them is paralyzed, and none were killed. If he'd gone Mad Max, he could have taken out a few dozen menaces to society.
Hope your son enjoys his coma. If it was my family in that car, he would've been shot in the chest the moment he approached my window.
Fuck your son, he took part in all of this scumbaggery and got what he deserved. Don't want to get run over? Don't drive a motorcycle and certainly don't park it on front of a Range Rover that you and your buddies are about to deface. Lesson learned: do not fuck with a man and his wife and child.
The most disgusting thing about this story? The bloodlust in these comments. You people are/remain monsters
That said there are were others on the web who went on to wonder if Lien was necessarily the simple victim who simply had no choice but to press his foot to the pedal and flee for his life.
Told commentators: Yes, they might have been assholes for trying to take over the highway, but if Lien cared at all for his and his family's and the motorcyclists' safety he would have avoided them. Call the cops if they are being assholes; don't try to out-asshole them.
Why did he travel into a pack of motorcyclists in the first place? Yes, they might have been assholes for trying to take over the highway, but if Lien cared at all for his and his family's and the motorcyclists' safety he would have avoided them. Call the cops if they are being assholes; don't try to out-asshole them.
Instead of trying to avoid the mob, he decided to instigate a confrontation with them, then overreacted when they got angry with him for unsafely trying to barrel through the group. This guy was probably about as "intimidated" as George Zimmerman.
Thank you Gurber78 for writing THE TRUTH  Broken Spine, Broken Ribs, Crushed Lungs, Busted Aorta and the list is endless! Currently in a Coma and Paralyzed from the waist down!! #justiceforjaymeezee