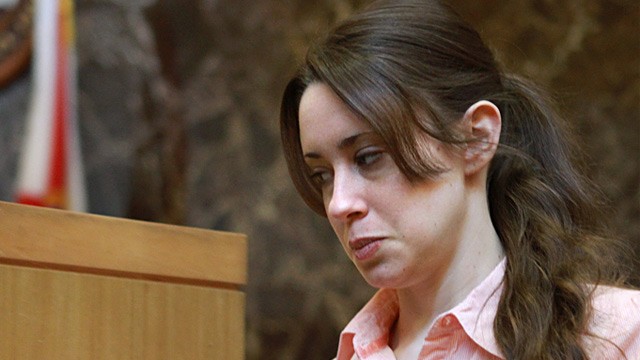 Police now admit they missed Casey Anthony search for 'foolproof suffocation.'
Casey Anthony's defense lawyer, Jose Baez, had it all covered anyway….so he reckons.
Last night, news outlet, WKMG-Channel 6 presented a damning piece of journalism which purported to present 'missed evidence' that had it been released during the Casey Anthony trial may have seen her being convicted of first degree murder for the death of her daughter Caylee Anthony.
According to police, on the last day Caylee Anthony was seen alive, June 16, 2008, a search was made for 'foolproof suffocation' on the  Anthony family home computer. The search occurred the day Casey Anthony visited her parents George and Cindy Anthony at their Orange County, Florida home with daughter Caylee in tow.
Caylee Anthony it is said then went missing the next day which led to George and Cindy Anthony repeatedly asking their daughter Casey what had happened to their granddaughter.
It wasn't until 31 days later after that visit that Cindy Anthony called police to report that her granddaughter had gone missing.
Adding to the mystery of the case, on March 17, 2008 – months before Caylee Anthony's disappearance – chloroform, neck-breaking, head injuries, ruptured spleen, chest trauma, inhalation and internal bleeding, were all searched in either Google on Wikipedia on the family computer.
Notes the UK's dailymail: The search for 'chloroform,' typed in 84 times before Caylee's disappearance, became a key piece of the prosecution's case – brought up during opening statements and several times during the trial.
Cindy Anthony claimed she was the one who had searched for the word, saying that she thought her dog was being poisoned by eating bamboo leaves from the garden.
She said the initial search was for 'chlorophyll,' Cindy said she later found herself searching for information on the toxic chemical.
Prosecutors later proved the Cindy was at work when most of the searches took place.
Yet here's where things become disingenuous.
Reiterates the dailymail: Authorities say the 'foolproof suffocation' search is not new – that authorities had already learned about it.
However, prosecutor Linda Drane Burdick admitted to the Sentinel that investigators did not know about it until after Casey Anthony had been acquitted. 
It is unknown how detectives missed that key piece of evidence.
Which begs the question how then was this evidence overlooked and why didn't investigators and prosecutors correlate the damning revelations?
Jose Baez, Casey's defense attorney at the time of Casey Anthony's trial has responded that the report is simply 'standard anti-Casey' spin, and that any revelations being brought forth by WKMG are '100% false.'
And then there's this via blog radionewz, a blog that has consistently followed the Casey Anthony case:
After WKMG began promoting its report, the Sentinel began reaching out to key players in the murder case. Burdick's fellow prosecutor Jeff Ashton said he could not comment until after the WKMG report aired, and Casey Anthony's current attorneys, Charles Greene and Cheney Mason, said they didn't know the subject of the report.
Mason expressed doubt that any substantive evidence would have been missed by authorities, who conducted an exhaustive investigation.
"I find it hard to imagine that there's any evidence that they didn't know about that would have been incriminating," Mason said.
Pursuant to the piece airing there were the following sentiments:
nypost: Trial prosecutor Jeff Ashton said proof of the macabre web search could have been a crucial weapon. The defense had claimed Caylee accidentally drowned and Casey Anthony's dad George Anthony ditched the body.
"It's just a shame we didn't have it," Ashton said. "This certainly would have put the accidental death claim in serious question."
Baez told the TV station that his side had already set up its defense for the damning Google evidence.
Baez said he would have argued that George Anthony, so devastated by Caylee's drowning, was looking for ways to commit suicide.
"We were waiting for the state to bring it up," Baez said. "And when they didn't, we were kind of shocked."
Hmm, which is Baez's way of telling you he'll run anyone over with a bus to get his acquittal.
Since Casey Anthony was found not guilty of the crimes alleged of her in the summer of 2011, the widely vilified Anthony has lived in perpetual hiding as the public and media have continued to follow her general moves which earlier this year led to the arrival of leaked videos with questionable content staring Casey Anthony. Anthony strenuously went on to deny ever leaking the videos  insisting that she was hacked.
Either way the release of tonight's report is set to once again reignite one of America's favorite debate: Did Casey Anthony murder her daughter as Casey Anthony once again resumes her metaphorical role as the bogeyman…
WKMG-Channel 6's report is set to play at 11 tonight.
Casey Anthony wants her defamation trial moved outside Florida.
Will Casey Anthony break her cover to visit her dying grandmother?
Casey Anthony will be a free woman at midnight once her probation ends.
Casey Anthony's father didn't deny accusations he fathered Caylee.
Casey Anthony now seeking to become a reality star.
Casey Anthony stalker Brianne Chantal Patterson relents.
Casey Anthony trial: Defense lawyer reveals that she adamantly rejected plea deal.
Casey Anthony book argues Casey isn't guilty because she's mentally insane.
Casey Anthony to Piers Morgan. 'Obviously I didn't kill my daughter!'
Casey Anthony on the run as hideout is leaked
Casey Anthony: fat, unloved and broke. But why do we care?
Casey Anthony: Fat, unemployed and broke.
Casey Anthony stalker Brianne Patterson sought by FBI.
Casey Anthony will be forced from out of hiding and back to court
Casey Anthony: "I'm really happy" in new video diary
Breaking: More new Casey Anthony photos emerge.
Latest probation report shows Casey Anthony is still jobless but at least off drugs and alcohol.
Casey Anthony- Unloved and disavowed. How one woman became a nation's punching bag…
A portrait of Casey Anthony: Hello God, it's me Casey? Who will save me?
Casey Anthony leaker, Holly Briley caught attempting to extort high profile lawyer Kim Picazio.
A morbid fascination with the Casey Anthony saga and why it still persists.
Busted: Evidence shows up that Casey Anthony herself is complicit in recent video leaks.
 Leads point to Casey Anthony back door deal.
'Source: Casey Anthony making multiple visits to family home, tensions sky high.'
Shocking: Holly Briley aka Ameliasobel the Casey Anthony leak now begins a campaign of threats.
Breaking: Casey Anthony said to receive police escort off church grounds as angry residents gather.
Team Casey Anthony comes hitting after twitter handler. Are they hiding something?
Casey Anthony offered $1 million blood money interview.
Breaking: Casey Anthony could be going back to jail.
Local strip club offers Casey Anthony a job as a stripper
Mystery leaks continue anew with fresh photos 4 days after Casey Anthony lawyer resigned. Suspicious?
Breaking: New photos of Casey Anthony leaked on twitter. Mystery leaker intensifies.
Casey Anthony claims Caylee was conceived after she passed out drunk.
Baez & Sims to Casey: "We QUIT!"
Casey Anthony is now set to dump her lawyer big cheese Jose Baez.
Breaking: Paul Francisco, mystery Florida record producer comes forward to insinuate that he knows who leaked Casey Anthony tapes.
Casey Anthony reportedly offered $350 000 for blood money interview.
Are these topless photos of Casey Anthony real?
Breaking: Leaks of Casey Anthony's supposed new boyfriend rampant on twitter.
Casey Anthony video. Did the bixch leak it or was she hacked? Dating new lover.
Would you pay $25,100 for a Casey Anthony latex rubber mask? The things they're bidding for EBAY right now.
Media outlets said to be bidding up to $1.5 million for Casey Anthony's story. Kiss goodbye to ethical journalism.
AMERICA'S MOST HATED 'MOTHER' SET FREE AT APPROXIMATELY 12.13AM SUNDAY MORNING.
Looking like Casey Anthony this weekend just might get you killed. One woman's near death experience.
How the Casey Anthony case came to expose the trauma of living in modern day America.
Casey Anthony pulls off the impossible: NOT GUILTY.
THE STAKES JUST GOT HIGHER. JUDGE RULES AMERICA'S FAVORITE BABY MURDERER IS FIT TO STAND TRIAL.