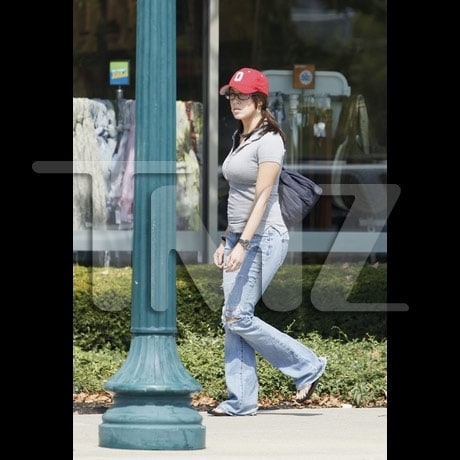 This is America's payback as Casey Anthony the much maligned accused child killer sits and languishes in her post freedom.
In a new article courtesy of the sentinel, a very dim portrait of Casey Anthony is painted as the once telegenic ingenue of sorts has allowed herself to rot as life seems to sweep her by with not much remedy to her plight.
Widely despised and afraid to be openly seen in public (the public's fascination with Ms Anthony has not wavered especially after videos and images of her were leaked earlier this year) it seems Ms Anthony is on a one way track to self combustion as she dourly awaits her civil lawsuit with Zenaida Gonzalez who managed despite great attempts Casey Anthony's legal counsel to bring her to trial. The trial which promises to open old wounds (could it explain the derelict behavior on behalf of Ms Anthony?) is set to commence in January of 2013.
orlandosentinel: Two sources tell the magazine that Anthony looks far different these days. "Quite honestly, she's gained a few pounds," one source told the magazine. "She does nothing but sit in front of her computer and eat."
That's an image that sticks in your head.
Anthony attorney Cheney Mason tells WOFL that his client "has a lot to say" about her story, but she is isolated as she serves probation somewhere in Florida.
Mason said that Anthony is "almost a grandchild" to him and she lives "on the gifts of the [legal] team and close friends." She has limited dealings with others, but Mason said he talks to her frequently.
Is Casey Anthony serving a kind of prison of her own making? And whatever happened to the blood money Casey was going to make with all those interviews? Isn't that what inspired all those leaked tapes?
Mason said that Anthony hasn't made contact with her family. But Mason turned cryptic when reporter Holly Bristow pressed. What about any contact with mom Cindy? "None that can be reported," Mason said. What does that mean?  (People reported that Casey lives in South Florida and talks with Cindy regularly.) 
Mason wouldn't discuss relations between Anthony and former attorney Jose Baez.
What is her life like?
"She doesn't go out, she doesn't go shopping, she doesn't go out anywhere, period," Mason told Bristow. "It's just a much nicer jail with television and hot water and showers whenever she wants."
And lots of food, too, according to People.
Lots of food. Not going out. A curtailing of familial relationships? Is Casey even on talking terms with anyone? A much nicer jail with a tv set and showers whenever she wants? Is this what Casey calls liberty?
people: Although Anthony had planned to leave the country after her probation was finished in September, she now will must return to Orlando to face Gonzalez, who wants Anthony do something she never did at the criminal trial: face questions under oath in court about Caylee's death. 
During a deposition, Anthony repeatedly invoked the Fifth Amendment in refusing to answer questions. Now, Anthony is required to appear at trial on Jan. 2. 
"Ms. Gonzalez is happy to hear that Casey Anthony finally will be held accountable just like everybody else," says her attorney.
Hmm- could Casey's spoiled plans be what has led her to putting all that weight on amongst other 'setbacks?'
Private: Casey Anthony stalker Brianne Patterson sought by FBI.
Casey Anthony will be forced from out of hiding and back to court
Casey Anthony: "I'm really happy" in new video diary
Breaking: More new Casey Anthony photos emerge.
Latest probation report shows Casey Anthony is still jobless but at least off drugs and alcohol.
Casey Anthony- Unloved and disavowed. How one woman became a nation's punching bag…
A portrait of Casey Anthony: Hello God, it's me Casey? Who will save me?
Casey Anthony leaker, Holly Briley caught attempting to extort high profile lawyer Kim Picazio.
A morbid fascination with the Casey Anthony saga and why it still persists.
Busted: Evidence shows up that Casey Anthony herself is complicit in recent video leaks.
 Leads point to Casey Anthony back door deal.
'Source: Casey Anthony making multiple visits to family home, tensions sky high.'
Shocking: Holly Briley aka Ameliasobel the Casey Anthony leak now begins a campaign of threats.
Breaking: Casey Anthony said to receive police escort off church grounds as angry residents gather.
Team Casey Anthony comes hitting after twitter handler. Are they hiding something?
Casey Anthony offered $1 million blood money interview.
Breaking: Casey Anthony could be going back to jail.
Local strip club offers Casey Anthony a job as a stripper
Mystery leaks continue anew with fresh photos 4 days after Casey Anthony lawyer resigned. Suspicious?
Breaking: New photos of Casey Anthony leaked on twitter. Mystery leaker intensifies.
Casey Anthony claims Caylee was conceived after she passed out drunk.
Baez & Sims to Casey: "We QUIT!"
Casey Anthony is now set to dump her lawyer big cheese Jose Baez.
Breaking: Paul Francisco, mystery Florida record producer comes forward to insinuate that he knows who leaked Casey Anthony tapes.
Casey Anthony reportedly offered $350 000 for blood money interview.
Are these topless photos of Casey Anthony real?
Breaking: Leaks of Casey Anthony's supposed new boyfriend rampant on twitter.
Casey Anthony video. Did the bixch leak it or was she hacked? Dating new lover.
Would you pay $25,100 for a Casey Anthony latex rubber mask? The things they're bidding for EBAY right now.
Media outlets said to be bidding up to $1.5 million for Casey Anthony's story. Kiss goodbye to ethical journalism.
AMERICA'S MOST HATED 'MOTHER' SET FREE AT APPROXIMATELY 12.13AM SUNDAY MORNING.
Looking like Casey Anthony this weekend just might get you killed. One woman's near death experience.
How the Casey Anthony case came to expose the trauma of living in modern day America.
Casey Anthony pulls off the impossible: NOT GUILTY.
THE STAKES JUST GOT HIGHER. JUDGE RULES AMERICA'S FAVORITE BABY MURDERER IS FIT TO STAND TRIAL.