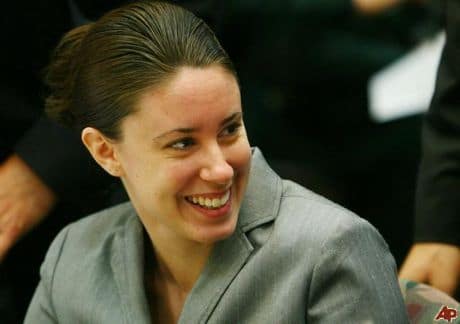 Who ever said crime doesn't pay?
Out of the dailymail this morning comes the beguiling story of television networks each trying to outbid each other up to the tunes of $1.5 million for the exclusive rights to the first post release interview story with Casey Anthony.
As desperate as the networks are to get first dibs on the Anthony story, one outlet, ABC is resisting the temptation to pay up for what many pundits call 'checkbook journalism.' To that end it is curtailing a common practice where it pays up to six figure pay packets to license images and videos which the interviewee subject normally reaps. Not the other networks though.
Deemed as unethical (the irony is too palpable and casts questions on what we really mean about journalism anymore) outlets are refusing to directly pay Anthony and her hot shot lawyer Jose Baez, who last week spent the greater part being wooed by all the major outlets in sumptuous decor. Instead, the outlets use the backdoor method of giving their interview subjects commercial rights and arrangements for resulting images and videos once the first interviews air and other media outlets seek to use and syndicate the material.
Great business for media outlets but not necessarily great news for the state of journalism and the presumed notion that a story should be told without money being swapping hands. At best one can argue this ostensibly becomes an orchestrated pr campaign for both the subject and the media outlet with the public struggling to figure out what is being  said is legitimate or just a straight up cash for play deal. A sorry state for journalism indeed.
AMERICA'S MOST HATED 'MOTHER' SET FREE AT APPROXIMATELY 12.13AM SUNDAY MORNING.
Looking like Casey Anthony this weekend just might get you killed. One woman's near death experience.
How the Casey Anthony case came to expose the trauma of living in modern day America.
Casey Anthony pulls off the impossible: NOT GUILTY.
THE STAKES JUST GOT HIGHER. JUDGE RULES AMERICA'S FAVORITE BABY MURDERER IS FIT TO STAND TRIAL.