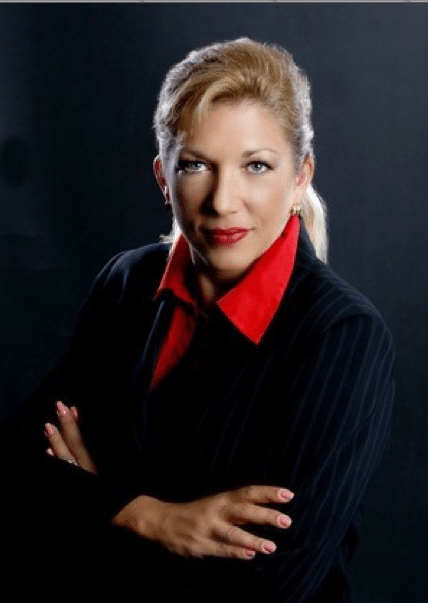 The wheels just keep on turning… as if the whole Casey Anthony saga couldn't get any crazier as far as the Briley's go, Holly Briley has now tried to EXTORT high-profile attorney Kim Picazio.
You may recall Picazio's involvement in the Haleigh Cummings case – she once represented Crystal Sheffield, Haleigh's mother. However, Picazio has absolutely zero involvement with Casey Anthony or any of the players surrounding her… until a few said players decided to drag her in to things.
A short time ago a Twitter handle by the name "CaseyGotSxrewed" appeared, (just as twitter handle user ameliasobelhas virtually stopped posting)trashing Picazio, Brianne Patterson, Levi Page and a few others. For reasons that has everyone still scratching their heads, the mysterious Twitter user decided to drag Picazio into things even further with the help of Ms. Briley — by way of extortion.
Radio Newz Blog  (twitter handle here) was kind enough to share the correspondence between Holly Briley and Kim Picazio – the threats that the Briley's make are very clear in the documents which are available below.
Extortion is an ugly game to play… and it's especially ugly when you don't know what you're doing… I'm completely overwhelmed with information I just received and it's going to take a bit to process it… and then I guess all Hell breaks loose.. Never did I dream Holly Briley was stupid enough to send Kim Picazio threatening FB messages and what she thought was an untraceable fake email. SMH!
It seems the saga continues as Ms Casey Anthony's probation draws closer to an end and the court's imposed silence on Ms Anthony's briefs will eventually have to be made public. The question of course is will team Casey Anthony beat the punch line to collect on all that blood moneybeing offered as they now try a new tact in this increasingly diabolical scenario.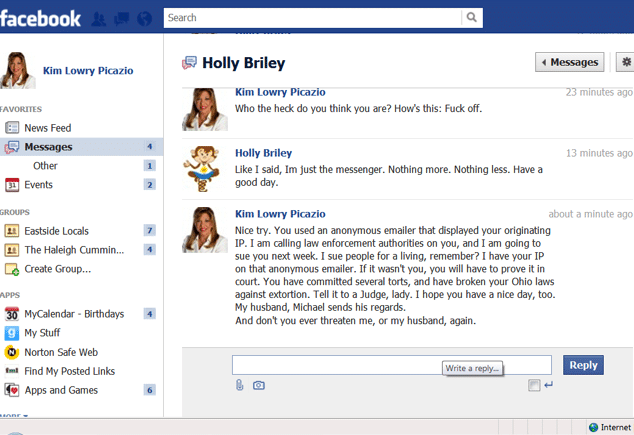 A morbid fascination with the Casey Anthony saga and why it still persists.
Busted: Evidence shows up that Casey Anthony herself is complicit in recent video leaks.
 Leads point to Casey Anthony back door deal.
'Source: Casey Anthony making multiple visits to family home, tensions sky high.'
Shocking: Holly Briley aka Ameliasobel the Casey Anthony leak now begins a campaign of threats.
Breaking: Casey Anthony said to receive police escort off church grounds as angry residents gather.
Team Casey Anthony comes hitting after twitter handler. Are they hiding something?
Casey Anthony offered $1 million blood money interview.
Breaking: Casey Anthony could be going back to jail.
Local strip club offers Casey Anthony a job as a stripper
Mystery leaks continue anew with fresh photos 4 days after Casey Anthony lawyer resigned. Suspicious?
Breaking: New photos of Casey Anthony leaked on twitter. Mystery leaker intensifies.
Casey Anthony claims Caylee was conceived after she passed out drunk.
Baez & Sims to Casey: "We QUIT!"
Casey Anthony is now set to dump her lawyer big cheese Jose Baez.
Breaking: Paul Francisco, mystery Florida record producer comes forward to insinuate that he knows who leaked Casey Anthony tapes.
Casey Anthony reportedly offered $350 000 for blood money interview.
Are these topless photos of Casey Anthony real?
Breaking: Leaks of Casey Anthony's supposed new boyfriend rampant on twitter.
Casey Anthony video. Did the bixch leak it or was she hacked? Dating new lover.
Would you pay $25,100 for a Casey Anthony latex rubber mask? The things they're bidding for EBAY right now.
Media outlets said to be bidding up to $1.5 million for Casey Anthony's story. Kiss goodbye to ethical journalism.
AMERICA'S MOST HATED 'MOTHER' SET FREE AT APPROXIMATELY 12.13AM SUNDAY MORNING.
Looking like Casey Anthony this weekend just might get you killed. One woman's near death experience.
How the Casey Anthony case came to expose the trauma of living in modern day America.
Casey Anthony pulls off the impossible: NOT GUILTY.
THE STAKES JUST GOT HIGHER. JUDGE RULES AMERICA'S FAVORITE BABY MURDERER IS FIT TO STAND TRIAL.