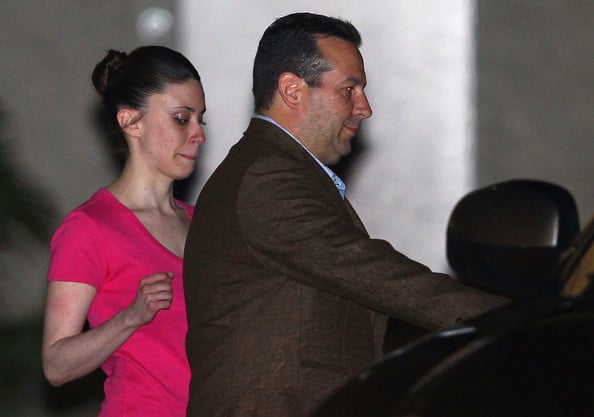 Previous Casey Anthonydefense attorney Jose Baez has just come out with a new book due to be released on July 3. The book titled Presumed Guilty, Casey Anthony: The Inside Story,' is sure to once again raise controversy surrounding the Casey Anthony case which a year after saw the young mother acquitted of first degree murder charges still has left the nation polarized with the mother's involvement in the death of her daughter, Caylee Anthony.
dailymail.co.uk: Mr Baez gives an inside look at the explosive trial from one of the people who knew it best — including a description of the elaborate trickery involved in sneaking Anthony away from court after her acquittal so that reporters couldn't follow her. 
The book essentially builds the case that as bizarre as her behavior and complicit as it seemed it was only a result of her mental instability as opposed to her actual involvement in the death of her daughter. Mr Baez goes on to argue that Ms Anthony's behavior was tied to a 'fantasy' world she had built around herself and that her lies were parallel to someone with mental issues.
Describing how Anthony led detectives on a wild goose chase, even taking them to Universal Studios where she falsely claimed she had a job, Mr Baez writes, detectives 'should have stopped and realised, "Wait a minute, we're not dealing with someone who is playing with a full deck"'.
Anthony originally told detectives that her daughter, Caylee, was taken by a babysitter in June 2008, and that she didn't report her missing for more than a month because she was searching for the toddler on her own. According to Mr Baez if you can believe him, her lapse in concentration or her inability to bring her daughter's where abouts after a month was tied into her being sexually abused at the hands of her father as a child. A notion that many find incredulous to say the least.
Then there's this:
Mr Baez also criticises the way he was portrayed in the media as an inexperienced attorney taking on one of the highest-profile criminal cases in recent memory.
'The public may have been convinced that I was an idiot but I let it all roll off my back,' he writes.
Hmm, could this tell all confessional book be Mr Baez's chance at getting at the payday that to date has eluded his previous client Ms Casey Anthony? Could it be an attempt more not at exonerating her but exonerating him and creating the idea that he had the toughest case of all to try and that beyond odds he managed to get his client off free. Even if he has failed miserably to date to resurrect her legacy and one assumes his very one.
No blood money Mr Baez thank you very much….
Casey Anthony to Piers Morgan. 'Obviously I didn't kill my daughter!'
Casey Anthony on the run as hideout is leaked
Casey Anthony: fat, unloved and broke. But why do we care?
Casey Anthony: Fat, unemployed and broke.
Casey Anthony stalker Brianne Patterson sought by FBI.
Casey Anthony will be forced from out of hiding and back to court
Casey Anthony: "I'm really happy" in new video diary
Breaking: More new Casey Anthony photos emerge.
Latest probation report shows Casey Anthony is still jobless but at least off drugs and alcohol.
Casey Anthony- Unloved and disavowed. How one woman became a nation's punching bag…
A portrait of Casey Anthony: Hello God, it's me Casey? Who will save me?
Casey Anthony leaker, Holly Briley caught attempting to extort high profile lawyer Kim Picazio.
A morbid fascination with the Casey Anthony saga and why it still persists.
Busted: Evidence shows up that Casey Anthony herself is complicit in recent video leaks.
 Leads point to Casey Anthony back door deal.
'Source: Casey Anthony making multiple visits to family home, tensions sky high.'
Shocking: Holly Briley aka Ameliasobel the Casey Anthony leak now begins a campaign of threats.
Breaking: Casey Anthony said to receive police escort off church grounds as angry residents gather.
Team Casey Anthony comes hitting after twitter handler. Are they hiding something?
Casey Anthony offered $1 million blood money interview.
Breaking: Casey Anthony could be going back to jail.
Local strip club offers Casey Anthony a job as a stripper
Mystery leaks continue anew with fresh photos 4 days after Casey Anthony lawyer resigned. Suspicious?
Breaking: New photos of Casey Anthony leaked on twitter. Mystery leaker intensifies.
Casey Anthony claims Caylee was conceived after she passed out drunk.
Baez & Sims to Casey: "We QUIT!"
Casey Anthony is now set to dump her lawyer big cheese Jose Baez.
Breaking: Paul Francisco, mystery Florida record producer comes forward to insinuate that he knows who leaked Casey Anthony tapes.
Casey Anthony reportedly offered $350 000 for blood money interview.
Are these topless photos of Casey Anthony real?
Breaking: Leaks of Casey Anthony's supposed new boyfriend rampant on twitter.
Casey Anthony video. Did the bixch leak it or was she hacked? Dating new lover.
Would you pay $25,100 for a Casey Anthony latex rubber mask? The things they're bidding for EBAY right now.
Media outlets said to be bidding up to $1.5 million for Casey Anthony's story. Kiss goodbye to ethical journalism.
AMERICA'S MOST HATED 'MOTHER' SET FREE AT APPROXIMATELY 12.13AM SUNDAY MORNING.
Looking like Casey Anthony this weekend just might get you killed. One woman's near death experience.
How the Casey Anthony case came to expose the trauma of living in modern day America.
Casey Anthony pulls off the impossible: NOT GUILTY.
THE STAKES JUST GOT HIGHER. JUDGE RULES AMERICA'S FAVORITE BABY MURDERER IS FIT TO STAND TRIAL.