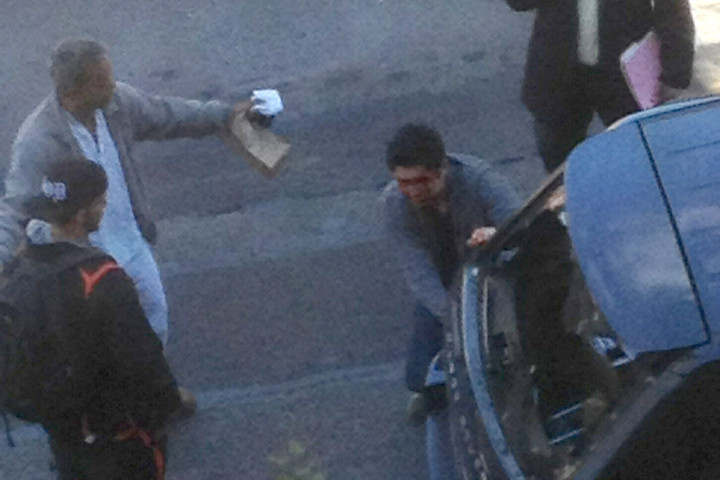 Alexian Lien's attackers are to have their charges reduced because Lien's wounds have healed so well.
In going on to reduce charges, prosecutors told because the victim of the SUV road rage last October had recovered so well and so quickly they were compelled to reduce charges from first degree gang assault to attempted gang assault.
To date Alexian Lien's facial wounds have healed so well, that it is unlikely he will be forced to endure facial disfigurement. Never mind as one commentator on the web goes on to reflect, the permanent psychological disfigurement that Lien and his family have been subjected to.
Told Manhattan Assistant District Attorney Joshua Stein­glass: 'The victim's facial wounds look to be healing in a way which does not constitute facial disfigurement under the law.'
Nevertheless, the ten bikers since indicted, including undercover cop Wojciech Braszczok can expect to face up to 15 years in jail each if convicted. Prior to the reduced charges, estimates are that the men could have received 25 year jail sentences.
The change does not affect the remaining 11th biker charged, Christopher Cruz, who was only hit with a rap for unlawful imprisonment in the second degree.
The incident went on to cause wide condemnation of the bikers who many believed incited the violence, whilst others on the web also went on to ask what role Alexien Lien played which led to the escalation of violence.
At the time Lien went on to run over one of the bikers, Edwin Mieses in a bid to escape what he believed to be an imminent beating at the hands of the bikers. Upon escaping the bikers and running over Mieses that the bikers gave pursuit of Lien.
Mieses remains paralyzed from the neck down. Prosecutors have declined to pursue any charges against Lien.
New dramatic Alexian Lien video emerges: 'They should bring hanging back for these guys….'
James Kuenhne charged with Alexian Lien beating too. Lawyer promises new evidence.
Video: Alexian Lien gets mobbed by press and struggles to ignore them.
Wojciech Braszczok lawyer says he will be exonerated.
Wojciech Braszczok spied on Occupy Wall st protests.
Wojciech Braszczok is into posting images of naked girls too.
Source: Wojciech Braszczok so far gone he became a rogue cop.
Should Alexian Lien be charged too? Calls for his arrest mount.
Clint Caldwell is a thug too. Alexian Lien beating.
Kevin Bresloff insists he did not tamper with Alexian Lien video. 'I'm just a witness…'
Undercover cop, Wojciech Braszczok arrested for Alexian Lien beating
Craig Wright punched Alexian Lien through window. $100K bail.
Undercover cop joined Alexian Lien beating, hit vehicle. 
Reginald Chance's lawyer insists his rage was justified.
Craig Wright arrested for punching and kicking Alexian Lien too.
Should the Alexian Lien undercover cops have intervened?
New video emerges similar to Alexian Lien video terrorizing other drivers.
Christopher Cruz reckons he has been unfairly vilified by the media.
Fuck you! Reginald Chance flips bird to media.
Kevin Bresloff who shot Alexian Lien video receives death threats.
Alexian Lien case: Robert Sims and Reginald Chance are career criminals.
NSFW: Here is a new video of Alexian Lien being beaten up.
Reginald Chance now charged, Robert Sim on $100 000 bail. Stomped on Alexian Lien's head.
Sergio Consuegra describes how he saved Alexian Lien's life. Wanted his wife too.
Bikers claim Alexian Lien drove erratically and bumped biker first.
Undercover cop who witnessed Alexian Lien beating suspended.
There were 5 undercover cops present at Alexian Lien's beating. Did shit.
Gloria Allred insists Edwin Mieses is the real innocent victim.
Robert Sims who opened Alexian Lien's SUV door in custody.
Undercover cop present at Alexian Lien beating. Did not call 911.
Here is a picture of Alexian Lien's Range Rover after the biker attacks.
Here is a picture of Alexian Lien's Range Rover after the biker attacks.
Eyewitness says bikers went after Alexian Lien's wife Rosalyn Ng.
Bike gang boss: "Alexian Lien should have stopped.'