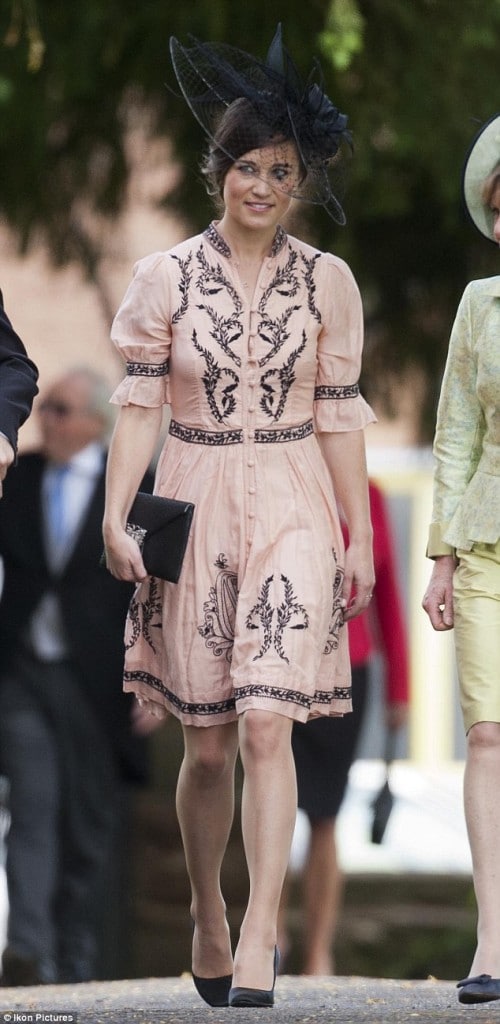 Speculation is beginning to mount that Pippa Middleton may have rekindled her relationship with ex boyfriend Alex Loudon whom she broke up late last year.
After a disastrous outing in Pariswhich saw our collective Pippa on the receiving end of some unflattering press for her involvement with some unsavory behavior courtesy of some aristocratic types, Pippa it seems has listened to the demands of the royal house to reign in her behavior and whom she chooses to associate with. That then may have been the softening of the ice between Pippa and her ex, Alex Loudon who called off their relationshipafter he was beginning to have second doubts with Pippa's wild ways.
Somewhat subdued and watching her p and q's it is has been thought a more level headed and contrite Pippa may have reconciled with Mr Loudon. The theory in part stems from the fact that Pippa once again has not been publicly seen with a new male suitor and the fact she attended the wedding of close friends Alice St John Webster and Gerald Avenel without a partner. Something that certainly didn't go unnoticed.
And then there is this:
entertainmentwise: She was pictured leaving the former cricketer's bachelor pad at 7am on Thursday, which as anyone knows, is not exactly the behaviour of someone who wishes to retain frosty relations with an ex.
7 am? I should think not. Right Pippa?
That said the speculation may in the end prove to be wishful thinking on behalf of a public desperate to see their Pippa find true love or it could be a situation that Pippa has indeed found reconciliation with Alex  whom this time would rather keep their private affairs exactly just that. Time will tell if Alex Loudon will once again sweep Pippa off her feet or whether we will have to wait for a new suitable suitor….
Yet for all of you devout Pippa loyalists, here's a picture of Pippa with Alex as they stepped out to watch some tennis at Wimbledon last night. Make what you will of it, who knows, they do say a picture says a million things…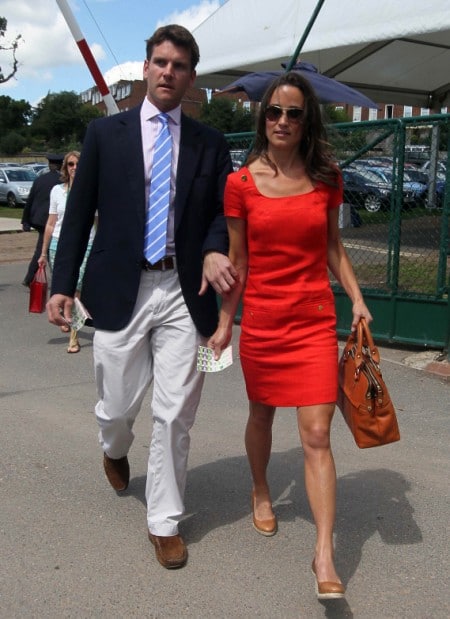 Oh gosh! Pippa Middleton may now come to stay with us here in NYC!
Video: More pictures of Pippa partying emerge. Can barely speak French!
Pippa Middleton gun photo: Police will not investigate this incident any further…
Pippa Middleton would like to show you pictures of her in party mode.
Pippa Middleton gun photo unlikely to lead to jail, but quickly wipes her smirk off.
Will a smirking Pippa Middleton cop criminal charges in gun case?
Oh no! Who's the creep trying to make out with Pippa?
Surprise! Pippa Middleton is now dating her ex, the heir to the Duchy of Northumberland.
Oh my God! Who will snag Pippa as Oprah and Barbara now bid $500K for a live interview?
Sales of new padded pants have sky rocketed as women flock to achieve bottoms that resemble Pippa Middleton's.
My hero Pippa splits from Alex. Who will Pippa love now? A run down list…
PIPPA MIDDLETON CAUGHT IN A PUBLIC DISPLAY OF PASSIONATE KISSING.
ISN'T IT TIME YOU GOT A 'PIPPA MIDDLETON' BUTT LOOK ALIKE PLASTIC OPERATION TOO?
PIPPA MIDDLETON HAS FINALLY AGREED TO BARE HER KNICKERS…
PIPPA MIDDLETON, HAWT BIXCH TAKES HER RIGHTFUL PLACE FRONT ROW AT LONDON FASHION WEEK.
PIPPA MIDDLETON WILL ALWAYS BE A HAWT BIXCH ON THE CRICKET FIELD.
PIPPA MIDDLETON AND HER RE UNITED BOYFRIEND ALEX LOUDON TURN UP TO WIMBLEDON WIDE EYE SMILING.
PIPPA MIDDLETON WOULD LIKE TO ANNOUNCE SHE'S FINALLY SINGLE.
PIPPA MIDDLETON IS NOW ALSO A TRIATHLETE.
WHO IS THE DASHING FRENCH ADMIRER ACCOMPANYING PIPPA MIDDLETON AT THE FRENCH OPEN?
Pippa Middleton wants to let you know at this year's French Open she is where all the action is.
PIPPA MIDDLETON WOULD LIKE TO EXPLAIN HOW SHE GOT HER FIGURE.
PIPPA MIDDLETON CONTINUES TO LIVE THE HIGH LIFE WITH EX, DUKE GEORGE PERCY.
Pippa Middleton travels to Madrid with her ex, with current boyfriend nowhere in sight.
Can Pippa Middleton get away with suing the press?
Pippa Middleton wants to reassure you, you can still find her topless on the web.
Now it's Pippa Middleton's turn to strip down.
Have you had a chance to see James Middleton (Kate Middleton's brother) in the buff yet?
Grazia Magazine is playing games with Kate Middleton's figure on its covers.
The Dizzy Ascent of Pippa Middleton.
Guess where the royal couple will be honeymooning?
Who was that little bridesmaid in the royal wedding's best photo?