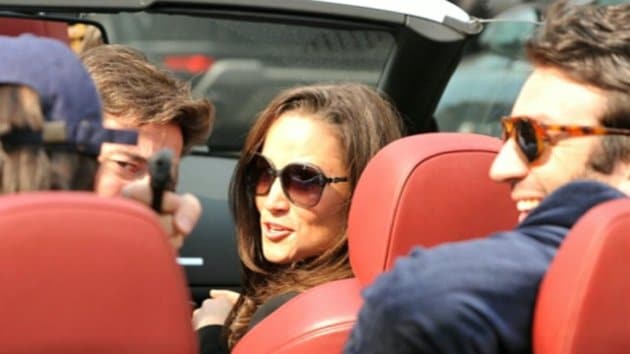 Video: More pictures of Pippa partying emerge. Can barely speak French!
Pippa Middleton gun photo: Police will not investigate this incident any further…
Pippa Middleton would like to show you pictures of her in party mode.
Pippa Middleton gun photo re affirms what you always thought about Pippa: she's the wild one out of the bunch, but will the Royals continue tolerating her?
In the face of public condemnation and wonder at the latest gaffe involving Pippa Middleton, sister to the future Queen of England, media pundits have been wondering out aloud the degree to which her Pippa has embarrassed the House of Windsor and how interestingly they have chosen to remain quiet on the matter, having gone so far as to say that she is not a royal and that they do not make comments on public citizens. Interesting indeed.
At present it's been said that authorities in France might seek to investigate the matter but so far no investigation that the press is aware of has taken place. In fact one is loathe to think one will even actually take place, chiefly because the punishment is so odious (7 years imprisonment for the driver brandishing the gun and his company- this part has struck a chord with readers- and or either 2 years for a fake gun). Nevertheless the fact that Pippa Middleton is seen square in the middle and widely grinning about it doesn't auger too well for the British royals desperate to present a good image to the public as opposed to ones that give the impression that they are thumbing their nose at the public with hardly a retort back.
The fact that it has involved a paparazzo being 'pranked' (for a lack of better word) probably assures public sentiment from  turning against Pippa, (let's not forget it was the paparazzi speedily following Prince Di that led to her car wreck and tragic death in 1997 in Paris) and as one commentator offered, she's too good looking to spend anytime in jail.
As an aside the photographer now says he knew all along the gun was a fake and has been telling people he never felt scared. The fact that he or anyone (so we are led to believe) has filed a complaint with authorities has not led to authorities seeking to investigate the matter (of course one can assume if it was a Morrocan or a minority playing the same joke with his inner city friends with Pippa the photographer the quartet would by now have rope smudges against their necks).
What perhaps is more the reality is that political ties have kept this one off the radar, (after all a high French aristocrat,  Arthur de Soultrait  was also involved) and rather than risk the ire of the palace by actually acting on the matter (and then of course then having sudden investigations returned in favor) one supposes it's just best to pretend that officials are doing something about the matter when the reality is that officials can not do a damn thing about the matter as Pippa Middleton and co are almost immune from what the ordinary likes of you and me could ever dream of. Then again, let's be honest, she is a trifle too good looking to be put in jail isn't she….?
If only you could zip around with your fashionable friends and act with impunity too. Unless of course you already do….?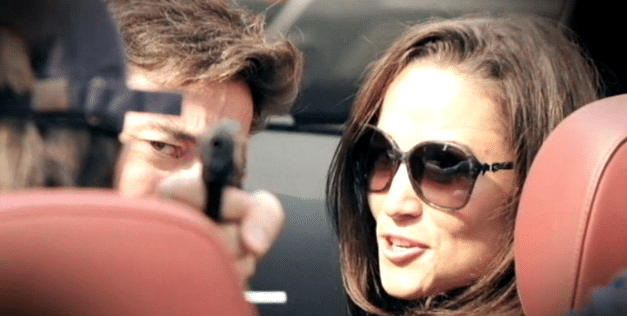 Will a smirking Pippa Middleton cop criminal charges in gun case?
Oh no! Who's the creep trying to make out with Pippa?
Surprise! Pippa Middleton is now dating her ex, the heir to the Duchy of Northumberland.
Oh my God! Who will snag Pippa as Oprah and Barbara now bid $500K for a live interview?
Sales of new padded pants have sky rocketed as women flock to achieve bottoms that resemble Pippa Middleton's.
My hero Pippa splits from Alex. Who will Pippa love now? A run down list…
PIPPA MIDDLETON CAUGHT IN A PUBLIC DISPLAY OF PASSIONATE KISSING.
ISN'T IT TIME YOU GOT A 'PIPPA MIDDLETON' BUTT LOOK ALIKE PLASTIC OPERATION TOO?
PIPPA MIDDLETON HAS FINALLY AGREED TO BARE HER KNICKERS…
PIPPA MIDDLETON, HAWT BIXCH TAKES HER RIGHTFUL PLACE FRONT ROW AT LONDON FASHION WEEK.
PIPPA MIDDLETON WILL ALWAYS BE A HAWT BIXCH ON THE CRICKET FIELD.
PIPPA MIDDLETON AND HER RE UNITED BOYFRIEND ALEX LOUDON TURN UP TO WIMBLEDON WIDE EYE SMILING.
PIPPA MIDDLETON WOULD LIKE TO ANNOUNCE SHE'S FINALLY SINGLE.
PIPPA MIDDLETON IS NOW ALSO A TRIATHLETE.
WHO IS THE DASHING FRENCH ADMIRER ACCOMPANYING PIPPA MIDDLETON AT THE FRENCH OPEN?
Pippa Middleton wants to let you know at this year's French Open she is where all the action is.
PIPPA MIDDLETON WOULD LIKE TO EXPLAIN HOW SHE GOT HER FIGURE.
PIPPA MIDDLETON CONTINUES TO LIVE THE HIGH LIFE WITH EX, DUKE GEORGE PERCY.
Pippa Middleton travels to Madrid with her ex, with current boyfriend nowhere in sight.
Can Pippa Middleton get away with suing the press?
Pippa Middleton wants to reassure you, you can still find her topless on the web.
Now it's Pippa Middleton's turn to strip down.
Have you had a chance to see James Middleton (Kate Middleton's brother) in the buff yet?
Grazia Magazine is playing games with Kate Middleton's figure on its covers.
The Dizzy Ascent of Pippa Middleton.
Guess where the royal couple will be honeymooning?
Who was that little bridesmaid in the royal wedding's best photo?
If only you could zip around with your fashionable friends and act with impunity too. Unless of course you already do….?