If Kate can become a duchess so can I dammit! 
Kids, the streamers are flying all over my bedroom and with good reason….
dailymail.co.uk: Pippa Middleton is in a serious romance with a wealthy earl who is heir to one Britain's richest and grandest dukedoms, it was claimed today.
Following in her sister's noble footsteps, the royal bridesmaid, 28, is reportedly dating George Percy, heir to the ancient Duchy of Northumberland.
George Percy. George Percy? Wait a second isn't he the nigga duke that she was hanging around dating last summer with during the strain of her on and off relationshipwith Alex Loudon?
A source told the Sun Earl Percy, 27, whose trust fund guarantees him an income of £250,000 each year, is completely besotted with Pippa and completely in love with her.
'It looks likely the Middleton sisters will be completing the double before too long,' the source added.
Hmm. That's quite a catch Pippa and me and the chipmunks, Fyodor and Mazeltov are very very proud of you. Who would think you wouldn't seek your rightful place within the axioms of divinity, then again there was a brief moment we were trembling that it might not be…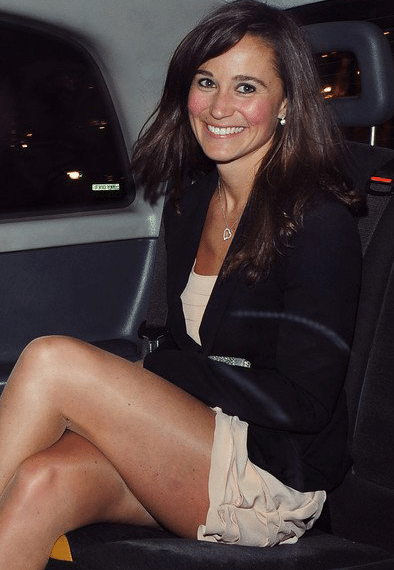 Earl Percy and Pippa have been close friends since meeting at Edinburgh University. They are even reported to have had a fling in the final year of their studies in 2008.
Fling? Our Pippa? I'm afraid that would be the wrong word. I would rather we all use the word, rendezvous. Or failing that how about 'grading the goods?' Yes, the chipmunks are loudly clapping, they seem to like that too.
But hark when did these two who are set to capture our collective imagination come together?
"…the Sun reports, their relationship blossomed into love at a New Year's Eve celebration thrown by the Middleton family.
Pippa is said to have sat herself next to Earl Percy at supper and made sure she was by his side throughout the evening before finally making her move.
Hmm. It seems Georgie had eyes only for Pippa and Pippa had eyes for his title Georgie. Love is bliss kids…
'It was like a shark circling its bait. Some people think she has always set out to do this.'
Really? No I don't believe it kids. No one believes it. That just doesn't sound like the Pippa we have all come to love and adore. Hawt bixch…Loud sound in the background. Oops one of the chipmunks chipped his tooth on the champagne glass….where are the bloody band aids when you need them kids?
And at the bottom of the goody bag comes the following:
The family's wealth is conservatively put at around £300million and includes more than 100,000 acres of land as well as an estate in Surrey and Syon Park in London.
His parents, Ralph, the 12th Duke of Northumberland, and gardening-obsessive mother Jane are sensible sorts and withheld much of his inheritance to stop him going off the rails.
But Earl Percy is no dilettante. After studying geography at university, with a specialism in renewable energy, the energetic earl recently set up in business and is poised to drill the first commercial geothermal well in Country Durham.
Oh Pippa we're all so happy for you. Just one thing darling. Please be sure to set a place for me, Scallywag and the chipmunks at the wedding dinner table, we'll all be sure to sew all the holes in our trousers before we arrive…
Oh my God! Who will snag Pippa as Oprah and Barbara now bid $500K for a live interview?
Sales of new padded pants have sky rocketed as women flock to achieve bottoms that resemble Pippa Middleton's.
My hero Pippa splits from Alex. Who will Pippa love now? A run down list…
PIPPA MIDDLETON CAUGHT IN A PUBLIC DISPLAY OF PASSIONATE KISSING.
ISN'T IT TIME YOU GOT A 'PIPPA MIDDLETON' BUTT LOOK ALIKE PLASTIC OPERATION TOO?
PIPPA MIDDLETON HAS FINALLY AGREED TO BARE HER KNICKERS…
PIPPA MIDDLETON, HAWT BIXCH TAKES HER RIGHTFUL PLACE FRONT ROW AT LONDON FASHION WEEK.
PIPPA MIDDLETON WILL ALWAYS BE A HAWT BIXCH ON THE CRICKET FIELD.
PIPPA MIDDLETON AND HER RE UNITED BOYFRIEND ALEX LOUDON TURN UP TO WIMBLEDON WIDE EYE SMILING.
PIPPA MIDDLETON WOULD LIKE TO ANNOUNCE SHE'S FINALLY SINGLE.
PIPPA MIDDLETON IS NOW ALSO A TRIATHLETE.
WHO IS THE DASHING FRENCH ADMIRER ACCOMPANYING PIPPA MIDDLETON AT THE FRENCH OPEN?
Pippa Middleton wants to let you know at this year's French Open she is where all the action is.
PIPPA MIDDLETON WOULD LIKE TO EXPLAIN HOW SHE GOT HER FIGURE.
PIPPA MIDDLETON CONTINUES TO LIVE THE HIGH LIFE WITH EX, DUKE GEORGE PERCY.
Pippa Middleton travels to Madrid with her ex, with current boyfriend nowhere in sight.
Can Pippa Middleton get away with suing the press?
Pippa Middleton wants to reassure you, you can still find her topless on the web.
Now it's Pippa Middleton's turn to strip down.
Have you had a chance to see James Middleton (Kate Middleton's brother) in the buff yet?
Grazia Magazine is playing games with Kate Middleton's figure on its covers.
The Dizzy Ascent of Pippa Middleton.
Guess where the royal couple will be honeymooning?
Who was that little bridesmaid in the royal wedding's best photo?