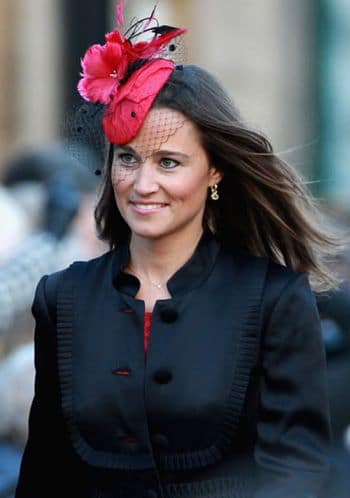 Pippa Middleton would like to explain how she got her figure.
Pippa Middleton continues to live the high life with ex, Duke George Percy.
Pippa Middleton travels to Madrid with her ex, with current boyfriend nowhere in sight.
Can Pippa Middleton get away with suing the press?
Pippa Middleton wants to reassure you, you can still find her topless on the web.
Pippa Middleton wants to show you new never before seen photos on a yacht.
Will Pippa Middleton accept a $5 million offer to appear in a porn film?
Have you had a chance to see James Middleton (Kate Middleton's brother) in the buff yet?
Now it's Pippa Middleton's turn to strip down.
Grazia Magazine is playing games with Kate Middleton's figure on its covers.
It used to be the only shiny faces that received legitimate fixation belonged to those of screen actors, philanthropists, and telegenic legends. Add the current milieu of trash actresses (Lindsay Lohan comes immediately to mind), reality stars (take your pick on this score) and the occasional combustible talented performer (yes Lady Gaga will do fine) and you could find yourself spending your day in wander media manufactured lust dreaming and loathing your favorite hero/villain. To that collective we can now add the royal vixen- Pippa Middleton– who now comes ready to wear in our eager and anxiously filled days.
Of late the royal family started to make headlines (pursuant to the nuptials of well liked Prince William and his equally well liked out going bride- Kate Middleton) and with the public charmed and hungry for more, the visage of a young lady- Pippa Middleton, (the brides well appropriated sister) was brought to stage, a kind of proxy for the gaping wound that was once Lady Di.
If not by design or sheer chance, the appropriately charming, supine,refined, revered, well spoken, aristocratic vixen known as Pippa Middleton has come to be the media's preferred darling and of course Lady Di surrogate. Unlike her sister,Kate, who is now taken, well balanced and very aware of her obligation to retain public comportment, the current telegenic fixation (that goes without a saying is a stipulation) is a sultry doyen of good taste and refined manners (for now) who dares to wear low cut designer fixtures, a catalogue of winks for the  camera man, as well an ability to make our favorite prince (Prince Harry who as we all know has his own belligerent and eccentric persona) hot and