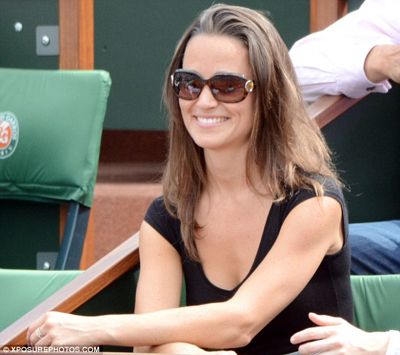 Pippa always serves better than you.
The proletarians of France and frog leg connoisseurs are all smiling deeply in their sleep today with the common knowledge that her Royal hotness Pippa Middleton has now descended upon Roland Garros to be amongst them.
dailymailco.uk: Fresh from her trip to Madrid with friends, girl-about-town Pippa Middleton has headed off to the continent again – this time to watch a spot of tennis.
The 27-year-old, dubbed Her Royal Hotness after winning a host of admirers for her star turn as maid of honour at sister Kate's wedding to Prince William, was spotted taking in the action at Roland Garros.
Slimline Pippa, whose figure has prompted adoring Facebook groups and internet sites, donned a short skirt and on-trend peeptoe heels which showed off her tanned and toned legs.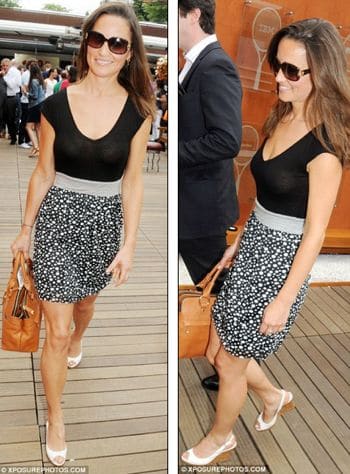 With her flexible schedule and now working for her ex George Percy, Pippa has been fortunately been able to grace an obsessed world with an encore presence, delighting the world and the titillated legions preying for the next installment of the imminent rise of a popular icon.
This summer as the world braces itself for the on court grunts of fabled tennis players out of the corner of its eye it will be grunting itself as it focuses on the ace performance of the real star of this year's French Open.
Don't you wish you could volley as good as Pippa?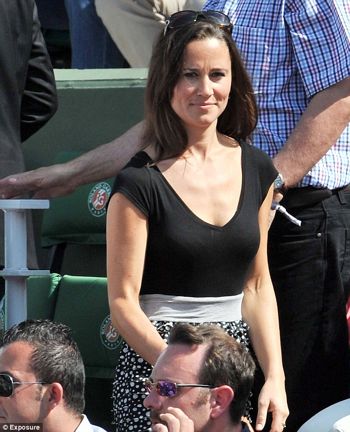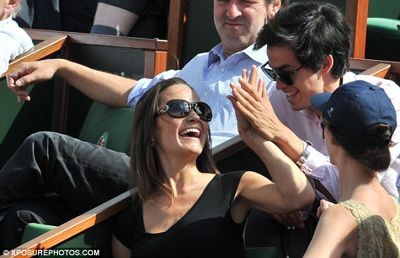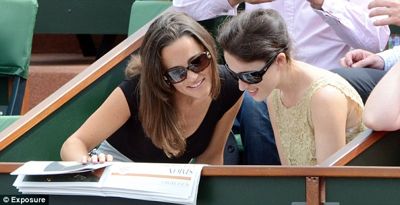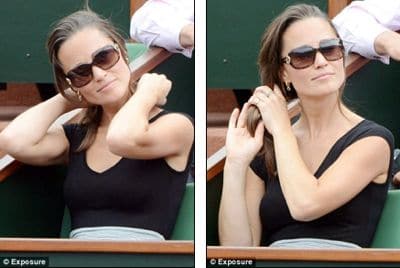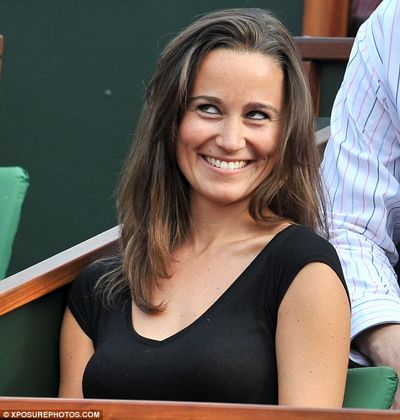 PIPPA MIDDLETON WOULD LIKE TO EXPLAIN HOW SHE GOT HER FIGURE.
PIPPA MIDDLETON CONTINUES TO LIVE THE HIGH LIFE WITH EX, DUKE GEORGE PERCY.
Pippa Middleton travels to Madrid with her ex, with current boyfriend nowhere in sight.
Can Pippa Middleton get away with suing the press?
Pippa Middleton wants to reassure you, you can still find her topless on the web.
Now it's Pippa Middleton's turn to strip down.
Have you had a chance to see James Middleton (Kate Middleton's brother) in the buff yet?
Grazia Magazine is playing games with Kate Middleton's figure on its covers.
The Dizzy Ascent of Pippa Middleton.
Guess where the royal couple will be honeymooning?
Who was that little bridesmaid in the royal wedding's best photo?