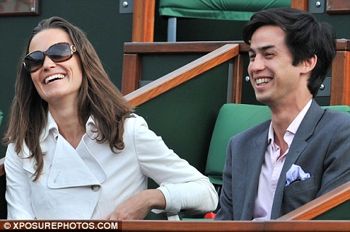 Trying to get to the bottom of the identity of Pippa's new admirer…
dailymailco.uk: As she watched the tennis, Pippa 'high-fived' a dashing male admirer.
And the same Frenchman was with her later as, with a large group of friends, she went for dinner at the exclusive Le Cinq Mars restaurant.
Afterwards the group went on to the achingly trendy Montana Club, frequented by every major celebrity who finds themselves in Paris, including Kate Moss, Victoria Beckham and Lenny Kravitz.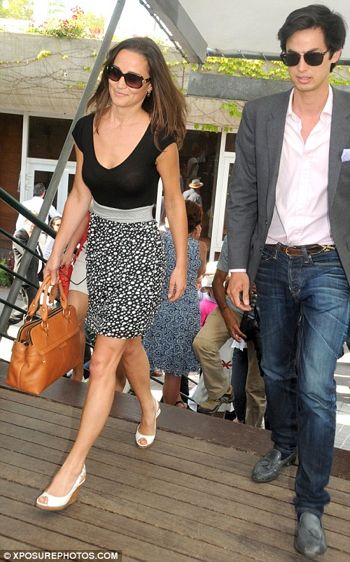 All of which begs the question- just a fervent admirer of Pippa's or perhaps the new love interest of our collective royal hotness who it has been noted has not been seen in public for weeks with presumed long term boyfriend Alex Loudon?
Once again, the attractive brunette was accompanied by her mystery escort.
But when asked by a photographer if he was a boyfriend of Pippa's, he was quick to reply: 'No! Just a friend.'
Or 'No just a friend for the time being? Only time will tell….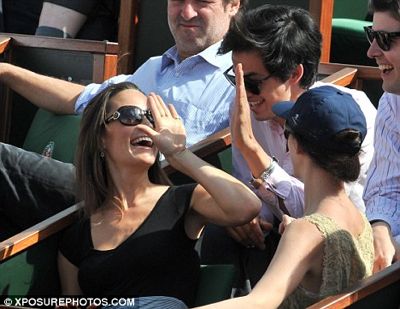 Pippa Middleton wants to let you know at this year's French Open she is where all the action is.
PIPPA MIDDLETON WOULD LIKE TO EXPLAIN HOW SHE GOT HER FIGURE.
PIPPA MIDDLETON CONTINUES TO LIVE THE HIGH LIFE WITH EX, DUKE GEORGE PERCY.
Pippa Middleton travels to Madrid with her ex, with current boyfriend nowhere in sight.
Can Pippa Middleton get away with suing the press?
Pippa Middleton wants to reassure you, you can still find her topless on the web.
Now it's Pippa Middleton's turn to strip down.
Have you had a chance to see James Middleton (Kate Middleton's brother) in the buff yet?
Grazia Magazine is playing games with Kate Middleton's figure on its covers.
The Dizzy Ascent of Pippa Middleton.
Guess where the royal couple will be honeymooning?
Who was that little bridesmaid in the royal wedding's best photo?